20/20 Panel Reviews and Features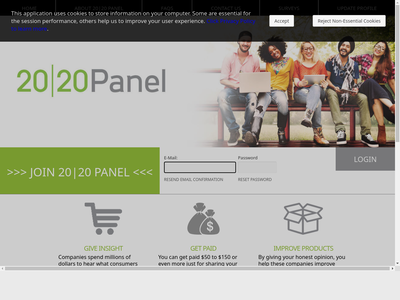 20/20 Panel
161 Rosa L. Parks Boulevard, Nashville, Tennessee 37203 US
Tel: 615-885-2020 Contact: https://join.2020panel.com/page/4
Operated by: 20/20 Research
Quick Overview:
Rewards Offered: Cash paid via PayPal Reward Link Prepaid debit or credit cards
Member Opportunities: Online surveys Online focus groups In-person focus groups Video surveys Telephone surveys Refer-a-friend program
Redeeming Rewards: $5 (500 points) minimum account balance required to request payment.

20/20 Panel is an online survey panel which has been conducting online surveys since 1986. 20/20 Research conducts online surveys as well as real time focus groups in an online chatroom environment. They compensate their panel members with cash rewards in exchange for their survey or focus group participation.
Earn Points for Your Opinion
Taking quick surveys on the 20/20 panel will allow you to accrue points to redeem gift cards. You can even earn gift cards for participating in online discussions, chats, and web meetings. Surveys are usually short, but online discussions can take up to 90 minutes to complete.
Signing up is as easy as filling out an online profile. The more information you can provide, the more likely you will be matched with surveys or discussion-based studies.
Types of Studies
20/20 Panel offers a variety of studies that offer points as well as cash rewards:
Surveys only
Surveys + online chat interviews
Online discussions
Online web cam discussions
In-person studies (you must be in Nashville TN, Charlotte NC or Miami FL to participate in in-person panels)
Redeem Your Rewards
You can begin to redeem your rewards from surveys once you reach 500 points ($5.00). Discussion-based studies have incentives that range from $50-$300 should you qualify or choose to participate. The cash for discussion based studies comes in the form of a virtual or physical gift card. You decide which you would prefer to receive, which may take 7-10 business days to process.
Raffles via Facebook
The 20/20 Panel has its own dedicated Facebook page for panel members, and if you join, you can participate in raffles to earn more!
---
March 11, 2020 by Preference from United States
I have recently done an online and in person survey with this company and it was awesome! I hope they call me again! I got my payment a week later and I am glad to have been apart of whatever they are researching! The online video forum wasn't hard to understand and the in person interview was in an easy to get to area! Neither took too long to finish and I'm glad I was able to be apart of it!
February 23, 2020 by Christopher from United States
Been a member for a long time like 3 years and not one of a survey I have qualified for. I find that strange and rather odd. My points are at 340 for 3 years not understanding how you are supposed to earn points when you take a qualifying survey and it always comes back "you did not qualify." I find it a waste of time to take qualifying surveys to be told you do not qualify for 3 years. I think once you fill out the particulars one should qualify. I find the site questionable thus the one star
January 11, 2020 by Loulo from United States
I have been a member of the 20/20 panel for about 2 years and out of those two years have not been approved for not one survey. It seems they ask what your political views are and what party you are affiliated with and if you make a choice of Republican you are all of a sudden you do not qualify for the survey.
December 17, 2019 by Leigh from United States
I think this company is easy to deal with and always pays on time.
November 1, 2019 by Michele from United States
I was recently confirmed by 2020 Reset for an upcoming focus group on politics in my state of CA. I answered all the questions from the survey but I got subsequent emails from Alexandria Seamster 3 separate times asking questions I'd already submitted. But I answered again so she would be happy. The fourth email she sent me read that at this time I've been put on HOLD (in bold caps) and I wouldn't be able to participate. But hey, we'll keep you in mind for future studies! Well, she's not offered me any further excuses as to why I was really rejected after all the time I had wasted preparing for the study. Although it says that the guidelines have been changed, that's what they always say. But once an individual has been confirmed, that should be it and I should at least be compensated for it. Instead, it was all for nothing. But hey, now everyone who reads this will know about it. Take that, Alexandria Seamster!