20/20 Panel Reviews and Features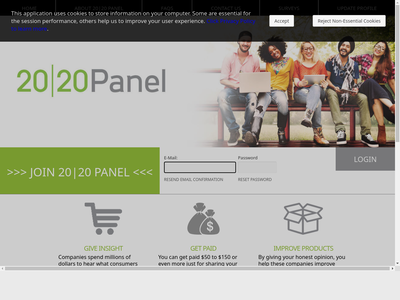 20/20 Panel
161 Rosa L. Parks Boulevard, Nashville, Tennessee 37203 US
Tel: 615-885-2020 Contact: https://join.2020panel.com/page/4
Operated by: 20/20 Research
Quick Overview:
Rewards Offered: Cash paid via PayPal Reward Link Prepaid debit or credit cards
Member Opportunities: Online surveys Online focus groups In-person focus groups Video surveys Telephone surveys Refer-a-friend program
Redeeming Rewards: $5 (500 points) minimum account balance required to request payment.

20/20 Panel is an online survey panel which has been conducting online surveys since 1986. 20/20 Research conducts online surveys as well as real time focus groups in an online chatroom environment. They compensate their panel members with cash rewards in exchange for their survey or focus group participation.
Earn Points for Your Opinion
Taking quick surveys on the 20/20 panel will allow you to accrue points to redeem gift cards. You can even earn gift cards for participating in online discussions, chats, and web meetings. Surveys are usually short, but online discussions can take up to 90 minutes to complete.
Signing up is as easy as filling out an online profile. The more information you can provide, the more likely you will be matched with surveys or discussion-based studies.
Types of Studies
20/20 Panel offers a variety of studies that offer points as well as cash rewards:
Surveys only
Surveys + online chat interviews
Online discussions
Online web cam discussions
In-person studies (you must be in Nashville TN, Charlotte NC or Miami FL to participate in in-person panels)
Redeem Your Rewards
You can begin to redeem your rewards from surveys once you reach 500 points ($5.00). Discussion-based studies have incentives that range from $50-$300 should you qualify or choose to participate. The cash for discussion based studies comes in the form of a virtual or physical gift card. You decide which you would prefer to receive, which may take 7-10 business days to process.
Raffles via Facebook
The 20/20 Panel has its own dedicated Facebook page for panel members, and if you join, you can participate in raffles to earn more!
---
July 28, 2018 by Patricia from United States
I got signed up through a reliable company for an on-line survey conducted b this group. This group tried to re-write the expectations to be much more than what I had agreed to do. Harassing e-mails, threats about why I may not be paid, moderators who seem to be time-share salespeople.. Moderators are not reading or responding to comments appropriately. Demanding you answer their questions which you had answered previously. Not professional. I am wondering if I will be paid.
Never paid for focus group
June 20, 2018 by Brandy from United States
I participated in a 90-minute on-site focus group and was never paid. I was given an "incentive card" that was expired prior to the advertised date, and they refused to issue the payment. There are dozens of similar complaints, so definitely be cautious doing business with this company. If you are a business, stay far away, as they have a poor reputation among panel participants.

20/20 Panel responded to this review on June 25, 2018
Hi Brandy - At the end of your study you were provided a gift card with the funds promised on the card. Additionally, the card stated on the front of it, as well as on the card it came in, that you had 12 months to utilize the card and then it would expire. You accepted the card, and the information and instructions that came along with the card. The card expired at the end of 2017, as we informed you it would. You did not contact us until mid 2018. We informed you that we would not be able to re-issue those funds as the card expired as we proactively informed you it would.
June 5, 2018 by Allison from United States
I've been a member for about 5 years and I've only ever qualified for two surveys. The first time I did it I was super excited and thought it would be a great way to earn a little extra cash. Yea, not so much apparently. I did just qualify for one today, but I guess I will have to wait and see if I will actually be able to do it. It really sucks especially when there are some that are $350. There was an alcoholic beverage survey that was around $300 (if I remember correctly) which is something I definitely should have qualified for. I don't even really know why I bother to even try to do the pre-qualifying. If it's only one survey every 5 years then it's definitely not worth the time.
May 24, 2018 by Angela from United States
I ABSOLUTELY love 20/20!! The highest paying gig..I have participated in a few studies and have made between $150 to $60. Qualifying is easy and you get paid the same day. You get paid by a prepaid MasterCard. This is by far my favorite site!!
Again, I have only been with them a short time,
March 10, 2018 by Wayne from United States
As I said I have only been with them a short time and done the few surveys they've sent me but you need more surveys guys!