Who is Nielsen?
The Nielsen Company is a massive global information and measurement company who specializes in understanding consumer information. What consumers buy, why, and how are questions Nielsen is an expert at answering.
Companies hire Nielsen to gain insights into both their own and their competitors' brands. Nielsen measures things on a macro and micro level; measuring and monitoring viewing habits of consumers via programming and advertising on television, online, and other media, as well as figuring out what people buy, the brands they're familiar with as well as products consumed. They are an international company with a presence in around 100 countries and are headquartered in New York.
Why join Nielsen?
Nielsen has been around for more than 50 years and runs the highly rated online survey panel, Pinecone Research. As a company, their TV ratings system revolutionized insights into media advertising and their brand has become a household name. Their studies are regularly published in mainstream media reports, so it's easy to see why it's desirable become part of one of their communities.
As a participant in their online surveys, you can earn rewards including cash payments (made directly to your bank account), gift cards, and merchandise. Pinecone Research offers a flat rate of $3.00 per survey completion, so the rewards for participating are clear and transparent.
Which online survey panels do they run?
On SurveyPolice, we've made it easy to figure out which companies run a particular survey site. When you view a survey panel's listing on our site, at the top of the screen next to address information, you will see "Operated by" and a link next to it. Click the link, and you will be brought to a page which shows all the survey panels the same company runs, along with their corresponding ratings on SurveyPolice.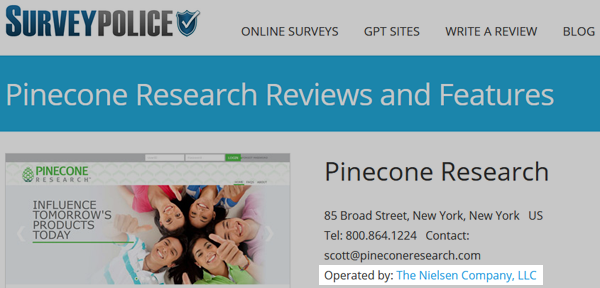 In the case of Nielsen, (https://www.surveypolice.com/companies/nielsen) we can see that they run the following online survey panels.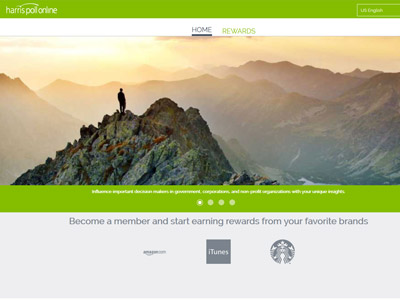 Harris Poll Online
This traditional online survey panel gives its members the opportunity to take surveys, participate in focus groups, and telephone surveys in exchange for a variety of different of e-gift cards. Get points if you're disqualified from surveys and get chances to win $10k every quarter.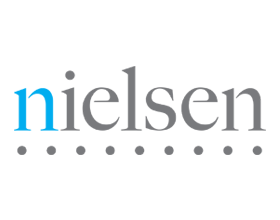 Homescan Consumer Panel
This is the Canadian version of National Consumer Panel (see below). Members are sent a barcode scanner which is used to scan grocery purchases. The information is sent anonymously back to Nielsen and you receive points for your participation. The longer you participate in the program, the more bonuses you receive. Points earned can be redeemed for items available in a large catalogue.

National Consumer Panel
This program is available only in the US and also involves being sent a barcode scanner, or downloading a mobile app to scan groceries and other purchases. Receive points for sharing information about your household buying habits and earn rewards such as gift certificates and merchandise.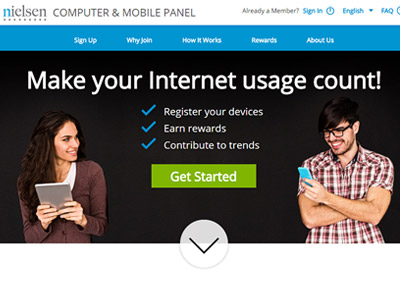 Nielsen Computer and Mobile Panel
Download the Nielsen Computer and Mobile app onto your computer, tablet, or smartphone to earn gift cards. In addition, every month, 400 participants are selected to receive a bonus gift card prize. This is a passive and easy way to become a Nielsen program participant.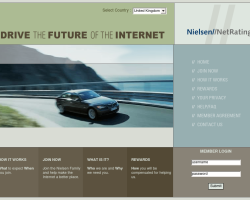 Nielsen//NetRatings
Download the Nielsen//NetRatings Internet Panel Software which will run in the background on your computer and will not affect performance. The software will provide insights into your internet usage (with your personal information anonymized) and you will also be sent periodic online surveys. Receive entries into regular and monthly prize draws worth approximately $50,000 USD.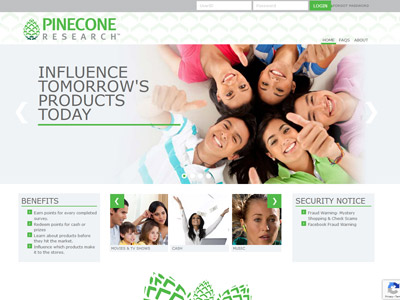 Pinecone Research
By far Nielsen's most popular online survey panel, and also a highly rated survey site, Pinecone Research has been one of the top rated survey panels for YEARS on SurveyPolice. Although in the past they've been difficult to join (people often had to search for phrases such as "Pinecone Research signup link" in order to find a special link they could use to sign up), over time, they've made the panel bit easier to join. Pinecone offers its members cash for each survey completed ($3 US / $3 CAD / £3) with product testing opportunities, online surveys, and more.
Are you already a member of a Nielsen panel?
If you have feedback for a Nielsen site, be sure to leave your review on SurveyPolice. We love hearing your opinions on opinion panels!