Hiving Reviews and Features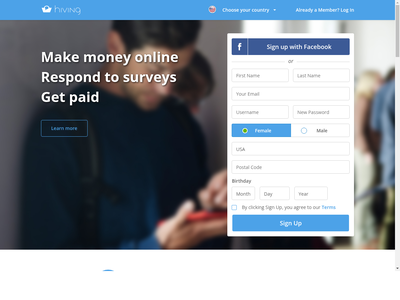 Hiving
3 Cité Rougemont, Paris, 75009 FR
Tel: 00 (33) 1 85 08 05 87 Contact: https://www.joinhiving.com/en_US/more/contact-us
Operated by: Hiving
Quick Overview:
Rewards Offered: Cash paid via PayPal Amazon gift cards Donations to charity Sweepstakes entries
Member Opportunities: Online surveys Product testing Refer-a-friend program Teen surveys
Redeeming Rewards: 4000 point ($4) minimum account balance required to request rewards or payment.
Similar Panels: Opini, Consumer-Opinion
The Hiving is panel that was founded in 2007 by a French market research company to help brands better understand their audience. Since then, the company has grown to have a presence in 20 countries around the globe. "Hiving" refers to the term of "bringing a focus back to life at home, while still keeping open and strong communication with the outside world".
Survey Details
As a member of The Hiving, you will generally be sent 1-4 surveys per month, but it depends on your demographic. Each survey usually takes between 5 and 20 minutes to complete.
Collect "Hiving Points"
Each time you complete a survey, you will be rewarded with "Hiving Points". The amount of points collected depends on the complexity and length of the survey. Once you finish a survey, don't panic if your points don't show up in your account right away, as it can take up to 30 days. This is because the survey must be full before it can be closed.
Refer a Friend!
You can also earn points by introducing your friends to Hiving. Each time a member that you invited to join completes a survey, you will receive a percentage of the points allocated to that survey, without reducing the amount of points they receive themselves. There is no limit to the amount of people you can invite!
Hiving Point Conversions
In order to redeem for rewards, you must accumulate 4000 Hiving Points. Here are some quick facts about Hiving Points:
Hiving Points don't expire
You can exchange your Points for cash once you have collected at least 4000 Points
Cash exchanges are made in stages of 4000 (4000 ($4), 8000 ($8) or 12000 ($12) Points)
1000 Points = $1.00
The Points System is susceptible to change but any changes will not affect the value of the Points you currently have
Reward Options
There are three different options that points can be spent on: Redeem for cash via PayPal, request an Amazon e-voucher or donate your points towards a charitable cause!
Test Free Products
In addition to taking online surveys with The Hiving, you can take advantage of testing new and exciting products from home! Try out a free gift and get paid for doing so.
Other Fun Activities
On The Hiving website there is tons to explore! As a member, enjoy lotteries, raffles, quizzes and competitions. There are also interesting articles about research related subjects.
---
Non Payment of Incentives
September 23, 2019 by Darren from United Kingdom
Hiving has always been notoriously slow to pay incentives, yet they have become worse over the last six months. They seem to have closed all channels of communication with the company, so cannot be chased for unpaid redemptions. I can't help thinking there is a deeper malaise at the heart of this company, and have given up hope of being paid what they me. They are still sending out survey invitations, so are probably still receiving payment for surveys completed by Hiving panellists, but they are not passing these payments on. It all seems very bad practice.

I have stopped taking their surveys, which are generally available to take with other companies. I would urge others to do similarly. Affecting Hiving's own income stream may encourage them to adopt better practice and reward their panellists for their efforts.
September 21, 2019 by Christopher from United Kingdom
Regretfully I am still awaiting payment for reviews I have completed. I know it is a small amount, £8, but I have taken the time to complete surveys. I have tried the Contact Us, but get nowhere. My view is do not join this company. I am not doing any further surveys for this particular company.
whats going on with their payments?
July 20, 2019 by Sarah from United Kingdom
I've been with Hiving for almost a year and they've mostly paid out fairly quickly. Now you cant contact them and they havent paid me out since May. Totally frustrating since they're still advertising.
July 15, 2019 by David from United Kingdom
I need to send Hiving an email but cannot get their 'Contact Us' facility to work. Does anybody know how I can get hold of them, please? They were excellent but just lately have gone downhill. Regards, Diabalo.
January 15, 2019 by TERRY from United Kingdom
the only good thing is the low cash out of only £4.00 . Problem is they do not pay you without repeat requests Their site states there is a delay of approx 2 weeks for Paypal other surveys pay in from 1 hour to 2 days after request. When I complained today after 30 days, they paid within one hour so why can they not always do this.

The other problem is that we receive up to 10 surveys a day but are lucky to be able to complete one,Unlike similar sites they do not remember basic information so every time have ti enter Name Age Postcode Gender salary bracket and stupid check questions to ensure we are paying attention.sometimes 3 in one survey. Have persevered for a couple of years but decided to stop as other surveys are much more rewarding and less effort.