Hiving Reviews and Features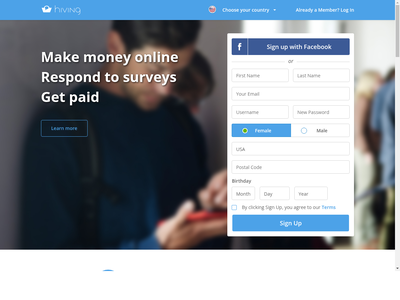 Hiving
3 Cité Rougemont, Paris, 75009 FR
Tel: 00 (33) 1 85 08 05 87 Contact: https://www.joinhiving.com/en_US/more/contact-us
Operated by: Hiving

PAYMENTS OFFERED

Cash paid via PayPal

Amazon gift cards

Donations to charity

Sweepstakes entries

HOW TO PARTICIPATE

Online surveys

Product testing

Refer-a-friend program

Teen surveys

REDEEMING REWARDS
4000 point ($4) minimum account balance required to request rewards or payment.
The Hiving is panel that was founded in 2007 by a French market research company to help brands better understand their audience. Since then, the company has grown to have a presence in 20 countries around the globe. "Hiving" refers to the term of "bringing a focus back to life at home, while still keeping open and strong communication with the outside world".
Survey Details
As a member of The Hiving, you will generally be sent 1-4 surveys per month, but it depends on your demographic. Each survey usually takes between 5 and 20 minutes to complete.
Collect "Hiving Points"
Each time you complete a survey, you will be rewarded with "Hiving Points". The amount of points collected depends on the complexity and length of the survey. Once you finish a survey, don't panic if your points don't show up in your account right away, as it can take up to 30 days. This is because the survey must be full before it can be closed.
Refer a Friend!
You can also earn points by introducing your friends to Hiving. Each time a member that you invited to join completes a survey, you will receive a percentage of the points allocated to that survey, without reducing the amount of points they receive themselves. There is no limit to the amount of people you can invite!
Hiving Point Conversions
In order to redeem for rewards, you must accumulate 4000 Hiving Points. Here are some quick facts about Hiving Points:
Hiving Points don't expire
You can exchange your Points for cash once you have collected at least 4000 Points
Cash exchanges are made in stages of 4000 (4000 ($4), 8000 ($8) or 12000 ($12) Points)
1000 Points = $1.00
The Points System is susceptible to change but any changes will not affect the value of the Points you currently have
Reward Options
There are three different options that points can be spent on: Redeem for cash via PayPal, request an Amazon e-voucher or donate your points towards a charitable cause!
Test Free Products
In addition to taking online surveys with The Hiving, you can take advantage of testing new and exciting products from home! Try out a free gift and get paid for doing so.
Other Fun Activities
On The Hiving website there is tons to explore! As a member, enjoy lotteries, raffles, quizzes and competitions. There are also interesting articles about research related subjects.
---
June 30, 2021 by Paulos from South Africa
I redeemed my 4000 points on the 22nd of February, today is June 29th and still haven't received my incentives, you can't even contact them, so it has been 4 months heading for the 5th. So how is one supposed to make money online if you don't get paid or get paid after a year?
February 4, 2021 by Phumzile from South Africa
I get surveys but the problem is when I start taking them before I even clicked on the survey lets say when I open my email that I just received from hiving when I open it it tells me I don't qualify for the survey.
November 11, 2020 by Mandy from United Kingdom
I have been a member for a few years now, I know they are the worst payers ever. I have had the same problems each time like many others, I have received all the monies but most times when they havnt paid me I have had to end up writing to them at the PARIS address. Yes thats right I have had to type a letter and post it to the Paris office. Within a week I got all monies due. I am not owed any money, but this is what I do if they dont respond to the contact us section.

Now This last month - I am really disappointed - so much so its about the surveys they are sending - multiple surveys daily - from say yoursurveys or sample cube. Get screened out, same questions all the time - say like over 30 surveys like these a day. I have abandoned doing them its just a waste of time. I used to enjoy earning the money from doing surveys but not anymore - not now they seem to be throwing tons of samplecube and yourssurveys through its crazy - wont be doing any more. So all I can say to you all that dont get your money - write a letter to the paris head office to complain - it always works for me - my first letter I translated on Google to french - then posted it - got paid after 7 days, another letter i sent in english forgot to translate but got paid again - so at least they dont owe me anything. They really need reporting
October 30, 2020 by Mark from South Africa
I have spent about a year on Hiving completing surveys that match my profile and finally, about a week ago, I made up the 4,000 points needed to convert to cash in my PayPal account. I made the conversion and the points were deducted but as yet, my PayPal account hasn't been credited with anything. I contacted the Hiving support desk and so far have received no answer. There is also nothing within the FAQs to indicate how long such a transaction should take to be completed. Have I wasted hours of my time answering survey questions for an online platform that's been making money off that market research for no personal gain at all? Perhaps it's too early to tell. But this much is for sure: Nobody there seems to be in a hurry to set my mind at ease. I understand that it's an international platform and the admin people may be swamped, so I might just be impatient. Still, how complicated could it be? Surely the process is automated. I'll just have to keep waiting with fingers and toes crossed. MOBROG paid out immediately. If that's anything to go by, then I'd have to suggest that there might just be something fishy about Hiving.
October 23, 2020 by Doug from South Africa
Hiving was not converting points to Paypal pay-out until 30 August. On 16 September I sent a message on the Hiving portal to their customer service asking when they will be doing the pay-outs. To date they have not responded to my question and have switched off the ability to raise any communication to them on their "contact us" portal. Yet they are sending Hiving surveys on the daily. With no feedback and no way to get the pay-out it does seem as if they might be taking people for a ride. Tread carefully when signing up for their surveys.
» Return to: TOP RATED SURVEY SITES
---
Popular Topics
Top Survey Sites of 2023
---
Highest User Rated Survey Sites
---
Survey Sites That Pay Instantly
---
Get $100 Free PayPal Payments
---
9 Product Testing Job Websites
---
12 Online Surveys That Pay Cash
---
How to Earn Free Uber Gift Cards
---
14 Ways to Get Free Amazon Gift Cards
---
Best Paid Focus Groups
---
How to Get a Free Visa Gift Card
---
Ways to Get Free Xbox Gift Cards
---
Featured Advertisers: