InboxDollars Reviews and Features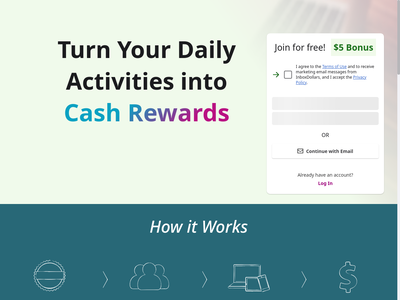 InboxDollars
Operated by: CotterWeb Enterprises Inc.
1295 Northland Dr Ste 300, Mendota Heights, MN 55120-1380
Contact: http://support.inboxdollars.com/hc/en-us

InboxDollars is a cash-based online rewards club that passes on the revenue it generates from advertisers to its members. By participating in paid surveys, reading e-mails, playing games, redeeming coupons, and more, you can get cashback on your activates.
Earn cash credited to your account when you complete particular tasks. These include:
Using coupons – find hundreds of printable grocery coupons, and earn additional cash back when you use them!
Playing games – select from dozens of card, strategy, sports, and word games, and get paid when you play.
Shopping cashback – visit the InboxDollars website and get cash back for your purchases from hundreds of merchants including Walmart, Target, Old Navy, and more.
Answering surveys – take online surveys when they become available, and earn cash every time you successfully complete a study.
Using the toolbar – earn additional cash by using the toolbar for your web searches, and have an easy way of staying informed about the latest free offers, surveys, etc.
Reading e-mails – receive emails with special offers, and earn cash when you open some special emails.
Referring friends - refer friends and earn 10% of what they earn. Banners and links are provided in your account.
Once your account reaches a balance of $30, you can request a check or a Visa Cash Card.
For non-Gold members, it takes around two weeks for payments to be processed. For gold members, payments are processed weekly. Payments are issued in US dollars, regardless of where you live.
Becoming a Gold Member
Once you cash out for the first time, your account will automatically be upgraded to gold. Gold members enjoy additional perks including faster payments, more sweepstakes entries, more loyalty rewards, and additional referral rewards.
Got disqualified? Still have a chance to win
If you try to complete an online survey but get disqualified when attempting to do so, you'll still receive an opportunity to win a prize by earning a spin on Billy's Spin and Win wheel. The number of spins you've accumulated is found on the 'Surveys' page.
Prizes include: $0.25 tokens (after your next successful survey completion, get an extra .25 credit in addition to the survey credit; 5 tokens maximum can be sitting in your account), $5.00, $1.00, and $0.05 cash bonuses credited immediately to your account, or Scratch Off Progress which will be credited immediately to your account; win and you'll see the Scratch Off progress bar will move forward towards the next scratch off card.
InboxDollars has been around for a long time
InboxDollars was founded in 2000 and has over 17 million members, and over 2.5 million Facebook fans. They have awarded over 60 million dollars in rewards to their members and have a mobile app available. As of 2019, their parent company, Cotterweb is listed with the BBB and has an A+ rating.
InboxDollars is run by CotterWeb Enterprises, who also runs InboxPounds (UK focus), DailyRewards (Canada focus), and SendEarnings.
Eligibility: InboxDollars is open to international residents 18 years of age and older.
» InboxDollars is currently offering a $5 sign up bonus to new members. Click the green Join Now button to claim your bonus!
May 27, 2015 by Kris from United States
I've been a member for about 7 years now and love this place. Not a ton of money, but a SURE way to make some money. 2 surveys per day with the chance for more. One of the best in my opinion!!! I have cashed out here more times then I can count. I will continue here until they kick me out or I die.
May 26, 2015 by Maria from United States
I don't do a lot of GPT sites and I prefer to stick with just one until I cash out and then I will try another one to mix things up. I especially like ID for the paid emails. Takes only a few seconds. Yes, you only get paid a tiny amount but it will eventually add up. It's harder to be consistent with the surveys since I often don't qualify. At least if I don't qualify I get to spin for either some cash or sweepstakes entries.
May 26, 2015 by Linda from United States
I have been a member of this site for a very long time. It offers different ways to earn. It is a good pass time and after time you can cash in and get mailed a check.
May 26, 2015 by Millie from United States
InboxDollars is just that - Dollars! No points or Sweeps Entries only. Get paid for reading their Survey offering emails to you and get paid for participating in their Surveys. I just rec'd my first Debit Card Payment (after reaching $30.00 in my InboxDollars Account) and used it to buy groceries. It arrived when they said it would. This site is PURE GOLD. Waiting for more emails and Surveys!
Nice place, been there for a long time
May 26, 2015 by Suzanne from United States
They have tons of things here for you to do and twice I got invited to $20/hr focus groups. Games, click ads, surveys of course and sign-up offers.....Also, you can choose check or ATM/Debit card for cash out @ $30. The card is mailed to you in the post and reloads when you cash out next time!:D