InboxDollars Reviews and Features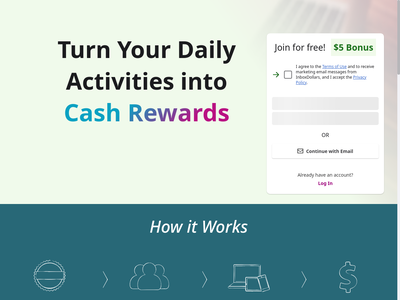 InboxDollars
Operated by: Prodege, LLC
100 N. Pacific Coast Highway,
8th Floor, El Segundo, CA 90245
Contact: http://support.inboxdollars.com/hc/en-us

InboxDollars is a cash-based online rewards club that passes on the revenue it generates from advertisers to its members. By participating in paid surveys, reading e-mails, playing games, redeeming coupons, and more, you can get cashback on your activates.
Earn cash credited to your account when you complete particular tasks. These include:
Using coupons – find hundreds of printable grocery coupons, and earn additional cash back when you use them!
Playing games – select from dozens of card, strategy, sports, and word games, and get paid when you play.
Shopping cashback – visit the InboxDollars website and get cash back for your purchases from hundreds of merchants including Walmart, Target, Old Navy, and more.
Answering surveys – take online surveys when they become available, and earn cash every time you successfully complete a study.
Using the toolbar – earn additional cash by using the toolbar for your web searches, and have an easy way of staying informed about the latest free offers, surveys, etc.
Reading e-mails – receive emails with special offers, and earn cash when you open some special emails.
Referring friends - refer friends and earn 10% of what they earn. Banners and links are provided in your account.
Once your account reaches a balance of $30, you can request a check or a Visa Cash Card.
For non-Gold members, it takes around two weeks for payments to be processed. For gold members, payments are processed weekly. Payments are issued in US dollars, regardless of where you live.
Becoming a Gold Member
Once you cash out for the first time, your account will automatically be upgraded to gold. Gold members enjoy additional perks including faster payments, more sweepstakes entries, more loyalty rewards, and additional referral rewards.
Got disqualified? Still have a chance to win
If you try to complete an online survey but get disqualified when attempting to do so, you'll still receive an opportunity to win a prize by earning a spin on Billy's Spin and Win wheel. The number of spins you've accumulated is found on the 'Surveys' page.
Prizes include: $0.25 tokens (after your next successful survey completion, get an extra .25 credit in addition to the survey credit; 5 tokens maximum can be sitting in your account), $5.00, $1.00, and $0.05 cash bonuses credited immediately to your account, or Scratch Off Progress which will be credited immediately to your account; win and you'll see the Scratch Off progress bar will move forward towards the next scratch off card.
InboxDollars has been around for a long time
InboxDollars was founded in 2000 and has over 17 million members, and over 2.5 million Facebook fans. They have awarded over 60 million dollars in rewards to their members and have a mobile app available.
InboxDollars is run by Prodege, who also runs Swagbucks, InboxPounds (UK focus) and DailyRewards (Canada focus).
Eligibility: InboxDollars is open to international residents 18 years of age and older.
InboxDollars Reviews (136)
October 23, 2015 by Catherine from United States
I've been a member of Inbox Dollars for 6 years. I did cash out a few times but it takes way too long to earn enough to cash out on Inbox Dollars. There are other GPT sites where you can earn much faster. SwagBucks is my go to. Cashing out takes a about 4 weeks on Inbox, but I did receive my rewards. I don't even do any offers on Inbox anymore, it just isn't worth my time.
October 15, 2015 by John from United States
I've been a member of this one for a long time. They are a steady and reliable company but I find that the amount I get paid per survey or offer is not always as high as I can get at other sites.
September 17, 2015 by SANDY from United States
Hello to all,
I've been on Inbox Dollars for a few years. Sometimes just doing enough to keep the account active and recently being very active. While I don't have allot of experience with many other sites besides MyView, My experience has been they pay what they say they will pay and quickly. For example, the Peanut surveys, spin and wins and cash searches are paid almost immediately. Also, I was very surprised at how fast the $ is paid for coupons. Overall I'm very pleased with the site. Let me know if you have any questions.
Awesome Awesome Awesome !!
September 10, 2015 by casey from United States
This website is simply awesome! It is easy to get to $30.00 and you could easily get $60.00 a month extra cash. The payout it quick and easy. Inbox dollars you are number 1 on my list! God Bless!
June 30, 2015 by Maureen from United States
I finally opted out of this site, it was too confusing--surveys were not a good standard, rewards were few and not meaningful.