MobileXpression Reviews and Features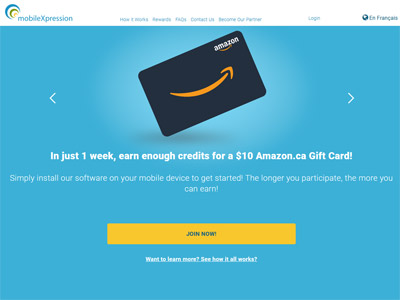 MobileXpression
comScore, Inc., 11950 Democracy Drive, Suite 600 Reston, VA 20190 US
Tel: +1 703 438 2000 Contact: https://www.mobilexpression.com/SupportForm.aspx
Operated by: TMRG, Inc

PAYMENTS OFFERED

Amazon gift cards

Walmart gift cards

Merchandise

Retail e-vouchers

Donations to charity

Sweepstakes entries

HOW TO PARTICIPATE

Mobile surveys

Mobile app

Online surveys

REDEEMING REWARDS

No points system
USA users receive a $5 Amazon gift card after 1 week. Users from Canada receive a $10 Amazon gift card after 1 week.
MobileXpression is a market research company that aims to understand the patterns and behaviors of people using the internet through their mobile devices.
By joining this panel and downloading the app, you could help shape the future of the internet and will earn rewards for virtually no work involved!
How MobileXpression Works
What is MobileXpression?
Download the MobileExpression app to allow it to record and collect information about your mobile data usage, or if you're using an iPhone or iPad, through a VPN connection. In exchange for this passive data collection, you can automatically earn Amazon gift cards for keeping the app installed.
Join and Receive a Sweepstakes Entry
By joining MobileXpression, you will automatically receive an entry into the $100,000 "Your Opinion Matters" sweepstakes. One lucky participant will win $100 every month and will also be given the chance to win $2500, $5000, and even $100,000!
Join, Cash in after 1-2 Weeks
New USA members of MobileXpression who install the app on their device(s) and are an active member for one week will automatically receive a $5 Amazon gift card. UK users can receive a £20 Amazon voucher after having the app installed for 2 weeks. Users in India will receive a 300 rupee Jabong gift card after keeping the app installed for 2 weeks. Once you set up the mobile express app, you don't have to do anything but use your phone as you normally would and cash in every week!
MobileExpression's Sign Up

›
App Details
Data passed through the app may include mobile web browsing activity, usage and titles of downloaded applications and files as well as usage of cameras, video streaming and other utilities on the mobile device. The software may also collect information regarding the web pages you view, the links you access, and usage times for certain device activities (e.g., text messaging, call lengths, and web browsing).
The app requires less than 100KB of memory to store the research software and 128KB to store the collected data before it is encrypted and securely sent to the MobileXpression servers. It should not have any affect on your phone's performance.
Run the App Without Interference
The MobileXpression app runs in the background on your devices and should not interfere with your phone or tablet. The app's main purpose is to collect data on internet surfing habits.
Take the Occasional Survey
Panel members of MobileXpression may be invited periodically to take mobile surveys to help with better understanding some of the rationale behind internet mobile surfing trends.
Visit MobileXpression's website

›
Great Weekly Prizes!
Each subsequent week you remain a member, you will have a shot at winning a great prize. Past prizes included an iPads, Canon digital camera bundles, televisions and cutlery sets.
Your Continued Membership Helps the Environment
Remain a member for at least 90 days and MobileXpression will donate a tree to Trees for the Future through their program, Trees for Knowledge in recognition of your participation. After the 90 days, an additional tree will be donated every subsequent month you participate in the program.
Is Mobile Expression Safe?
MobileXpression is a safe app to download to your devices. It runs in the background and its access to what's on your phone is very limited (as per below). The app should not interfere with regular usage of your phone, however as it does act as a VPN, some users have reported connectivity issues with their devices after downloading the MobileExpression app. These issues seem to resolve after uninstalling the app, so although the app appears safe to use, as with many apps, your success using it may vary.
Privacy is Important
Mobile express takes the privacy of their panel members very seriously. Other phone activities such as calls, text messages, photos or contacts are not accessed by the application. In addition, all of the information is pooled into anonymous data storage, so the webpages you access will never be linked back to your profile.
Eligibility: International members accepted, must be 18+ and have a mobile device that is compatible with the mobile application and have access to the internet.
---
MobileXpression Reviews (75)
Awesome rewards winning app
February 26, 2023 by Jennifer from United States
It's a great app to earn rewards and you don't have to do much. I totally recommend it.
November 30, 2022 by Gregg from United States
This company locked my account for fraudulent activity even though I did nothing wrong.
September 24, 2022 by Geradi from United States
After using the app for maybe a year or less, I suddenly get an email saying they became aware of fraudulent activity, and that my account has been frozen, and no further activity will be allowed. I have no idea what they are referring to. They did not give a clear answer other than fraudulent activity. I had accumulated over 200 points, and now I can't receive them. They have used the data collected and now refuse to issue rewards. I can't even log in now to get an exact count of rewards. I guess this is to be expected from certain apps.
Great way to earn pounds!
September 19, 2022 by Samantha from United Kingdom
Great site, been with them years, you forget it's in the background and before you know it you've earnt your £5 or £10.
August 30, 2022 by Elizabeth from Canada
Some people might not be okay with installing a VPN on their phones for money, but I don't do anything too revealing online, so I don't have any problems with it. I sign in once every week to collect 2 credits, and cash out at 15 credits for a $10 gift card. Cashed out several times already, no problems with it at all! Love it so much.

Edit: It's happened. MobileXpression died on me. I haven't changed anything on my VPN settings, but when I try to redeem my credits, I get an error. I am asked to contact support, but MONTHS later, they have yet to get back to me. I give up on this site. At least I made $200+ before it crashed.
» Return to: TOP RATED SURVEY SITES
---
Popular Topics
Top Survey Sites of 2023
---
Highest User Rated Survey Sites
---
Survey Sites That Pay Instantly
---
Get $100 Free PayPal Payments
---
9 Product Testing Job Websites
---
12 Online Surveys That Pay Cash
---
How to Earn Free Uber Gift Cards
---
14 Ways to Get Free Amazon Gift Cards
---
Best Paid Focus Groups
---
How to Get a Free Visa Gift Card
---
Ways to Get Free Xbox Gift Cards
---
Featured Advertisers: