Only Cash Surveys Reviews and Features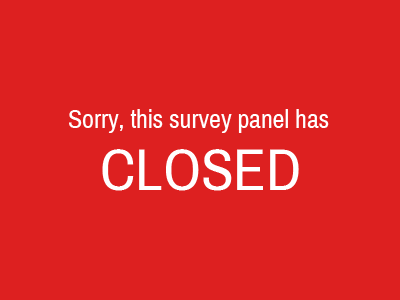 Only Cash Surveys
6 Research Drive, Shelton, Connecticut 06484 US
Tel: 877-254-1234 Contact:
Operated by: Dynata

PAYMENTS OFFERED

Cash paid via PayPal

Amazon gift cards

Merchandise

Starbucks gift cards

Prepaid debit or credit cards

Walmart gift cards

HOW TO PARTICIPATE

Online surveys

REDEEMING REWARDS

No points system
$50 minimum balance required in order to request PayPal payment.
This survey panel is now closed.
Only Cash Surveys - $5 Signup Bonus. The All Cash Survey Panel. Only cash paying surveys are offered - no points or sweepstakes awarded for taking surveys.
Unfortunately, Only Cash Surveys is no longer operational. Click the button to discover survey panels that are running and are actively looking for new members!
Only Cash Surveys Reviews (24)
April 21, 2014 by Cesar from United States
OVERALL : **** -
They really pay . I've gained $75 via Amazon Gift Card, now I have $125 pending already requested my Amazon Gift Card, they take to confirm a month or two but actually paid. I already have copper three times and used that money to pay off some of my purchases on Amazon. I averaged $25 per month but these days I am very happy that this has risen to $ 50 a month


PANEL: **** -
On the panel, send many surveys , if you're smart you can qualify for 70% of the total amount of that you send . I have completed surveys that pay from $ 0.25 to $ 12, even participating in a test where I Candies sent a bag of candy to my house and I paid in full for that $ 10. And not only surveys are also groups which interact review . Also interviews via web ( only for those you get paid $ 3 without having to be interviewed , interview if you get paid up to $ 30 , yet I've never participated in a single because I'm shy )

FORUM : *****
The support they provide is extremely effective , I had an Amazon Gift Card that lasted two months and I do not confirmed , I wrote to the forum and I resolved that followed , the next day confirmed me ; and surveys confirmed havian not pay me and I wrote two days I decided that

REWARDS : **** -
They are a bit limited for those who come to accumulate $ 25 or less. With $ 25 you can have Amazon Gift Card , or Visa Prepaid Cash. With less alone get coupons to buy magazines since I have $ 12 and $ 15. With $ 50 is more open , you can be charged via Paypal , Amazon Gift Card, Starbucks, Wallmart, Old Navy... etc. They have a lot of options when you have $50
April 20, 2014 by Karla from United States
Surveys don't complete and ask you to sign up for items in survey such as insurance quotes
April 12, 2014 by Sharon from United States
Update:
I took them down a notch because they are taking longer than should be needed to cash me out. However I'm still qualifying here and there and building up my amounts, albeit slowly, so I'll update again when I finally get paid my PP $.

From Forums:
They have a very similar set-up to iPoll, but I don't qualify as often, because they often have the exact same surveys. Now, in my 5 or 6 months with iPoll, I've now cashed out $50 ($48.50 after PP fee) in Paypal funds about 4 times already and just asked for another. iPoll pays pretty quickly. Only Cash Surveys, I requested a $48.50 to Paypal about 2 weeks ago and I'm still waiting, where on iPoll, I would've been paid by now; but Cash Only Survey's fine print does say 4-6 wks possible for payment, so I guess that gives them a lil cushion of time, lol.

Original:
This site is similar in set-up to i-Poll, and they often pull from the same resources, so if you do surveys on both, you might screen out on one of them; (the programming does this automatically to prevent duplicate submissions by the same respondent.) They're easy to fill out, and I've found it pretty easy to make some money here. There are always new ones, too, and you may get emails for them, but usually by the time the email comes, they've filled their quotas for the survey. There are profiles to fill out which do help to clean out some of the ones you would screen out of anyway, and you get a dime or quarter for each profile which takes less than 5 minutes, so it's worth it to fill them out to save time later. I've been happy with this site.
February 23, 2014 by Kayeren from United States
$50 to pay-out is higher than most. I've had an average amount of not qualifying, but rarely (if at all) have I gotten to the end of a survey, just to find out, I did it for free! When their quota is filled, they let U know on the 2nd page. It's always annoying, when after you've made your points to cash out, you have to wait some more time for the "Pendings" to clear...a few of those can hang on for a bit of time!!! I've yet to see why this is OUR problem...oh well! However, since they tell you that up front...deal with it. So I've had no problem with that. After those clear, however, I expect to get my money. OCS was good on their word, which goes a long way for me & is my "bottom line". Ergo...4 stars. I don't think I've ever had an issue where I had to contact them. Some sites got me so angry, I've dropped my cookies all over the floor! All-in-all, this is a good site: gave me no problems & paid me when they said they would. In this business, that's saying a lot!! I always post when I'm paid on time. I let it be known when there is a major issue with NOT paying on time, as well.
They Require You Take Offer
February 8, 2014 by Bruce from United States
I took my first survey and had to accept an offer from a list of sponsors to get my reward. C YA
» Return to: TOP RATED SURVEY SITES
---
Popular Topics
Top Survey Sites of 2023
---
Highest User Rated Survey Sites
---
Survey Sites That Pay Instantly
---
Get $100 Free PayPal Payments
---
9 Product Testing Job Websites
---
12 Online Surveys That Pay Cash
---
How to Earn Free Uber Gift Cards
---
14 Ways to Get Free Amazon Gift Cards
---
Best Paid Focus Groups
---
How to Get a Free Visa Gift Card
---
Ways to Get Free Xbox Gift Cards
---
Featured Advertisers: