Opini Reviews and Features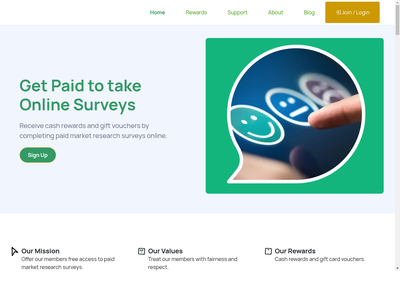 Opini
Yew Tree House, Lewes Road, Forest Row East Sussex, RH18 5AA GB
Tel: +44 (0) 1342 776149 Contact: https://opini.zendesk.com/home
Operated by: Asia Opinions Ltd.
Quick Overview:
Rewards Offered: Amazon gift cards Cash paid via PayPal
Member Opportunities: Online surveys Online focus groups Video surveys Telephone surveys Teen surveys
Redeeming Rewards: Request a PayPal payment with a minimum account balance of: $12.50 (USA/CAN) / $17.00 (AUS) / 8 GBP (UK) / RM 40 (Malaysia) / PHP 350 (Philippines), etc.
Similar Panels: Panel Champ, Myiyo

Opini is a research panel where members can share their views on their favorite brands, products and services all while earning rewards in exchange. Opini Surveys operates in 12 countries in the UK and Asia Pacific. Make a difference in the future of large brands and join this panel!
Easily Become a Member
Becoming a part of the Opini community is quick and easy. Simply fill out a short questionnaire, confirm your registration through email and then prepare for survey invitations that will be emailed when you qualify! Most surveys are about products, services, brands, or matters of public opinion.
Rewards per Survey
Most rewards vary from £0.60 up to £10 (UK) or $1 to $5 in the US. Special activities such as offline diaries or product trials typically reward even more. Amounts will be expressed in your local currency. Rewards are deposited into your PayPal account in a timely manner.
Reward Options
In addition to paying cash (via PayPal) for completing surveys, in some countries you may also have other options to receive rewards, such as Amazon e-vouchers. Note that PayPal charges a 2% fee on transfers.
Visit Opini's website

›
Surveys and More
Online surveys are emailed and last between 1 and 5 minutes for short surveys, and a maximum of 25 minutes for long surveys. Occasionally, telephone interviews, focus groups, web cam surveys, video diaries or bulletin board opportunities also arise.
Eligibility: must be 16+ to join.
---
January 21, 2019 by Michael from United Kingdom
I registered and filled out all the profiling questions which took quite a while. Today, I got my first survey, a 10 minute survey for £0.64 which is fine. I timed it to see how long it would take me. After loads of questions and 8 minutes spent, I have been told that I do not fit the profile for this survey. What a joke. I have emailed support about this, told them I thought it must be a joke to finish the survey only to be told youre screened out. Lets see what they say. If that is the case. I'll be out...
September 28, 2016 by Alan from United Kingdom
Avoid - do not pay you.
Having been on site for 4 months I celebrated hitting the redemption amount of £8 so activated the redemption.
After 3 weeks with "no payment" to my paypal account I contacted support portal who informed me that it had been paid. I requested information on when it was paid but no further response.
Help Desk, WHAT help desk
May 14, 2019 by Doug from United Kingdom
Surveys are passable, but the help desk ISN'T, never respond to support claims, and they can't do maths. I track my completed surveys and feel I've been short changes by about 12% and they won't respond.

13/05/19 Contacted Help desk 5 times now, not even an acknowledgement, guess they've taken on some Lifepoints support staff.
A bit slow, and get "adjustments"
August 18, 2016 by Martin from United Kingdom
Looking at layout they must be the same group as Quest and Spice

Get a few surveys each month, probably get screened out of 50%

More concerning is when I check balance it shows "adjustments" where the reward for a survey is removed

Have e-mailed them asking why, but so far no response

UPDATE

They've now replied ""Our client identified a number of quality issues - speed / time to complete the survey considered to fast compared with other survey respondents"

So because I was quicker than their estimate then they deduct the points! Well next time I take an Opini survey I'll stop & get a coffee before I finish

UPDATE!
Another adjustment, this time they estimated survey would take 18 minutes, I took longer so points deducted. Seems you can't win

Would seriously recommend avoiding
November 13, 2016 by Sharmaine from Philippines
I've been a member of this site since April and got 1-2 surveys in my email per month. However, they are always surveys that I'd already accomplished from another survey subscription so I never got any points from them.

If you're good with 1-2 surveys per month (with a chance of not qualifying for each survey), then MAYBE this is an okay site. As I've never experienced getting points here, I've never been able to pull any money from here and so cannot promise anything on that front.