OpinionNow Reviews and Features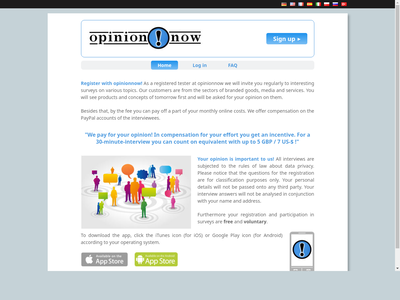 OpinionNow
Denkmalstraße 2, 45529 Hattingen , DE
Tel: +49 / 2324 / 98 33 91 Contact: http://panel.opinionnow.com/?ID=18
Operated by: Untiedt Research

PAYMENTS OFFERED

Cash paid via PayPal

Retail e-vouchers

HOW TO PARTICIPATE

Online surveys

Online focus groups

REDEEMING REWARDS
Redemptions vary by country; once you are registered, click on your credits tab to discover the payout minimum for your country. In the UK, a minimum of 6000 points (£4.20) is required for PayPal payments.
Opinion Now is a panel owned by a German market research company known as Untiedt Research, which was founded in 1998. Untiedt Research is one of the pioneers of German online market research and runs one of the largest German market research panels - Opinion Now. Opinion Now has over 60,000 panelists and takes on new members from Germany, Austria, Canada, Australia and Switzerland.
Get Paid for Your Opinion!
As a registered member you will be invited to online surveys or interviews on various topics such as: the development of new products, upcoming advertisements and viewing other innovative media forms. With Opinion Now, express your views through a variety of themes and get paid to do it!
Get Rewarded for Short and Long Surveys
Credits received depends on the length of the survey completed. Shorter surveys, which usually take around 5-8 minutes, are rewarded with 500 credits. Longer surveys, which take usually around 30 minutes to complete, will be compensated with up to 3000 credits! 3000 credits are equivalent to 5 GBP or $7 US. Remember to fill out surveys as soon as you receive it, or within 3-14 days of receiving the invite. Surveys can fill up fast, so Opinion Now recommends responding to the survey once you receive the invite.
Choose from PayPal or Online Vouchers
Once you have collected enough credits, you may choose to have your balance transferred directly into your PayPal account or redeemed towards a variety of online vouchers!. Minimum payout varies by country, but to find your minimum redemption balance, click on the "credits" tab in your personal account. Payouts will be sent the following Friday following your request.
Commitment to Privacy
Opinion Now adheres to a high standard of privacy in regards to all of its research activities. Answers from both online surveys and interviews are not analyzed in conjunction with your name or address. Research findings are analyzed in aggregate form to ensure privacy to each participant involved.
Eligibility: Residents of the following countries: Germany, Austria, Canada, Australia and Switzerland.
---
non-payment for over a year
June 18, 2020 by harley from Australia
I have been writing to them for a year to be paid and nothing has been paid without response.
Lack of Payment & Lack of Comms
December 30, 2019 by Helen from United Kingdom
Have been a member of the panel for about 4 years and although the surveys were few and far between they used to pay when asked. The last time I redeemed it took many months and emails that were never replied to until my payment came through and this time I have been waiting for 6 months for the £4.20 that they owe me and they won't reply to my emails. I will be cancelling as I cannot afford to waste time on companies that will not pay you for your work.
July 4, 2019 by Cynthia from Australia
I have been a member of Opinion Now for quite some time and have built up over $60 in points but I have tried to redeem my points for PayPal credits and nothing happens. I have tried to contact Opinion Now several times but they never contact me back. Could someone who is with them please tell me how I go about redeeming my points from Opinion Now. I click on the redeem button and then on the amount I want to withdraw. Lastly I click on the order button but then nothing happens. I have always found them a fair survey company and maybe there is a glitch somewhere and they are not receiving my emails when I try to contact them. So any help you could offer on how to redeem my credits will be very helpful. Thank you.
June 1, 2018 by helen from United Kingdom
I have been trying to log in and it wouldn't let me.When i did eventually get in, my points were gone .They have 2 lots of payouts that they owe me and they won't respond to my emails
No contact from customer service
May 15, 2018 by Louisa from United Kingdom
I am having the same problem as Julia - not able to log-in despite sending 6 requests to their contact page. It may be a glitch but they are very slow in responding!
» Return to: TOP RATED SURVEY SITES
---
Popular Topics
Top Survey Sites of 2021
---
Highest User Rated Survey Sites
---
Survey Sites That Pay Instantly
---
Survey Sites with Low Cash Outs
---
9 Product Testing Job Websites
---
12 Online Surveys That Pay Cash
---
14 Ways to Get Free Amazon Gift Cards
---
Best Paid Focus Groups
---
How to Get a Free Visa Gift Card
---
Get Paid by PayPal Without Fees
---
Ways to Get Free Xbox Gift Cards
---
Featured Advertisers: