Rakuten Insight Reviews and Features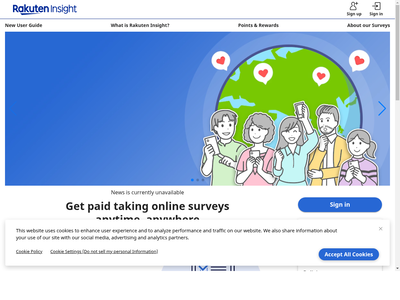 Rakuten Insight
Rakuten Crimson House, 1-14-1 Tamagawa Setagaya-ku, Tokyo, 158-0094 JP
Tel: +81-50-5581-1710 Contact: https://us.m.aipsurveys.com/inquiry
Operated by: Rakuten Insight Global
Quick Overview:
Rewards Offered: Amazon gift cards Cash paid via PayPal Retail e-vouchers Sweepstakes entries
Member Opportunities: Online surveys Refer-a-friend program Teen surveys
Redeeming Rewards: 500 point ($5) minimum account balance required to request rewards in the USA. 100 points (Rs. 100) required for gift vouchers in India.
Similar Panels: Opini, Panel Champ, Myiyo
As of July 2018, AIP Online Surveys rebranded itself as Rakuten Insight.

Rakuten Insight Global, the parent company of Rakutan Insight, serves business organizations and entities from all over the world, with their primary markets being Europe, the United States, and Asia. Panel participants help Rakuten advise on the development of better products and services.
Unique "EPoints" System
Once you are registered with Rakuten, you will be sent surveys to fill out. Multiple users from the same household may register, however every person will require their own separate e-mail address to register.
Rakuten uses a unique EPoints system that rewards you with points that vary according to content, the number of questions and the length of each survey. Accumulated EPoints can be redeemed for cash sent to your PayTM account. In India, 1 EPoint = Rs. 1, and in the US, 100 EPoints = 1.00 USD.
Voucher Options
For residents of India: redeem your EPoints for your choice of an Amazon e-voucher, Flipkart online voucher or Lifestyle online voucher. Only 100 EPoints (worth Rs. 100) is required for your first redemption.
Cash Option
For USA residents: Redeem your points for a cash payment made to your Paypal account with just 500 Epoints (worth $5) in earnings.
For India residents: Get paid by Paytm, with 100 EPoints (Rs. 100). Payments are issued in batches; this is typically done once per month. Remember that the email you use to sign up for Rakuten Insights must match the email used on your PayPal account in order to redeem your cash.
Visit Rakuten Insight's website

›
Surveys
Although the number of surveys invitations you receive will vary based on your demographic information, the more complete and up-to-date your profile is, the more likely it is you will receive surveys.
Refer Friends for Bonus Points
Country dependent: refer your friends and extended family members to Rakuten, and get credited with bonus points awarded to your account.
Sweepstakes Opportunities
Periodic 'lucky draws' are held with prizes like electronics including iPads, and gift cards to major retailers. Log into your account for information regarding how to win.
Eligibility: varies across countries; only users 16 years and older may join.
---
June 4, 2019 by Solaimalai from India
Very friendly survey.Payment and Customer Service responses are excellent.I had redemption 5 times for Rs.700/- ,of course for small amount of Rs.100 & 200.


April 7, 2019 by Ariani from Indonesia
It's hard too reach the target point level with such small survey rewards.
September 15, 2018 by jeralene from Philippines
AIP Surveys is a legit survey site and they paid a lot of its members. I joined this site back then, but I decided to work on them because surveys are too long, and I gave up when I felt toxic. Also, back then, they pay via check. I got paid with checks before.
May 17, 2018 by kimmy from Hong Kong
done a lot of surveys but payments are 20% less than other sites.
May 3, 2018 by Slamet from Indonesia
Interesting and I have surveys completed . I have received points for the surveys . Thanks .