SurveySavvy Reviews and Features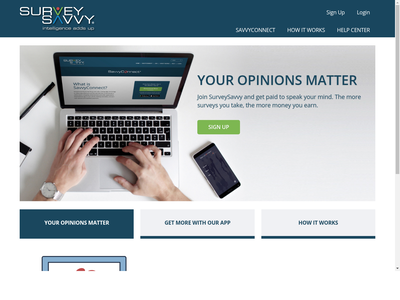 SurveySavvy
1365 4th Ave, San Diego, California 92101 US
Tel: 1-888-588-4258 Contact: https://www.surveysavvy.com/help/#contact
Operated by: Luth Research

PAYMENTS OFFERED

Cash paid via check

HOW TO PARTICIPATE

Online surveys

Mobile surveys

Teen surveys

Refer-a-friend program

REDEEMING REWARDS

No points system
Minimum account balance of $1 needed to request a payment check.

SurveySavvy is an online survey site where people can earn cash in exchange for completing surveys. The site is over 20 years old, and has paid out millions in dollars to its members, who are from all over the world.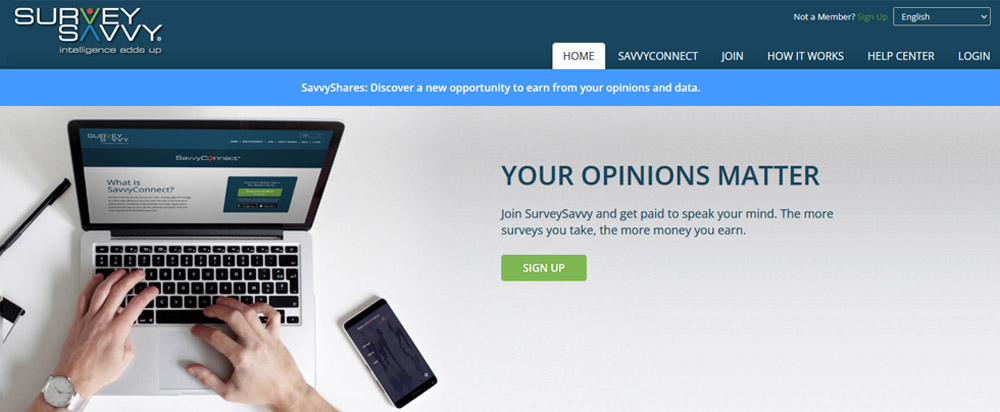 Join to Take Paid Surveys
SurveySavvy is an online survey panel that offers its users the ability to participate in paid surveys for cash. Becoming a member of the site is free and only takes a minute. Anyone from around the world can join the website to earn cash rewards for every survey completion.
Rewards Offered
With SurveySavvy, you can take online surveys in exchange for cash and get paid by check - the only payment method they offer. Request a check with just $1 in earnings in your account. Note that you will be paid in US dollars, regardless of what country you reside in
Earn Cash for All Survey Completions
SurveySavvy doesn't have any confusing points systems to figure out. Every online survey is offered for a dollar amount, and once you start accruing money, you can request a check that will be mailed to you. Checks are sent to members anywhere in the world, and are issued in US dollars. The minimum payment amount you can request is just $1.
SurveySavvy does not offer PayPal as a payment option and they don't offer gift cards either. They only offer payment checks that are sent through the mail.
Visit SurveySavvy's website

›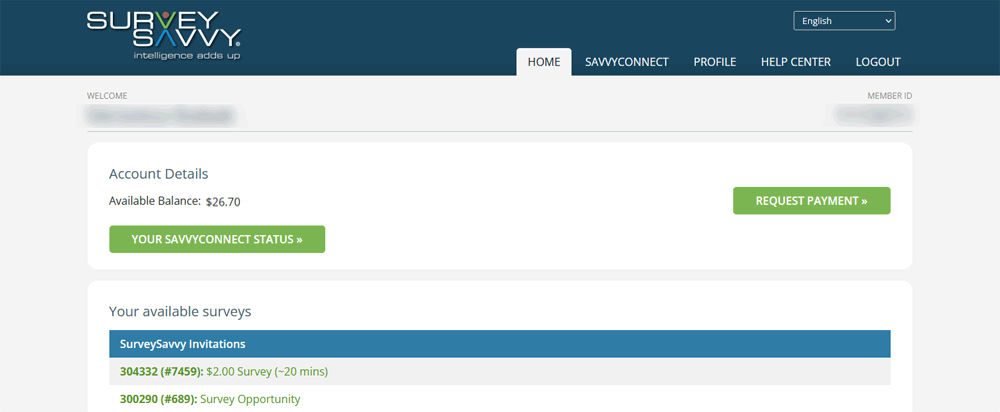 Complete Profilers for Better Matched Surveys
SurveySavvy's profilers are called "portraits", which are short surveys stored in your account which if completed, are designed to better match you with paid online surveys that become available. As well, members who fill in these portraits may be selected to complete studies that members who have not completed these will not be invited to.
Great Monthly Draws for When You Don't Qualify
If you attempt to complete a survey and get disqualified, you will earn an entry into the cash draw where you could be one of 50 winners who will receive $10 credited to their accounts!
Special Contests and Opportunities
On occasion, SurveySavvy offers their members the opportunity to win contests. Opportunities such as choosing which charity should receive a substantial donation, YouTube video contests for a cash prize, etc. have all been offered in the past.
Visit SurveySavvy's website

›
SurveySavvy Referral Program
SurveySavvy offers a generous 2-tiered referral program. Not only will you earn a portion of the cash earnings for your direct referrals, but you will also earn a portion of the survey earnings from your referrals' referrals. Simply visit the 'Home' section on the website to input your referral's name and email. SurveySavvy will reach out to your referral via email and once your referral has signed up and completed a survey, you'll be credited within 4-12 weeks on your account.
Alternatively, you can simply copy your referral link from your account and share it on social media, your website, or with your friends, instead of having SurveySavvy email your contacts.
Worldwide Presence
SurveySavvy is one of the very few online survey panels that accept people from all around the world. They have members in over 195 countries and have been around since 1999.
SavvyConnect
SurveySavvy has a tool called SavvyConnect where members can participate in market research by surfing the internet. SavvyConnect aggregates data to provide analysis on internet surfing habits - this information is not sold and is used for behavioral research purposes only. Installing SavvyConnect on your computer or mobile device also enables SurveySavvy members to access additional paid research opportunities. You can get $5 per device each month plus access to special surveys and expedited payments!
Is SurveySavvy Legit or Scam?

Is SurveySavvy Legit?
Believe it or not, SurveySavvy has been offering paid surveys for over 20 years and as such, is completely legit and is certainly not a scam. Although members of the site may have varying degrees of success with the program, SurveySavvy is a legitimate online surveys website that is very safe to use. Bear in mind that although they offer the opportunity for anyone in the world to join their site, people in predominantly English-speaking countries (USA, Canada, UK, etc.) will receive more frequent invitations to complete surveys.
Luth Research, the company that operates the SurveySavvy panel, is a member of the BBB (the Better Business Bureau). They have maintained a solid rating on the platform for many years, providing more confidence that SurveySavvy is legitimate.
Eligibility: Residents worldwide, aged 13+
---
SurveySavvy Reviews (165)
July 26, 2022 by Orlando Ajuea from Cameroon
I think SurveySavvy is one of the best Survey companies I have worked with so far. They always send surveys to all their subscribers and always pay. I never experienced any problem when it comes to paying, which is the most important reason why we do surveys right.

My money was always coming through checks and cashing it was very easy without any complications at the bank.

I have been unable to work with them since I came to Cameroon because am outside their geographical boundary even though they keep sending me surveys.

I highly recommend SurveySavvy to anyone especially in America, Canada, Australia etc who wants to make some cool extra cash.
June 25, 2022 by Faye from Canada
General comment: There have been a few surveys that take up alot of my time gathering information, then state I'm not eligible for that survey. Despite the 5-15+ mins. I've spent responding, there are no points awarded. Very disappointing.
May 16, 2021 by Terry from United States
Some surveys are very long, but most are manageable. Rewards are OK. Screen out rate is a bit higher than I'd like.
January 22, 2021 by Stephanie from United States
Survey Savvy has plenty of surveys to take with fair payment for each one and no minimum amount needed to cashout.

One problem with Survey Savvy is it takes awhile for each payment to update to your account. But the biggest problem is unlike other sites that offer paypal and gift cards to choose from for a quick and easy cashout process.. they only offer payment through a check in the mail. That payment can take anywhere from 3-5 months to receive. Yes, 3-5 months. I don't know why they won't update this but has always been their format and it doesn't appear that they will change it.

They would easily be one of the #1 sites out there if they just updated their payment options.
No way to know if I got my points
December 1, 2020 by Jo from United States
I think it should be required that these places have a current and historic survey history available for the users/survey takers to look at and verify survey points. I am not able to find anywhere on their site that give me this information. When I have to wait 2-6 wks to know if I got my points or not, and there is not history to look at, it seems quiet clear that they don't want you to remember to look at your point balance. I did reach out today so we will see if they will help me locate it.
» Return to: TOP RATED SURVEY SITES
---
Popular Topics
Top Survey Sites of 2022
---
Highest User Rated Survey Sites
---
Survey Sites That Pay Instantly
---
Get $100 Free PayPal Payments
---
9 Product Testing Job Websites
---
12 Online Surveys That Pay Cash
---
How to Earn Free Uber Gift Cards
---
14 Ways to Get Free Amazon Gift Cards
---
Best Paid Focus Groups
---
How to Get a Free Visa Gift Card
---
Ways to Get Free Xbox Gift Cards
---
Featured Advertisers: