SurveyTime Reviews and Features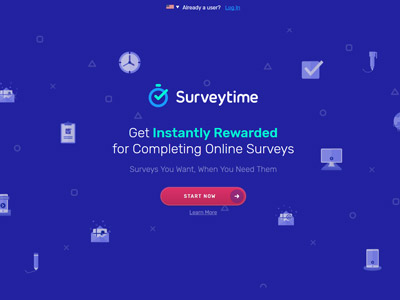 SurveyTime is run by Persona.ly - a global mobile ad-tech company who works with the world's largest market research companies to provide direct, exclusive survey campaigns. It is the only survey panel that offers users instant surveys with truly instant rewards.
Get $1 Immediately After Every Survey Completion
With SurveyTime, there are no complicated points systems to figure out. Every time you complete a survey, you will receive an instant $1 reward of your choosing (from the rewards options available), sent immediately to your e-mail. There is no waiting for points approvals or for payment - everything is instant!
Desirable Rewards Options
SurveyTime offers instant payment for highly desirable rewards. These include PayPal cash payments, bitcoin payments made via Coinbase, Amazon e-vouchers, and e-gift cards to retailers including Walmart, Target, and more. Note that rewards options will vary per country.
Visit SurveyTime's website

›
Create Your Profile, Get Matched to Surveys
When you first sign up with SurveyTime, you will be asked to answer a short list of questions to create your profile. Your answers will be used to pair you with surveys that are matched to your profile.
Getting Notified of New Surveys
You can get notified of new surveys in a few different ways: log in to your Survey Time account and check the website for new surveys, or sign up for e-mail or text notifications so you can be among the first to find out about new opportunities!
Desktop or Mobile - Your Choice
SurveyTime's surveys and website are both desktop and mobile friendly, so when you're ready to take a survey, take it on the device of your choosing.
Eligibility: Users worldwide.
---
Surveytime is the Worst HARD HARD to Qaulify
September 14, 2019 by Lester from United States
Surveytime Needs Alot of Improvements BadBiz
#Surveytime is okay only Bcuz it Pays U $1 Instantly But Its The Worst Survey Site of All the Million Survey Sites i Sign Up For Becuz its the Hardest in the World to Qualify For U May Qualify for 3 out of 100 Surveys And if u have a Problem theres No One to Talk to They Never Ever Respond to Any of My Emails Or my Wife Emails When We Both Did like 5 Surveys a pc an Never Got Paid They keep sending this email sayn it take 48 Hours to Verify our Paypal Acct well it been 3 Wks now an Still Havent Got Paid Okay.....

New Update i Finally got My Money but my Wife still havent got her Money Yet an she have done like 10 Surveys an we Emailed them 100 Times Noooo Reply WoW its like We Doin Surveys For Aliens From Outer Space that Never Ever Talk to U But Quick to Flood My Email an Send me a Million Text Tellin me they Have a Survey For Me i Can Do Dat i Will Like but When i Go to Do the Survey 99percent of the Time it Tells me i Do NOT QUALIFY PLEZ STOP sending me Surveys i Dont Qualify For Okay Tommy Boy Sheesh!!! Yall is the Worst of them All my Top 4 Survey Sites is Quick Thoughts #Amazon Branded Surveys #PayPal InboxDollars #PayPal an PaidViewPoint #PayPal i Made ova $200 wit each 1 of them an Never Get DisQualified All Dam Day like #Surveytime Ugghh!!! Badd Biz Nooo Customer Service If U Have Anykind of Problems U On Yo On 😈
One Of The Worst Panels Ever
August 19, 2019 by Vickie from United States
When this wasGiftHulk, I was able to see how many points I had and was able to accumulate points for rewards. Now that it has been taken over by SurveyTime, my inbox is getting loaded with emails for surveys but I am continuously getting disqualified. This is ridiculous! Ive dropped out of SurveyTime. why bother to spend my time on countless surveys and not be able to get any rewards at all.
August 5, 2019 by steven from United States
I joined surveytime in June and it was good, I could select the survey I wanted to complete with a lot of choices and earned $4 very quickly the first day and $3 for two more days and was paid without issue, $1 instantly for each survey, and then without any notice I signed in and the options were gone, I was given a survey with no info on the duration but didn't qualify and I haven't qualified for one since, i tried to contact customer service but no response also the email links never worked on the many invitations i received, i would not recommend this site unless they change back to the setup they used at first...
Surveytime is the new Gifthulk site
July 30, 2019 by Vanda from United Kingdom
Although I have been in Surveytime since April 2019, I am gutted to hear Gifthulk are closing down from August 1st 2019 and running their new site "Surveytime". All I can say is everyone be careful. It's not easy getting a qualifying survey and I have had survey invites from other sites that have been completed but haven't been paid to the invited site. Perhaps given time, they will improve, but not looking too good from my point of view ie not getting paid as happened in Gifthulk.
July 7, 2019 by Fern from United States
I tried to qualify for many surveys before I finally qualified. I was given a code for Amazon and it was an invalid code. I contacted them many times and never got an answer or a new code.
Stay away from this survey site.