SurveyTime Reviews and Features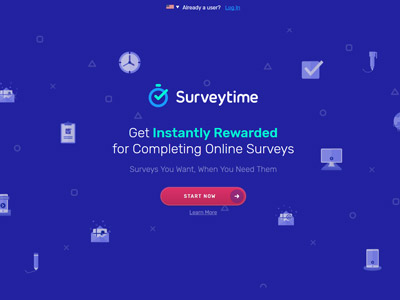 SurveyTime is run by Persona.ly - a global mobile ad-tech company who works with the world's largest market research companies to provide direct, exclusive survey campaigns. It is the only survey panel that offers users instant surveys with truly instant rewards.
Get $1 Immediately After Every Survey Completion
With SurveyTime, there are no complicated points systems to figure out. Every time you complete a survey, you will receive an instant $1 reward of your choosing (from the rewards options available), sent immediately to your e-mail. There is no waiting for points approvals or for payment - everything is instant!
Desirable Rewards Options
SurveyTime offers instant payment for highly desirable rewards. These include PayPal cash payments, bitcoin payments made via Coinbase, Amazon e-vouchers, and e-gift cards to retailers including Walmart, Target, and more. Note that rewards options will vary per country.
Visit SurveyTime's website

›
Create Your Profile, Get Matched to Surveys
When you first sign up with SurveyTime, you will be asked to answer a short list of questions to create your profile. Your answers will be used to pair you with surveys that are matched to your profile.
Getting Notified of New Surveys
You can get notified of new surveys in a few different ways: log in to your Survey Time account and check the website for new surveys, or sign up for e-mail or text notifications so you can be among the first to find out about new opportunities!
Desktop or Mobile - Your Choice
SurveyTime's surveys and website are both desktop and mobile friendly, so when you're ready to take a survey, take it on the device of your choosing.
Eligibility: Users worldwide.
---
June 13, 2019 by Rosemary from United States
When I received an invitation from Survey Police to try Survey Time I immediately joined and completed 2 very interesting surveys BUT, I had issues with the payment process.
I contacted support and was replied to right away by Tommy who was very helpful. Realizing my browser, Microsoft Edge does not always support some sites, I switched over to Google Chrome and was instantly paid through PayPal. I have now switched back to Microsoft Edge and have had no more problems cashing out..I like that although some of the third parties are familiar, the surveys are somehow more interesting and I'm loving the "chat" style surveys, they feel more personal.
Even though I have not responded to every survey invite e-mailed to me, I have completed and was compensated for 15 surveys so far. The only reason I am not giving Survey Time 5 stars is, in the world of surveys, there's always room for improvement. To Tommy and the staff of Survey Time, GREAT JOB! and thank you for allowing my membership. I WILL be recommending this site everywhere I possibly can.
June 4, 2019 by Adam from United States
I've tried basically every survey site out there, and this one is... ok. That's better than average, since the majority of them are awful, but it could be much better. It's nice that every survey pays a dollar, though it'd be even nicer if they could limit their surveys to only ones that were *worth* a dollar, and stop spamming my inbox constantly with invites to surveys that take anywhere from 5 minutes (awesome!) to 15 minutes (not great, but sure) to 25 minutes (absolutely unacceptable). Now, that said, at least they tell you up front in the email how long the survey will take, so I can toss 70% of them immediately in the trash... except half the ones that they say will take less than 10 minutes, don't.

It'd also be *really* nice if all the questions they asked up-front actually *did* something, so, again, I could stop getting spammed with invites to surveys I prequalified for, only to answer one question, or in some cases, *zero* questions, before being told that I did not actually qualify for the survey. Why did you even make me fill out a million questions up-front then? It's not like my gender or race have changed in the last month...

That said, yes, if you complete a survey, you will get a dollar. I've gotten several dollars from them, and they do pay immediately, no BS minimum required. Other than the very first survey that I completed, that threw an error on the completion page and I never got paid for, because their support is also literally nonexistent. I sent them an email - never got a response. At least GTM sends you a joke of a form response - I'm not saying that's actually *better* than no response (it's not), but at least I knew it was received...

I'm sticking with it for now, but I dunno if I will long-term.
June 3, 2019 by Harry from United Kingdom
Unfortunately, this is a router site, which uses Cint. Not a good start. I finally managed to complete a survey after countless disqualifications, only to find that I am unable to input my phone number for verification (it just tells me to 'enter another phone number'). Payout seems OK for the shorter surveys, but not for the longer ones. No support email visible on website, so I can't contact them about their issues. I will update my review if my payment goes through.
Spend your time on other surveys
June 2, 2019 by Ingrid from United States
Who'd like an immediate payout for completing simple surveys? (Me!) Who'd like to be rejected 40+ times by surveys you're told you qualify for? (hint: NOT me!) The review by Lenier ("The good and the bad" on 5/31/19) says it all and there isn't much to add except to say I've experienced the same thing. Countless emails from Tommy, saying I qualify, only to find out I do not. To the site's credit, disqualification happens after just a few simple entries....which begs the question, how exactly did I "qualify" in the first place. I think the answer is simply that I've put my email address on file with them. Unless something changes and radically, this survey site is a total waste of my time. While it's commendable to pay out with great speed and no minimum, it's a point of moot if you can't ever qualify for another survey. I'm left to wonder if the intent was just to collect email addresses and mobile numbers for junk mail and unwanted telemarketing calls.
Profile is horrible to complete, really slow.
June 1, 2019 by Leo from United Kingdom
More than simply 'incoherent' as per another review, it's a survey router that just takes up respondents time by going into a loop from when you fill your profile and start a survey, which asks what you just told them. Tried once but will not continue.