TGM Panel Reviews and Features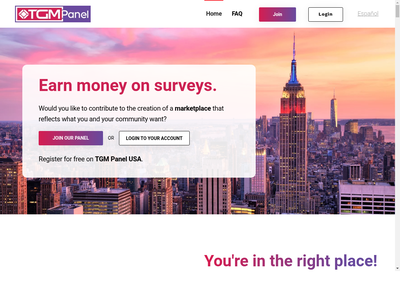 TGM Panel
Dluga 29, 00-238 Warszawa, Mazowieckie PL
Tel: Contact: https://help.tgmpanel.com/en/contact.html
Operated by: TGM Research FZE

PAYMENTS OFFERED

Cash paid via PayPal

Amazon gift cards

Retail e-vouchers

HOW TO PARTICIPATE

Online surveys

Mobile surveys

Online focus groups

Mystery shopping

Daily surveys

Online beta testing

Refer-a-friend program

REDEEMING REWARDS

No points system
$10 USD minimum account balance required. Rewards processing completed within 72 hours of request.
TGM Panel is an online research panel where panelists can transform their opinions into money. TGM Research specializes in mobile market research and online panels and can access billions of users worldwide through their network of mobile apps, ad networks and websites.

Easy Surveys
With TGM Panel, you can take paid surveys every day without any limits. No surveys are over 30 minutes and survey inventory is high, meaning you'll have plenty of studies to choose from.
Earn Great Rewards
You can choose one of three methods to cash out your earnings with TGM. These are:
PayPal payments - With just $12.50 USD (or equivalent) in your account, you can request a cash payment to your PayPal account. Your PayPal e-mail address must be the same as the one you use to register with TGM.
GCodes® Rewards - With just $10.00 USD in earnings, you can request a GCode, which is a code that can be used to request a gift card from many different retailers.
Amazon e-vouchers - With just $10.00 USD in survey earnings, you can request an Amazon e-gift code.
Fast Reward Processing Times
Rewards processing times are super quick! After submitting your rewards request, receive your reward within 72 hours.
Visit TGM Panel's website

›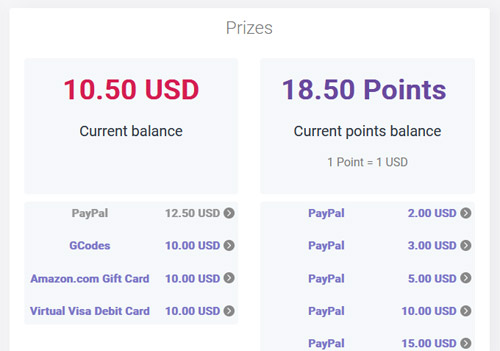 Cash for Every Survey Completion
Earn cash for every online survey you complete; when you have taken enough surveys or completed enough tasks to request a reward, you can simply redeem your cash balance for a cash reward or a gift card.
Earn Points, Even if you Get Disqualified
If you attempt to complete a survey but are unable to finish it because you got disqualified, TGM will still compensate you for your time and will credit points to your account, just for attempting the survey. These points can add up and can help you reach a payment sooner.
Generous Referral Program
TGM Panel offers a referral program where you can earn up to 20% of earnings made by your friends and others you recruit to the program. Simply log in to your account to grab your unique referral code, which you can then share on social media, or in an email or text message to your friends.
Score Surveys
After you've completed a survey, you can score the survey and share your feedback about it. TGM uses this information to actively conduct quality checks on survey suppliers, so as to decrease the chances of you encountering technical errors, late screen outs, and closed projects on future surveys.
Mobile Surveys and More
TGM's surveys are mobile-optimized so that taking surveys on your phone is easy and seamless. Surveys are designed to be quick and fun, making survey taking on the go easy. The platform itself and surveys are available in a variety of different languages. Other activities such as mystery shopping, online focus groups and mobile app testing are also available.
Is TGM Surveys Legit?
Although TGM Surveys is a relatively new survey website, they genuinely provide paid online survey opportunities. TGM is not a scam, though as with any survey program, your experience and success with the site may vary - especially if you are from a country where few survey opportunities are available. The site does not sell information to third parties and is a safe and legit website.
Eligibility: TGM Panel is available in 80+ countries
5 Star Reviews (106)
70.7
Profile problems resolved but....
December 31, 2021 by Shaun from United Kingdom
Yes, I'd like to confirm that there is a serious problem with profiles being deleted. I keep filling them in and they keep showing as partially filled in, or not filled in at all. This does affect the ability to take surveys as you're deemed as not qualified to take them. I hope it gets resolved soon because, so far, TGM is a half-decent survey site.

UPDATE: The profile problem seems to have been resolved, but now others exist, as it looks like I've been blocked from receiving surveys. Every time I've logged in there's been none available. Perhaps, TGM need to unhook itself from Cint, as they're always a problem. So, in light of that, I've revised the star score. Too bad, it "looked" like a half-decent survey site.

TGM Panel responded to this review on January 3, 2022
Hi Shaun,
I explained to you the reasons why you are disqualified, and you know how I treated you. Being unhooked from the biggest survey platform in the world is a bit hard.
Kind regards,
Greg
December 19, 2021 by Susan from South Africa
totally useless to rely on, i keep getting messages "This survey is closed.
We apologize for any inconvenience this may have caused. We look forward to your participation in future surveys"

TGM Panel responded to this review on December 23, 2021
Hi Susan,
There can be many different situations when you see this message. Ideally, drop us a message to support so we can investigate.
Thanks,
TGM Panel
November 8, 2021 by Lisa from United States
I seen TGM Panel while on SurveyPolice and after reading multiple good reviews, I figured I'd give it a shot.

I had just signed up a few days ago and completed my profile 100%. I had been working on other panels and decided to give this one a proper try today.

I had been getting disqualification and disqualification and had went back to the panel homepage. On the homepage where it previously said my profile was 100% complete, it now says nothing. So, I checked my profile and it's gone. Now 0% of my profile is filled out.

TGM Panel responded to this review on November 10, 2021
Hi Lisa,
If the profile is not complete and you made it, then it must be some error, which could easily be clarified if you reach out to our helpdesk. Please notice that we PAY for filling out profiling questions, so our interest is to keep this data. For the US we observe around a 10-20% conversion rate, so yes you may get disqualified. And again we are one of only a few panel companies that do PAY for screened out and quota full disqualifications.
TGM Panel team
April 22, 2021 by Lawrence from United States
I was a member for less time than it took to fill out the profile page! I went to begin a survey and QA score (beginning score) was 100. I clicked start survey and WOW! The fun began! QA changed to 90 and I got the message that I was Blocked and would remain so for 3 months! I saved us both some time and unsubscribed immediately!

TGM Panel responded to this review on April 23, 2021
Hi Lawrence,
Hmm, this is weird, I remember this comment from many months ago - any reason for refreshing it?
Best regards,
TGM Panel
February 23, 2021 by kevin from United States
Well when i signed up the only reason i signed up was it was supposed to be a paypal cashout survey, as it turns out its not, they use cint to pay and cint is having problems with paypal due to reasons unknown, this is why if your a survey company you should never rely on another survey company to fix your issues this gcode and little amazon gift card is stupid, if it takes $10.00 on amazon just for shipping and handling it might take a little more, a HUGE WASTE OF TIME DONT BOTHER WITH THIS COMPANY A WASTE OF TIME, and survey police needs to remove them from paypal surveys and place them into another category who knows what this ccode crap is im sure you cant buy gas or groceries you could do with paypal, ive been seeing alot of apologies from this panel on the reviews, apologizies not accepted this company must do its job and the outstanding ridiculous time it takes for payout, a week are you serious? if other survey companies can make instant direct deposits this one can to, common sense it dont take 6 to 10 business days for a payment, i just cashed out with ccode probably wont be able to buy anything with it so as far as im concerned until they get paypal fixed and stop taking a week to 2 weeks for payment of pocket change i wont be helping them make a killing while i dont even get paid so fix the problem! 1 star is what you get cause thats what you deserved!
» Return to: TOP RATED SURVEY SITES
---
Popular Topics
Top Survey Sites of 2022
---
Highest User Rated Survey Sites
---
Survey Sites That Pay Instantly
---
Survey Sites with Low Cash Outs
---
9 Product Testing Job Websites
---
12 Online Surveys That Pay Cash
---
How to Earn Free Uber Gift Cards
---
14 Ways to Get Free Amazon Gift Cards
---
Best Paid Focus Groups
---
How to Get a Free Visa Gift Card
---
Ways to Get Free Xbox Gift Cards
---
Featured Advertisers: