TGM Panel Reviews and Features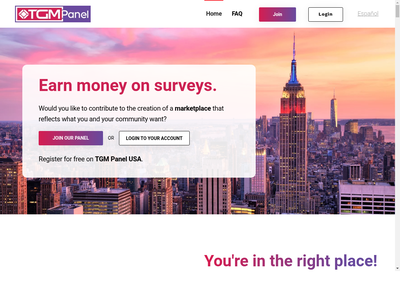 TGM Panel
Dluga 29, 00-238 Warszawa, Mazowieckie PL
Tel: Contact: https://help.tgmpanel.com/en/contact.html
Operated by: TGM Research FZE

PAYMENTS OFFERED

Cash paid via PayPal

Amazon gift cards

Prepaid debit or credit cards

Retail e-vouchers

HOW TO PARTICIPATE

Online surveys

Mobile surveys

Online focus groups

Mystery shopping

Daily surveys

Online beta testing

Refer-a-friend program

REDEEMING REWARDS

No points system
$10 USD minimum account balance required. Rewards processing completed within 72 hours of request.
TGM Panel is an online research panel where panelists can transform their opinions into money. TGM Research specializes in mobile market research and online panels and can access billions of users worldwide through their network of mobile apps, ad networks and websites.

Easy Surveys
With TGM Panel, you can take paid surveys every day without any limits. No surveys are over 30 minutes and survey inventory is high, meaning you'll have plenty of studies to choose from.
Earn Great Rewards
You can choose one of four methods to cash out your earnings with TGM. These are:
PayPal payments - With just $12.50 USD (or equivalent) in your account, you can request a cash payment to your PayPal account. Your PayPal e-mail address must be the same as the one you use to register with TGM.
GCodes® Rewards - With just $10.00 USD in earnings, you can request a GCode, which is a code that can be used to request a gift card from many different retailers.
Amazon e-vouchers - With just $10.00 USD in survey earnings, you can request an Amazon e-gift code.
Virtual Visa Debit cards - With $10.00 USD in earnings, you may request a virtual visa debit card (USA members only)
Fast Reward Processing Times
Rewards processing times are super quick! After submitting your rewards request, receive your reward within 72 hours. To submit your request, log into your account, click the 'Rewards' link at the top of the screen, and then select the prize you'd like to receive (PayPal payment, Amazon gift card, etc.). You will then receive an e-mail containing your reward information.
Visit TGM Panel's website

›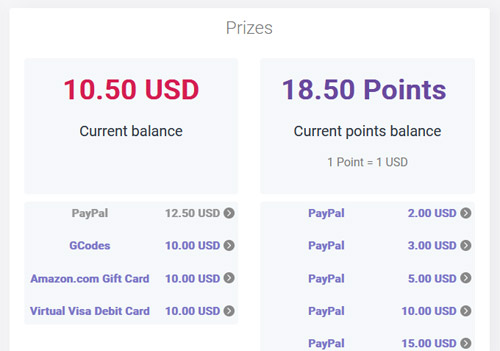 Cash for Every Survey Completion
Earn cash for every online survey you complete; when you have taken enough surveys or completed enough tasks to request a reward, you can simply redeem your cash balance for a cash reward or a gift card.
Earn Points, Even if you Get Disqualified
If you attempt to complete a survey but are unable to finish it because you got disqualified, TGM will still compensate you for your time and will credit points to your account, just for attempting the survey (something most survey sites don't do). These points can add up and can help you reach a payment sooner. Typical disqualifications award 0.03 points (equivalent to $0.03).
Tip! TGM Panel pays 0.03 points ($0.03) per survey disqualification. These add up over time! $$$
Mobile Surveys and More
TGM's surveys are mobile-optimized so that taking surveys on your phone is simple and seamless. Surveys are designed to be quick and fun, making survey taking on the go, easy. The platform itself and surveys are available in a variety of different languages. Other activities such as mystery shopping, online focus groups and mobile app testing are also available.
Score Surveys to Help Improve Future Studies
After you've completed a survey, you can score the survey and share your feedback about it. TGM uses this information to actively conduct quality checks on survey suppliers, so as to decrease the chances of you encountering technical errors, late screen outs, and closed projects on future surveys.
Visit the TGM website

›

Generous Referral Program
TGM Panel offers a referral program where you can earn up to 20% of earnings (referral amounts vary by country) made by your friends and others you recruit to the website. Simply log in to your account to copy your unique referral code, which you can then share on social media, or in an email or text message to your friends.
To check how much you have earned from your referrals, simply click the 'Refer & Earn' link in your account. You will then see a list of your referrals, their registration date and the number of points you have earned from their survey completions.
Is TGM Surveys Legit?
Although TGM Surveys is a relatively new survey website, they genuinely provide paid online survey opportunities. TGM is not a scam, though as with any survey program, your experience and success with the site may vary - especially if you are from a country where few survey opportunities are available. The site does not sell information to third parties and is a safe and legit website.
Eligibility: TGM Panel is available in 80+ countries
5 Star Reviews (125)
71.4
February 23, 2021 by kevin from United States
Well when i signed up the only reason i signed up was it was supposed to be a paypal cashout survey, as it turns out its not, they use cint to pay and cint is having problems with paypal due to reasons unknown, this is why if your a survey company you should never rely on another survey company to fix your issues this gcode and little amazon gift card is stupid, if it takes $10.00 on amazon just for shipping and handling it might take a little more, a HUGE WASTE OF TIME DONT BOTHER WITH THIS COMPANY A WASTE OF TIME, and survey police needs to remove them from paypal surveys and place them into another category who knows what this ccode crap is im sure you cant buy gas or groceries you could do with paypal, ive been seeing alot of apologies from this panel on the reviews, apologizies not accepted this company must do its job and the outstanding ridiculous time it takes for payout, a week are you serious? if other survey companies can make instant direct deposits this one can to, common sense it dont take 6 to 10 business days for a payment, i just cashed out with ccode probably wont be able to buy anything with it so as far as im concerned until they get paypal fixed and stop taking a week to 2 weeks for payment of pocket change i wont be helping them make a killing while i dont even get paid so fix the problem! 1 star is what you get cause thats what you deserved!
December 20, 2020 by DAVIDSON from United States
I'VE BEEN A MEMBER OF TGM SURVEYS FOR SEVERAL MONTHS. I RECEIVE 4-5 SURVEY INVITATIONS EACH DATE, I TAKE THEM ALL, 1+ HOURS A DAY. TO DATE I'VE EARNED $0.65. THIS SITE IS A TOTAL WASTE OF YOUR TIME.
DAVID

TGM Panel responded to this review on December 21, 2020
Hi David,
That is very weird, as for the US we have a lot of surveys, and many respondents constantly do more than 10 USD a day - Please drop me an email at
[email protected]
so I can check the issue.
Thanks
Greg
TGM Panel not working/Cint sucks
December 11, 2020 by Faron from United States
TGM Panel not responding when I try to open a survey, I have sent email to support group. Have not received an answer, or any type of response. This has been going on since Sunday, 10/18/2020. Just got ramrodded by Cint. Finished 15 min survey again, and when I finished, I got a 'Oops!' webpage saying something went wrong. Then they came back and said it will probably be 2 to 3 weeks before I get paid!! I have had it with TGM. Shove it! 10/23/2020
11/24/20-I have had it with the TGM Survey Panel. I cannot complete the surveys, I very seldom get a response from the TGM help line. I have tried unsuccessfully to close my account, but I get no response from them.
Nothing has worked correctly on the sight for the last couple of weeks. I cannot do the "point" surveys, it always comes up "survey not found", or has a '404' error. I can start a survey, but it will never finish. U can keep what little bit of money I have in there. Never again.
I have submitted my "close account" email again. Let's see what happens.

TGM Panel responded to this review on December 11, 2020
Hi Faron,
I really do not know what to say. Every day we have a couple thousands completes and many from the US. You also finished 46 surveys and cashed out 3 times. You were also getting 0,015 USD for each screen out, and have 3 USD in your account, ready to cash out. On the 23rd of November, you completed the last survey with us, and did not start any new surveys - so not sure how they are not working?
You can close your account very easily and you can do it in 3 different ways - in each email we send is a button Unsubscribe, click Confirm and done. You can also do it in in the Portal in Account Settings / Close account. Finally, you can do it via the helpdesk, writing clearly - Please close my account, and we will do do. BUT we need to know you want to close it, do not write: " I am tired of this. I am closing my account.", as it's difficult to understand this.
Regarding the helpdesk - you wrote around 10 tickets, most of them we answered the same or the next day, the other after few days as we need to check with Cint what the problem was.
I am sorry that you are unhappy with our panel, but let's stick to facts. If you want to have a closed account please use any of the ways above
Kind regards,
TGM Panel
September 10, 2020 by Rosalie from United States
I have been getting notifications from this site for about a month and my points never go up. Now there's an issue with Paypal. Dont bother they aren't paying anything good.

TGM Panel responded to this review on September 11, 2020
Hi Rosalie,
Yes, there is a problem with Cint -> Paypal payments. We are using Cint for payments as thank this we can offer much higher rewards - compare our rewards to the competition. Although, as this is the second time when we have a problem over last year we will think about changing this.
But in the USA we offer also GCodes and Amazon Gift Card - so simply use one of those payment methods for now. Also, the only Rosalie we have in panel didn't reach the minimum payment, so if you are using another email, please contact us on support.
TGM Panel
July 24, 2020 by Jill from United States
I regret joining this site. The surveys are Cint, and they claim you get something for attempting a survey but I have seen nothing added to my account. The website is also impossible to navigate. Possibly the worst site I've ever tried out.

TGM Panel responded to this review on July 28, 2020
Hi Jill,
Thank you for "nice words" which are completely not true. Yes, that is right - we have to time only Cint offers, but for the US, there are more than 200 surveys available each moment. And yes, we pay as one of the very few panels when you are not qualified for a survey (but out of quality reasons disqualification). It was enough to drop us an email to our support and we could check the problem.
Kind regards,
TGM Panel
» Return to: TOP RATED SURVEY SITES
---
Popular Topics
Top Survey Sites of 2022
---
Highest User Rated Survey Sites
---
Survey Sites That Pay Instantly
---
Get $100 Free PayPal Payments
---
9 Product Testing Job Websites
---
12 Online Surveys That Pay Cash
---
How to Earn Free Uber Gift Cards
---
14 Ways to Get Free Amazon Gift Cards
---
Best Paid Focus Groups
---
How to Get a Free Visa Gift Card
---
Ways to Get Free Xbox Gift Cards
---
Featured Advertisers: