The Panel Station Reviews and Features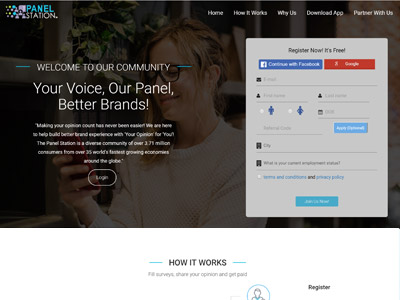 The Panel Station
Building 2A,Aster-East Tower, Lower Ground Floor, Embassy Tech Village Marathalli - Sarjapur Outer Ring Road, Devarabeesanahalli, Bangalore 560 103 IN
Tel: +91 80 41785814 Contact: [email protected]
Operated by: Borderless Access Panels Pvt. Ltd.

PAYMENTS OFFERED

Cash paid via PayPal

Amazon gift cards

Retail e-vouchers

Sweepstakes entries

HOW TO PARTICIPATE

Online surveys

Mobile app

Teen surveys

REDEEMING REWARDS
3000-point minimum account balance required for reward redemption.
The Panel Station is an online community of consumers who regularly share their views and opinions on a variety of issues by participating in market research surveys. By participating in these surveys, members of The Panel Station influence decision making in organizations worldwide, and help in the creation of improved products and services.
Exchange Your Points for E-Gift Certificates
The Panel Station offers a wide variety of e-gift certificate options. When you have earned 3000 points, you can exchange your balance for a e-gift card. Retailers vary per region, but include: PayPal, Amazon, Rakuten, Submarino, Jumia, Linio, Flipkart, Lazada, and more.
Visit The Panel Station's website

›
Survey Lengths and Frequency
Most online surveys take approximately 12-15 minutes to complete and are straightforward to answer. Surveys that are more complicated or are longer will typically offer more points for completion. You will typically receive somewhere around 2 survey invitations per week.
Earn Reward Points for Each Survey You Complete
For every online survey you complete, you will earn between 500-5000 points. (500 points = 50Rs in India), depending on the survey's length and complexity.
Point Values
500 points equals approximately RS 50, so 3000 points (the minimum amount required in order to cash out) equals Rs 300. In countries outside India, 3000 points equals roughly $6.50 AUD, 60 Rand, 200 Philippine Pesos, etc.
More Ways to Earn Points
If you get disqualified or screened-out of a survey, you will automatically be credited 20 points to your account, just for trying. You'll also have opportunities to earn points through participation in discussion threads, or updating your profile.
Visit The Panel Station's website

›
Monthly Prize Draws
For every country (ex. Australia, India, South Africa, etc.), The Panel Station offers a monthly prize draw. Get a ticket into the draw by exchanging anywhere from 300-500 points (depending on your region) or take special surveys for sweepstakes entries, and you could be the lucky winner of cash, great gift vouchers, and more. Many draws have more than one winner.
Mobile App
Take surveys on your smartphone using The Panel Station's mobile app. Don't miss out on the hottest available surveys with instant notifications and offerings. Available for download on Android and Apple devices.
Eligibility: Open to residents of most of the Asian-Pacific, Middle-East, UK, USA, and a few select African, South American, and European nations. Minimum age requirement of 16+.
---
The Panel Station Reviews (127)
No support and no points Stay Away!
May 29, 2023 by Jan from South Africa
It used to be great but under current dishonest management The Panel Station works like this:
You perfectly complete the survey to the end and they get the money from their client who wanted surveys.
But you never get your points.
Then you complain, and a bot gives you an auto-reply so you complain that they did not even look at the complaint.
They never look at your actual case but keep giving you auto-replies about things that could have disqualified you even though you state over and over again that it did NOT happen, the survey was completed and submitted without problems for example Survey 175313.
In other words, your time is taken for no reward and they do not care. I have not received points for the last 9 surveys, a whole year wasted on fighting for what I am owed, so I quit.
Stay away from The Panel Station, they use you.
One would think after 10 years and a legend member badge it would bother them to lose me, but current dishonest management don't care.
Survey 175313 is just one of dozens of fails by TPS.
Either you change management or you lose all of us, TPS, look at all the complaints on this forum!
Zero support and total collapse of credibility at TPS
May 26, 2023 by Dima from Namibia
After the first month or so, you never again get the points or prizes your earned. Hundreds of hours go to waste.
If you complain, PanelStation only auto-responds, nobody ever really looks at your complaint.
Because they KNOW they are dishonest.
It was better years ago, TPS has collapsed under current management. "at panel support" is the worst HQ email, if you complain about their auto-replies, they just block you.
If they cared about bad SurveyPolice ratings, they would INVESTIGATE the dozens of complains here, but they won't.
Survey 175313 is just one of dozens of fails by TPS.
May 23, 2023 by Evert from Zimbabwe
When you are being recruited, TPS is full of points and benefits, but once you're there it stops. The points disappear every time you submit a completed survey. You keep on trying because it worked before, and they keep selling your time without giving you the points.
In addition there is no service. The "panelsupport" email should rather be "panelignored". You could just as well talk to a bot.
Not qualifying any single surveys
May 21, 2023 by Priyanka from India
I am member of this panel since 3 month.
There always comes survey Notification and when sometimes I am free from my work. I start to give Survey but all survey till today I am giving in this panel got disqualified.
It's not like that i am not qualified because at middle of each survey this happens.
Till today you can think that any single survey i am not qualified. What special in your surveys that in every single survey i can not qualify.

Very bad review from my side regards this panel station

May 19, 2023 by Daniel from Australia
The website is very hard to use and also redeeming any points is very slow and very confusing.
» Return to: TOP RATED SURVEY SITES
---
Popular Topics
Top Survey Sites of 2023
---
Highest User Rated Survey Sites
---
Survey Sites That Pay Instantly
---
Get $100 Free PayPal Payments
---
9 Product Testing Job Websites
---
12 Online Surveys That Pay Cash
---
How to Earn Free Uber Gift Cards
---
14 Ways to Get Free Amazon Gift Cards
---
Best Paid Focus Groups
---
How to Get a Free Visa Gift Card
---
Ways to Get Free Xbox Gift Cards
---
Featured Advertisers: