Annoyed that you're not able to complete many surveys? Seeing that dreaded 'Sorry, you do not qualify for this survey' message all to often? This guide will help put your frustrations to an end and teach you how to qualify for more surveys.
In this guide, we'll reveal all the tips and tricks we know from our years of reviewing paid survey sites, helping increase your survey completion rate.
First off: There is no trick to qualify for EVERY survey
One of the most frustrating elements of taking paid surveys is being disqualified mid-way through being questioned.
If this happens to you regularly, it doesn't mean the website is a survey scam, as this happens to everyone.
Disqualifications happen because the brands commissioning the surveys are looking for results from certain demographics only and if you don't fit the criteria for what they're looking for, you'll be disqualified or 'screened out'.
You might wonder why you're even offered the survey in the first place then, especially if the qualifying questions are all about details you've already disclosed in your profile.
Main reasons for being 'DQ-ed'
Here are the two main reasons for being disqualified, or DQ-ed from completing a paid survey:
Representative sample seeking
Brands often want answers from an equally broad range of people. As a basic example, they might want opinions from 50% men and 50% women. In this case, once enough women or men have completed their survey, all other women or men who try to access it will be disqualified until the survey is taken down.
Answers don't add up
Paid survey websites may ask qualifying questions just to test if they match your profile (ex. do you own a car?). If they don't, this suggests you're not concentrating or taking the survey seriously, so you'll be screened out. The website has a duty to provide accurate results for their clients, after all.
You can't always be the perfect demographic that a particular client is looking for. And that's why you'll face disqualifications at times.
Nevertheless, there are things you can do to reduce how often this happens!
11 Ways To Qualify For More Surveys
Follow these tips to qualify for more surveys, make more money and feel less frustration when filling out paid surveys.
1. Choose the best paid survey websites


After all, there are things you can do to qualify for more projects from most online survey websites.
Not all paid survey websites are created equal.
Some offer a lot more surveys than others. Some have far more sophisticated systems for offering surveys to people. And with some websites, the qualifying process is far too long – driving survey takers crazy!
We recommend signing up for one or several of the options in our list of the best survey sites for 2022.
These all provide a decent user experience, and plenty of opportunities for their members to make quick money. Some of them even pay a small amount of compensation if you are screened out.
2. Pay extra attention when taking affiliate surveys
A lot of paid survey websites will host surveys on their own domain as well as connecting you to third-party survey providers (aka affiliates) via survey routers. These routers include Cint, Peanut Labs, Dynata routers, etc.
When taking a survey on one of these affiliate websites, you'll still be paid into your main survey account if you complete it.
The problem is: some affiliates will seemingly never be looking for someone like you to answer their surveys as they often don't have access to your profile information in your main survey account.
So, pay extra attention to which affiliates allow you to complete surveys, and which ones disqualify you every time. You may start noticing patterns, as you may see these third-party affiliate surveys offered on many survey panels.
By avoiding the less fruitful third-party surveys, you'll save yourself a lot of time and aggravation.
3. Try survey sites that never disqualify
Although there are sites that will never disqualify you from completing their surveys, there a handful of sites that do offer this. The only downside? You'll likely have to spend more time completing your profile and the number of surveys you receive will be lower in quantity than other sites.
Still, if you can't handle another DQ, these sites might be worth checking out:
Alternatively, if you're already a member of these, there are plenty of survey sites that pay for disqualifications.
4. Check that the website offers surveys to residents of your country
Most paid survey websites are only looking for answers for residents from specific countries. Yet, a lot of them will let people from other countries sign up anyway! This is most common among websites which offer money-making activities other than surveys (i.e. GPT sites).
In this case, members will still be allowed to earn money via micro-activities, such as playing games, watching videos, buying products from retail partners etc. But they'll be disqualified from every survey they try to answer.
So, before signing up, check what countries that the website actually wants answers from. Check their listing on SurveyPolice and note the eligibility section.
Here are some helpful sources of information for those experiencing this predicament:
5. Stick with shorter surveys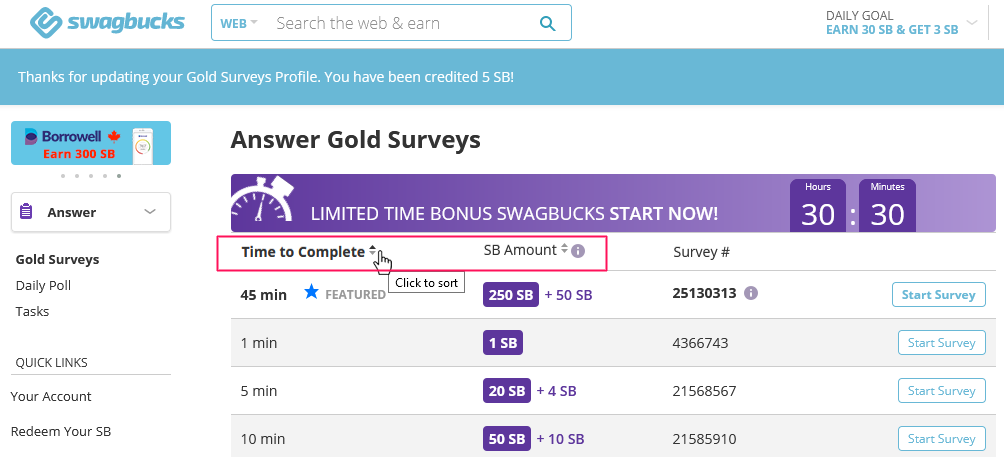 These may not pay as well as longer surveys, but they do tend to be easier to qualify for. Many sites (including Swagbucks and PrizeRebel) offer the ability to sort surveys by length, popularity, payout, etc. Try sorting surveys by length, and then target the ones that offer the highest payouts per minute.
6. Don't use a VPN
Don't bother trying to get around the last point by using a VPN or proxy service. Nearly all paid survey websites will be able to detect this. They'll either block you from the website altogether, or disqualify you from every survey you try to take.
7. Disable your ad-blocker
Ad-blockers often make it harder for paid survey websites to track your answers and can interfere with websites features such as animation. Some panels may disqualify you if you're using one while trying to take surveys.
Try taking surveys in a private window (or in-cognito mode) with your adblocker disabled, if you have concerns about cookie tracking, etc.
8. Avoid public networks
If you're logged into a public network – at school, work or in a library, for example – you're also more likely to be disqualified from surveys. This is because these public networks usually use VPNs and/or ad-blockers.
While this is an unfortunate side effect for people who don't own computers and rely on public computer terminals, sticking to the same library location and the same computer can help decrease the chances of encountering problems.
9. Fill out your profile as fully as you can


The more detail you add to your profile, the more surveys you'll usually be offered. Check the accuracy of your profile and update any information if it changes. Remember, if your survey answers differ from your profile, you could be automatically disqualified.
10. Take the time to answer questions accurately
This is perhaps the most patronizing tip, but it's worth repeating. If you accidentally answer a qualifying question about yourself incorrectly, you could be disqualified. If something major has changed in your life (having children, buying a home, buying a new car), ensure you update any profilers relating to this.
11. Take surveys as soon as possible
The less time you leave between a survey being made available and applying to take it, the less likely that enough people like you have already answered it.
Most decent paid survey websites give you the option to enable email notifications or mobile push notifications. Turn these both on so you can answer new surveys as quickly as possible. Better yet, if a site offers a surveys app, use it to be notified as soon as new surveys become available – with the added benefit of being able to complete any surveys directly through the app.
Final point: keep calm and be patient
Being disqualified is perhaps the worst part of partaking in paid survey websites, but remember that even the most desired jobs have elements that can be annoying. Although you can't always qualify for surveys, by following the above tips, you can reduce frustration and focus more of your time online on having fun and making money!
---
Related Posts: