Branded Surveys Reviews and Features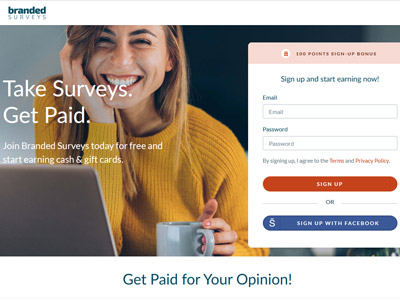 Branded Surveys
343 4th Ave, Suite 201, San Diego, CA 92101 US
Tel: Contact: https://surveys.gobranded.com/page/contact
Operated by: Branded Research Inc.
Quick Overview:
Rewards Offered: Cash paid via PayPal Amazon gift cards Best Buy gift cards iTunes gift cards Starbucks gift cards Target gift cards Walmart gift cards Cash paid via bank transfer Prepaid debit or credit cards Movie vouchers Restaurant gift cards
Member Opportunities: Online surveys Daily surveys Teen surveys Refer-a-friend program
Redeeming Rewards: Once you have earned a minimum of 1,000 points, you will have the option to redeem your points for cash or gift cards. You can choose any amount over $10.00 and gift cards are sent out in $10.00 increments. Branded Surveys also works with PayPal to securely handle payouts. All earnings are processed between 1-2 business days.


As of November 2017, MintVine rebranded itself as Branded Surveys. The company has been running online surveys since 2012.
Get 100 Points for Completing the Profile Survey
Take your first Profile Survey on Branded Surveys to instantly receive 100 points (worth $1) credited to your account. That's 10% of the points required for your first cash out.
Join and Earn a Payout in as Little as One Week!
Surveys range in value and can run as high as 300 points! If you are not the best fit for a survey, you will still be rewarded with points for answering even a couple of questions. Registration is quick – use your social account or email to sign up.
Rewards
When your account reaches 1000 approved points, you may redeem your points for cash via PayPal or gift cards in increments of $10.00. Upon approval, redemptions take approximately 1-2 business days to process. A valid phone number may be required to cash out your rewards.
Visit Branded Survey's website

›
Survey Lengths
The average survey takes 11 minutes to complete. The estimated completion time will always be listed on the survey invitation.
Daily Polls
Log into your account daily to receive 5 points for taking the quick poll available on your Branded Surveys Dashboard. You may complete one poll every 24 hours.
Earn Extra Points
Local Deals are provided by businesses and offer additional opportunities to earn points with Branded Surveys. These opportunities are also listed in your Branded Surveys dashboard. The more points you earn, the more qualified you will be for additional opportunities.
How to Redeem Points
When you complete a survey, you will be rewarded points and your survey answers are sent directly to Branded Survey's market research clients. Once you have earned a minimum of 1000 approved points, a redemption button will become active in the "My Points" section of your account.
Click the redemption button and choose from a variety of rewards; PayPal cash payments, Amazon gift cards, pre-paid virtual credit cards, and many more.
Visit Branded Survey's website

›
Branded Elite
Branded Elite recognizes and awards members for their consistent participation in surveys. There are three status levels: Bronze, Silver and Gold. These tiers allow for earning points and offering referrals to friends who earn you points when they join. Branded Surveys will also award the top 100 active Branded Surveys members with an additional 100-point incentive at the end of the month.
Branded Elite Leaderboard
Increase your daily payout by getting on the Leaderboard. The Leaderboard tracks the Daily Top 50, Weekly Top 50 and Monthly Top 20 performers and rewards members for their survey completions.
Daily Top 50 leaders = 50 points
Weekly Top 50 leaders = 200 points
Monthly Top 20 leaders = 300 points
Visit Branded Survey's website

›
Bonus Points for Consecutive Survey Completions
Earn additional points for completing surveys consecutively:
Complete 12 surveys in 7 days and earn an additional 5% of the total number of approved points in your account as a Bronze badge holder, 10% as a Silver and 15% as a Gold badge holder.
Complete 20 surveys in 7 days and earn an additional 7% of the total number of approved points in your account as a Bronze badge holder, 12% as a Silver and 17% as a Gold badge holder.
Complete 30 surveys in 7 days and earn an additional 9% of the total number of approved points in your account as a Bronze badge holder, 14% as a Silver and 19% as a Gold badge holder.
Re-qualify to Keep Your Badge Status
To maintain your badge color, members are encouraged to keep participating. Note that badges are subject to change on the first of each month if there was minimal participation for the duration of the month.
Remain Active to Win Daily, Weekly & Monthly Prizes
Remember that for every survey you complete, you will get submitted into daily, weekly and monthly random prize drawing. Win up to 50 extra points in a daily drawing, 500 points in the weekly drawing and 1000 points for the monthly drawing. The more you participate the greater number of entries you will receive for the drawings.
Referral Program
Receive 50 points as a gold or silver badge holder whenever your friends and family reach the silver badge status.
Eligibility: USA, UK, Canada residents 16 years of age and older
Joining Bonus! Branded Surveys is currently offering a 100 point ($1) sign up bonus to new members. Click here to claim your bonus!
---
SurveyPolice Exclusive: Q & A with Branded Surveys
» More news and information on Branded Surveys
March 22, 2014 by tim from United States
one of the worst sites there is. if you want to keep getting SCREWED OUT OF POINTS, then join this one. They constantly don't give you your points, STAY AWAY!
March 15, 2014 by Gaurav from India
I had earned 1000 points on mintvine panel, but there is no redemption option available. Inspite of sending mails to the panel, they didn't reply. Simply the wastage of your time and effort.
January 27, 2014 by sady from United Kingdom
You can reach the first $10 very quickly and they paid me quickly but most of it was from the profile surveys and polls. After the first $10 it will be slow because they don't have many surveys and it takes two weeks for you to get your points from surveys.
January 3, 2014 by Kevin from United States
I'm on the fence with this one. The points crediting is kind of strange but I did get all of my points and was paid fast once I cashed out. It's a legitimate panel but I'll work on other sites and leave this one on the back burner for when times are slow.
Horrible! should not even exist!
December 29, 2013 by laura from United States
Been working on my $10.00 payout for 3 weeks now.. some surveys do not reward right away and the list does not refresh if you have completed the items. nothing new and done but do not qualify points do not show up for me.. pointless unless you want to make 10 usd in one month..
edit* made one cash out and nothing but wasted time on rewards given then taken away.. sold my phone number or gave it away and now am completely badgered by sales call all day long. stay away from MINTVINE!!