Branded Surveys Reviews and Features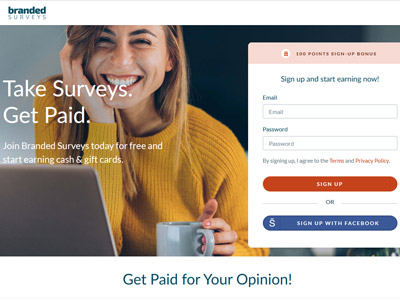 Branded Surveys
343 4th Ave, Suite 201, San Diego, CA 92101 US
Tel: Contact: https://surveys.gobranded.com/page/contact
Operated by: Branded Research Inc.
Quick Overview:
Rewards Offered: Cash paid via PayPal Amazon gift cards Best Buy gift cards iTunes gift cards Starbucks gift cards Target gift cards Walmart gift cards Cash paid via bank transfer Prepaid debit or credit cards Movie vouchers Restaurant gift cards
Member Opportunities: Online surveys Daily surveys Teen surveys Refer-a-friend program
Redeeming Rewards: Once you have earned a minimum of 1,000 points, you will have the option to redeem your points for cash or gift cards. You can choose any amount over $10.00 and gift cards are sent out in $10.00 increments. Branded Surveys also works with PayPal to securely handle payouts. All earnings are processed between 1-2 business days.


As of November 2017, MintVine rebranded itself as Branded Surveys. The company has been running online surveys since 2012.
Get 100 Points for Completing the Profile Survey
Take your first Profile Survey on Branded Surveys to instantly receive 100 points credited to your account.
Join and Earn a Payout in as Little as One Week!
Surveys range in value and can run as high as 300 points! If you are not the best fit for a survey, you will still be rewarded with points for answering even a couple of questions. Registration is quick – use your social account or email to sign up.
Rewards
When your account reaches 1000 approved points, you may redeem your points for cash via PayPal or gift cards in increments of $10.00. Upon approval, redemptions take approximately 1-2 business days to process. A valid phone number may be required to cash out your rewards.
Visit Branded Survey's website

›
Survey Lengths
The average survey takes 11 minutes to complete. The estimated completion time will always be listed on the survey invitation.
Daily Polls
Log into your account daily to receive 5 points for taking the quick poll available on your Branded Surveys Dashboard. You may complete one poll every 24 hours.
Earn Extra Points
Local Deals are provided by businesses and offer additional opportunities to earn points with Branded Surveys. These opportunities are also listed in your Branded Surveys dashboard. The more points you earn, the more qualified you will be for additional opportunities.
How to Redeem Points
When you complete a survey, you will be rewarded points and your survey answers are sent directly to Branded Survey's market research clients. Once you have earned a minimum of 1000 approved points, a redemption button will become active in the "My Points" section of your account.
Click the redemption button and choose from a variety of rewards; PayPal cash payments, Amazon gift cards, pre-paid virtual credit cards, and many more.
Visit Branded Survey's website

›
Branded Elite
Branded Elite recognizes and awards members for their consistent participation in surveys. There are three status levels: Bronze, Silver and Gold. These tiers allow for earning points and offering referrals to friends who earn you points when they join. Branded Surveys will also award the top 100 active Branded Surveys members with an additional 100-point incentive at the end of the month.
Branded Elite Leaderboard
Increase your daily payout by getting on the Leaderboard. The Leaderboard tracks the Daily Top 50, Weekly Top 50 and Monthly Top 20 performers and rewards members for their survey completions.
Daily Top 50 leaders = 50 points
Weekly Top 50 leaders = 200 points
Monthly Top 20 leaders = 300 points
Visit Branded Survey's website

›
Bonus Points for Consecutive Survey Completions
Earn additional points for completing surveys consecutively:
Complete 12 surveys in 7 days and earn an additional 5% of the total number of approved points in your account as a Bronze badge holder, 10% as a Silver and 15% as a Gold badge holder.
Complete 20 surveys in 7 days and earn an additional 7% of the total number of approved points in your account as a Bronze badge holder, 12% as a Silver and 17% as a Gold badge holder.
Complete 30 surveys in 7 days and earn an additional 9% of the total number of approved points in your account as a Bronze badge holder, 14% as a Silver and 19% as a Gold badge holder.
Re-qualify to Keep Your Badge Status
To maintain your badge color, members are encouraged to keep participating. Note that badges are subject to change on the first of each month if there was minimal participation for the duration of the month.
Remain Active to Win Daily, Weekly & Monthly Prizes
Remember that for every survey you complete, you will get submitted into daily, weekly and monthly random prize drawing. Win up to 50 extra points in a daily drawing, 500 points in the weekly drawing and 1000 points for the monthly drawing. The more you participate the greater number of entries you will receive for the drawings.
Referral Program
Receive 50 points as a gold or silver badge holder whenever your friends and family reach the silver badge status.
Eligibility: USA, UK, Canada residents 13 years of age and older
---
SurveyPolice Exclusive: Q & A with Branded Surveys
» More news and information on Branded Surveys
January 29, 2020 by John from United States
I just signed up for an account last Friday January 25th. I had several surveys that I completed and was told I wasn't qualified... I contested one of them and they rightfully gave me the points deserved. Today I tried doing more surveys and kept getting, "technical error" I reached out to support and this is the response I received:

Hello,

Thank you for reaching out to Branded Surveys.

At Branded we expect our users to answer survey questions truthfully and to the best of their ability.

At times we will check to ensure the quality of your survey answers. It has been brought to our attention that your responses were rejected.

Unfortunately, this has caused a block on your account and you will no longer be able to participate in surveys.
We apologize for any inconvenience this may have caused.

Thank you,
Hanna

I have been doing surveys for over 15 years for a number of survey companies: Ipsos, mysurvey, yougov, paidviewpoint, oneopinion, etc. providing honest and truthful responses and have never been accused of wrongdoing.

Branded Surveys responded to this review on January 30, 2020
Hello John,
We like to ensure that we maintain an active and honest panelist base. At times, our partners will reject surveys that were completed due to incomplete responses, or lack of engagement. We do apologize if this caused you any trouble and wish you all the best.
January 29, 2020 by Gianna from United States
It went from one of the best survey sites to one of the worst when they changed it to Branded. Not worth the effort.

Branded Surveys responded to this review on January 30, 2020
Hello Gianna,
We're sorry to hear that you had a negative experience. We'd be happy to take a look at where we fell short. Please reach out to us directly with any issues you may have at
[email protected]
Thank you!
January 26, 2020 by FRANCISCO from United States
I started with them under yahoo.com account (over 3000 points) i tried to redeem and they told me to switch to another email because it was not compatible with yahoo, them did so and move it to aol.com, try to redeem and collected more points again the same story, I switched to gmail, still no payment

Branded Surveys responded to this review on January 28, 2020
Hello Francisco,
We're sorry that you're experiencing issues with redemption. It does appear that we had sent your payment information to your gmail account. We appreciate your patience!
January 25, 2020 by Rosalie from Canada
I still have not been contacted by Branded Survey as they stated that they tried to reach out to me.

It appears that there are lots of unhappy people with their site.

I am totally there with them on that.

Account Health

Lose the strength because I do surveys too fast - know the questions before they even come up so dont have to even think of the answers. I now only do the daily poll - all the other surveys are a waste of time. Get nothing for doing them.
January 23, 2020 by Sean from United States
Don't use this site... It is a complete joke and they take advantage of users. After years of using mint vine and now Branded Surveys, every time I try to make a withdrawal lately it gets cancelled and somehow, a large point survey is suspiciously 'cancelled' even though I've participated and spent my time.

Over the rears I've completed home tests, face to face studies, skype and long term focus groups. Since the rebrand, the points for surveys has drastically gotten worse, with a few cents for 30 minutes work.

I've even contacted directly, companies using their services to enquire if the points they're offering to complete market research for them is fair and legit. For example, they offered 20cents for participation in a 35 minute survey for NYU. I contacted the survey research lead at NYU and they directly sent me $5, saying they "won't use them" going forward as 35 cents was not what they were expecting participant's to be taking at all.

For those of you still members of Branded, as yourself, is spending 15 minutes on a survey for 30 cents worth it? No, you're worth more than that.

Compared to other sites such as opinion world and Paidviewpoint.com, the points awarded using Branded is becoming a joke and completely unfair.

Furthermore, they consistently make you work hard to rectify errors from their system which mean you're not getting points. The fact that the past 2 times I've tried to withdraw money have been cancelled, after years of no issues at all. As soon as I can get access to the money I'm entitled to, in deleting this account. Don't use them at all. Go elsewhere.

Oh and I've found the companies execs on LinkedIn - so if you want to make a direct complaint, I'd suggest going to the top! The customer service is terrible.

[previous version]
I have to say, my experience of Branded Surveys is consistently getting worse. This is coming from someone who's been a regular survey taker on a number of panels for 16 years - during which time I've taken part in tests/focus groups/month long research amongst other things. I put in the effort and do so with honesty - something lacking here at 'BS'.

I spend far too long getting screened-out compared with other panels I've used in the past. I've looked at the past seven days - and I've been screened out of 211 surveys, of which 38 were over quota meaning I started or even completed a survey but was not given a payout/full payout.

How many surveys was I able to complete...... 38!!!! That is ridiculous, that's a 15% success rate - in other words for every 20 surveys you try to take, only 3 will be successful.

Customer service has been unapologetic and poor, with consistent bugs and errors resulting in not receiving payment for your surveys. Often you respond to an email and get a robotic answer, they don't even take the time to fully read your complaint.

Personally, I think this is a panel that is questionable. The reality is that Branded Surveys gets a payment from their client for every survey taken, they take a cut and pass on part of that payment to the panellist as compensation.

So when you spend hours on surveys and these 'errors' take place, the Market Research client gets their data, Branded Surveys gets their payment, and the panellist gets nothing but the feeling that they've spent time on something for nothing, haven been taken advantage of!

The lack of payout on high-reward surveys that take a long time (20-60mins) is so consistent, it's a joke. The tech team then require you to provide a screenshot to prove you've taken the survey. There have been a number of occasions where I have taken screenshots because I know what their system is like - and even THEN they say 'we have no record of you taking this survey'!

I'm being conservative when I estimate I've lost out on approx. $35-40 worth of points in combination of the larger payout surveys and the multiple small payouts. You're expected to screenshot EVERY survey to PROVE you did indeed take it. THEN, even if you do send the screenshot - you still won't get compensated!! They're having a laugh at our expense while taking their cut!

The points system is simple - 1000 points is $10, which is the minimum required to withdraw. However many of the surveys pay extremely low for the amount of time you're putting in.

I am going to finish out the tax year with Branded - then close my account. I wouldn't recommend them to real survey takers who put in time and effort, like myself. Steer clear, and don't waste your time!