BuzzBack Reviews and Features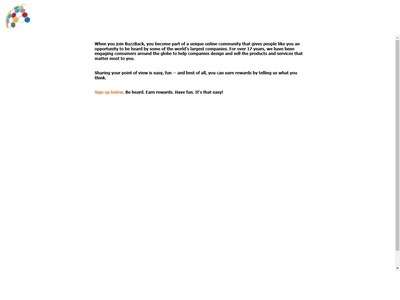 BuzzBack
989 Sixth Avenue, 5th Floor New York, New York 10018 US
Tel: 646-519-8010 Contact: http://panel.buzzback.com/about_us.phpabout_us.php
Operated by: BuzzBack LLC

PAYMENTS OFFERED

Cash paid via PayPal

Amazon gift cards

Retail e-vouchers

Sweepstakes entries

Donations to charity

HOW TO PARTICIPATE

Online surveys

Product testing

REDEEMING REWARDS

No points system
$15 minimum account balance required to request rewards Redemption of full rewards takes 3-4 weeks,
Let your voice be heard and earn cash!
BuzzBack market research has been operating since April 2000 and has a suite of web based tools used to get the opinions of consumers. This panel influences hundreds of brands worldwide with their innovative approaches to research. You will not always be filling out surveys either. Sometimes you will be asked to test a product or brand and be able to keep the product as well.
Variety of rewards offered
BuzzBack offers a diverse selection of reward options to show appreciation for your time! Rewards include Amazon gift cards, retail electronic vouchers, or cash paid via PayPal. You can also take advantage of regular sweepstakes as a member of the panel where you can earn even more money, or donate your earning to charity. User profiles with BuzzBack contain an "Account Snapshot" to show survey takers the amount of rewards they have earned in real time (the rewards may take a few days or about a week to show in a users account after each survey is completed).
Online survey details
BuzzBack knows your time is valuable, so they aim to keep most surveys between 15-20 minutes long. Survey lengths can be longer in some cases, but are rewarded accordingly to the time spent. Many surveys are valued at around $5 each, and a minimum of $15 is required to request earnings. Redemption of full rewards takes 3-4 weeks. The best thing is that BuzzBack is not based on points, and rather focuses on offering a dollar value for the surveys you fill out.
Simple 3 step joining process
Step 1: Fill out the registration page, a basic information questionnaire that takes only minutes to complete
Step 2: BuzzBack requires you to answer a few upfront questions to see if you qualify for particular sessions, these will be sent by e-mail
Step 3: When you qualify for a study, you will be taken into a BuzzBack online survey session where you can share their valuable thoughts about influential brands while earning great rewards!
Eligibility: this panel is open to residents of the United States and international members of all countries. Open to all who are 18+.
---
A Comprehensive Review of BuzzBack: Pros, Cons, and Considerations
April 19, 2023 by Frank from Suriname
My experience using this platform has been mostly positive, but there are a few drawbacks to consider.

Pros:

BuzzBack provides a wide range of research tools and methodologies that can be customized to suit your specific needs.
The platform offers real-time reporting and analytics, which allows you to quickly analyze data and make informed decisions.
The team at BuzzBack is knowledgeable and responsive, providing helpful support throughout the research process.
Cons:

The cost of using BuzzBack can be quite high, especially for small businesses or startups on a tight budget.
The platform may not be suitable for all types of research, as some studies require more complex methodologies than what BuzzBack offers.
While the reporting and analytics are helpful, the interface can be overwhelming and difficult to navigate at times.
Overall, I would recommend BuzzBack to businesses that are looking for a reliable and efficient market research platform.
Website lacks security and ease of use!
April 4, 2023 by John from United States
I signed up earlier today for Buzzback and wasn't planning on my review of it to be so soon, but here goes!
It took nearly 3 hours to do the profile questions (and no, I didn't get distracted or get called away). The little padlock in the browser bar kept DISAPPEARING and then I'd get an error on my Mac that the "Webpage IS NOT secure". (Mac's won't load an unsecured page - but just as I was getting ready to give up - it would load the page up again and I could go for a while before it happened again.
But here's the thing. I thought maybe it was Safari acting up. Loaded buzzback on Google Chrome - worked well for 30 minutes, then the same crap. I don't like anything Google very much, so I decided to fire up Firefox-Mozilla and Opera Browsers (one at time, of course) - and sure enough the same thing happened. The website kept losing it's Security Signature.
IDK if they forgot to pay to keep their Security functions up to date or if the platform their page is on is just THAT unstable and SUCKS - BUT, it wasn't my Mac and it wasn't a browser problem. I've been applying for Grants and Scholarships all day for school - no other site had a problem -BUZZBACK just has a POOR foundation. I don't even care about the points I didn't cash out. I deleted the account and won't be back.
Run In The Opposite Direction
December 15, 2022 by Lauren from United States
Poor communication, lack of follow-thru, and lack of responsibility for their business practices. Not worth the time wasted with this poorly structured company. Run, don't walk, to a legitimate survey site.
October 4, 2021 by Shawn from United States
I have not received a survey since 2019. I have a balance in my account of $10 however the minimum threshold to cashout is $15.00
February 14, 2018 by Samuel Andres from United States
It is very good and easy to understand and to carry out the surveys. I recommend it
» Return to: TOP RATED SURVEY SITES
---
Popular Topics
Top Survey Sites of 2023
---
Highest User Rated Survey Sites
---
Survey Sites That Pay Instantly
---
Get $100 Free PayPal Payments
---
9 Product Testing Job Websites
---
12 Online Surveys That Pay Cash
---
How to Earn Free Uber Gift Cards
---
14 Ways to Get Free Amazon Gift Cards
---
Best Paid Focus Groups
---
How to Get a Free Visa Gift Card
---
Ways to Get Free Xbox Gift Cards
---
Featured Advertisers: