BzzAgent Reviews and Features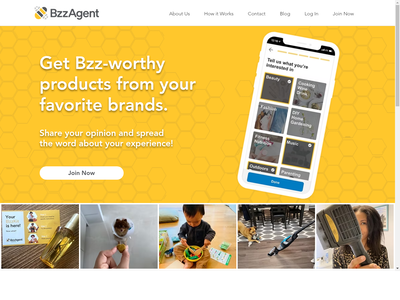 BzzAgent
184 Shepards Bush Road, Brook Green London, W67NL GB
Tel: 1-877-BZZAGENT Contact: [email protected]
Operated by: dunnhumby
BzzAgent is a media network, operating since 2002, that recruits "BzzAgents" to evaluate products and services and then share their opinions on them with people they know. BzzAgent has over one million member agents around the world, and uses the idea of word of mouth communication to generate measurable results for marketers.
Influence the Biggest Brands
BzzAgent has an impressive client list which includes: L'Oréal, Nestle, Proctor & Gamble and Purina. You may be invited to test products from international companies and have a major influence on the brand!
Test Merchandise
Members must receive an invitation to a campaign in order to participate. Assignments usually involve testing merchandise and coupons/rebate offers for free samples and then writing/sharing their thoughts on the brand online and on social media.
Being Assigned an "Activity"
If you are asked to test a product, in many cases you will be assigned any or all of the following activities:
Posting to social media about the product (Facebook, Twitter or Instagram)
Writing a review about the product you have been instructed to use
Uploading photos and videos about a given product
Communication Directors (Comm Devs) then rate and respond to the activities you submit based on guidelines, and you are awarded points based on the quality of the "buzz".
Online Surveys
In addition to testing products, BzzAgent invites its members to participate in quick online survey opportunities for extra points and rewards. These also help the organization it you with the right products that you'll be excited to try.
Collect Points and Free Products
Receive MyPoints and sometimes free products in exchange for your BzzAgent participation. Feel good about sharing your opinion to the world and gaining something in return.
Build your BzzScore
Each member accumulates a BzzScore on a yearly basis. It ranges from zero to 10 and takes into account all of the activities you participate in. Depending your level of participation, your BzzScore may go up and down throughout the year. The following are ways to keep your BzzScore high:
Putting detail and attention into your assigned activities
Staying up to date on all the latest survey opportunities
Being an influencer by involving your fellow friends in your BzzActivites
Connecting your BzzAgent profile to your social media accounts
The better your BzzScore, the more invites you will receive for new campaigns. You can view your BzzScore at any time from your member home page.
Earn Rewards
BzzAgent offers rewards as you participate. Some are unlocked along the way and some contain little surprises to keep you interested and always wanting more. Rewards are rewarded after various milestones or achievements, such as: your 10th Tweet, an exceptional photo, your 25th review, etc.
Explore the BzzAgent website and catch up on the hottest trends in the "Latest Buzz" section. See what fellow users are saying about a variety of exciting products. Connect even further by following the BzzAgent Facebook, Instagram and Twitter pages!
Eligibility: Residents of the USA, UK, Canada, Brazil, France and Germany.
---
Free Stuff To Try Is Great
January 11, 2019 by Kaitlyn from United States
I live the idea of being able to try out new products and give my honest opinion! I just don't like that I cannot complete screener surveys so I can get product tests that match my lifestyle more. But for what it is worth, it is excellent.
October 14, 2018 by Beverly from United States
I have been with Bzz Agent for over ten years always testing products and receiving rewards thank you Bzz agent
October 1, 2018 by Tina from United States
This site is a good site to belong to. They have good surveys and good rewards for your participation.
August 22, 2018 by Amber from United States
one of the best by and far. my fav in so many ways.
Over populated, managed poorly
July 16, 2018 by Laurin from United States
I've been a member of this for over a year and was offered one campaign for Hairspray. I have stayed on top of all the surveys and gave a review with a photo of the product the day I received it... Since then I've been offered several campaigns only to login to my account maybe an hour or two later and the campaign is already full. After going through and checking out reviews, I've noticed that it's the same reviewers reviewing products. So there's not a great collection of varied opinion or true data. I voiced this concern to customer service and was promptly asked to stay on top of the campaigns and surveys which I do. I responded that maybe this wasn't the right program for me and then was asked if I wanted to be unsubscribed to their forum. Very unhelpful. The opportunity to try products is a wonderful idea, however with the mass amount of people who have joined this has become overpopulated and much too tiresome to actually enjoy as you would have to devote more and more time to try these products. At this point it would be easier to just buy the products and try them. Plus if the same people are watching and able to enter a campaign within a few minutes, the reviews are skewed and not accurate.