Crowdology Reviews and Features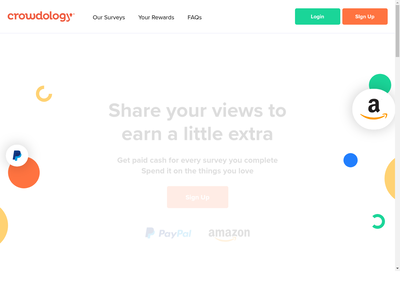 Crowdology
75 Bermondsey Street, London, SE1 3XF GB
Tel: 44 (0) 1732 356 399 Contact: [email protected]
Operated by: VIGA
Quick Overview:
Rewards Offered: Cash paid via PayPal Amazon gift cards Sweepstakes entries
Member Opportunities: Online surveys Online focus groups Video surveys Telephone surveys Refer-a-friend program
Redeeming Rewards: Accrue a balance of $8.00 (or 4 GBP) in your account, receive a PayPal payment within 48 hours of request and sometimes even instantly. $10 USD (£5) minimum account balance required for Amazon vouchers.
Similar Panels: Branded Surveys, Opinion Outpost, Panel Champ

Register for Paid Surveys and Cash Out With PayPal or Amazon
Crowdology offers cash for each survey completed. 5 minute surveys pay $0.50 and after a balance of $8.00 (or £4 in the UK) is accrued in your account, you can withdraw your earnings to your PayPal account. Alternatively, choose to receive an Amazon voucher. Surveys pay anywhere from $0.40 - $10 each.
Types of Surveys Offered
Online surveys on everyday topics, brand-name household products and current issues. Crowdology stresses that their surveys are not boring!
Survey Lengths
The surveys themselves are quite short, ranging from 2 to 20 minutes in length and award cash upon successful completion - there are no complex points systems to worry about as cash is awarded each time a survey is finished.
Sweepstakes
Sweepstakes are held sporadically and usually upon registering to the Crowdology panel. You can also be entered into sweepstakes by sharing Crowdology with your friends via email invite.
Some of the prizes Crowdology members have won include Bose Quiet Comfort Noise Cancelling Headphones, Spotify Premium Subscriptions and ASOS Vouchers, just to name a few.
Redemption Process
In order to withdraw from your account, you will need to have at least $8.00 in your Crowdology account (or £4 in the UK) as well as a PayPal account to transfer your Crowdology funds to. This company does not pay out rewards via check. The time between the request and the balance landing in your PayPal account is on average 48 hours. Also, if you use Amazon Payment, it could take up to 4 weeks before you see your money.
Who is Crowdology?
Crowdology is an online market research panel where you can earn extra to do the important things you love. It's run by VI.GA, who collect opinions on behalf of research firms.
Eligibility: Residents of UK and USA, 18+
---
December 1, 2018 by Jessica from United States
After being a member for a while, I finally earned enough to cash out. When I cashed out my account was immediately banned.
Glad I wasn't the only person who got banned!
November 30, 2018 by Shaina from United States
After reading some of the reviews on here, I realized that I wasn't the only one that got my account terminated. I asked them if there was a possibility that if I could get my account reinstated, and I never got a response. That's how badly they want to get rid of people and won't give them another chance. Avoid this company at all cost!

I would give this company just zero stars if possible! Forget about 0.5. They randomly banned accounts for insufficient reasons. It joins and ranks in the list with Harris Poll for deplorable, worst survey companies ever! ! ! ! That is why you don't ever see them on this site's yearly best survey lists as of yet because they absolutely SUCK, and is too arrogant to even accept new members much less allow you to even create another account!! They're aren't worthy of new members anyway or any merit of your time...
November 26, 2018 by lilly from United States
I have made few bucks with them and now when I wanted to cash out this time they blocked my account.

I tried to email them but they just lie and they don't have any logical thing to say. They told me that my account was flagged. OK.If it was flagged for literally no reason then what about the money I earned? Do they gonna return it to the survey companies? NO.So please don't endorse these type of websites. Try to stay away from them and if you have account with them try to cash out and close it.
Big improvements recently.
November 23, 2018 by Alex from United Kingdom
Lots of negative reviews on this site, but my experience has been somewhat different. When I first signed up to Crowdology, surveys were by email invite only. They came fairly frequently, but not often enough to merit a 5 star rating. Recently they introduced a button on the site to search for a survey and everything changed. I have had as many as 3 payouts in a week. On one occasion I reached the amount needed to claim a payment 2 days after the previous claim (both payments went through to my PayPal account on the same day). With my last claim, payment was made within 2 hours, although that was an exception to the rule. Usually it takes around 2-4 days, sometimes a little more. As with most sites, expect to be screened out a lot, but keep trying and they'll find you a suitable survey eventually. When they run out, try again after an hour or so and there's usually something there. It's not the best paying site I use, but it is the one offering the most frequent payments, so definitely one worth trying out.
November 7, 2018 by Matthew from United States
I joined about 30 days ago .took 3 or 4 surveys ,had no problem with those. As my balance got closer to 8 dollar cash out threshold,things went downhill. I took 2 shorter surveys , finished them. No money was credited to my account. Final straw just spent hour on a survey for 2.50 ,got to very end it said we're sorry you don't qualify. Needless to say ,no longer wasting my time on this site.