Datatelligence Online Reviews and Features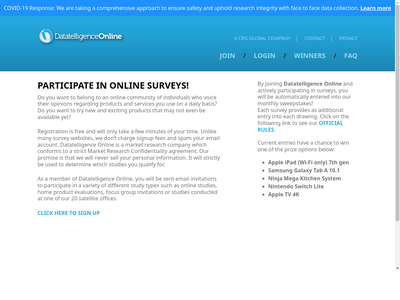 Datatelligence Online
3 Signal Avenue - Suite A, Ormond Beach, Florida 32174 US
Tel: 1-386-677-5644 Contact: [email protected]
Operated by: CRG Global
Quick Overview:
Rewards Offered: Amazon gift cards Cash paid via check Retail e-vouchers Sweepstakes entries
Member Opportunities: Online surveys Online focus groups In-person focus groups Product testing Teen surveys
Redeeming Rewards: 1,000 Datapoints ($10) must be earned before redeeming your reward(s).
Similar Panels: Branded Surveys, Panel Champ, MySoapBox
Datatelligence Online conducts studies through online surveys, fragrance testing, taste testing, focus groups and in-home product use tests so that customers can give feedback on the products and services they use on a daily basis. Panel members are also encouraged to participate in other activities such as: weekly polls, sharing health information, newsletters and charity donations. Registration and membership is free and sign up only takes a few minutes. Datatelligence Online also offers numerous online sweepstakes for panel members to participate in!
Survey Taking Info
Panel members will be invited to participate in 1-2 surveys on a monthly basis. To participate, simply click on the URL and begin filling out the survey. Surveys usually take 10-20 minutes to complete. If you don't have time, or do not want to participate in a survey, simply ignore the invitation. You're never obligated to participate to maintain your membership.
Great Rewards
Panelists of Datatelligence Online can be rewarded for their participation in various ways, including cash, entries into sweepstakes and earning Datatelligence points. Once you have earned enough points, you can simply cash out or exchange them for any number of great prizes from the Datatelligence catalogue. Each survey will outline the gift or compensation you can expect after filling out the survey.
Once 1,000 Datapoints ($10) is collected you can redeem your points by logging into your member account and redeeming your points for a gift code. Items selected will be shipped to you free of charge.
Share Your Opinion and Win!
Panel members are automatically entered into monthly sweepstakes just for being a part of Datatelligence Online. More entries can be gained through activity participating in the available studies. Winnings can range from an Apple iPod Touch, to free Datapoints worth up to $2,500!
Eligibility: United States citizens, 13+ with parental permission.
---
December 13, 2019 by Jeorgia from United States
I have to say that datatelligence online survey panel is the best website and survey panel I've ever signed up for - I've been a member with them since 2017 I've already made about I say about $400 and hey I'm more then happy to give to try a product and give my opinion my honest opinion whether it's a good opinion or a bad opinion my honest opinion and get Amazon gift card for my time. This awesome survey panel is why I have the camera gear that I have they helped me pursue my dreams of being a photographer by helping me purchase my camera gear. I love them and I thank them for the opportunity to work with them.
December 8, 2017 by kim from United States
It's hit or miss with them.Sometimes I receive my rewards then other times I dont.I have been getting the 100 point survey amounts.It's usually the product test surveys I have been having trouble getting my points from.
December 6, 2017 by Jill from United States
I have never received a survey from this site so I can't say if the pay is decent or not, but the amount of pay doesn't really matter if you never receive a survey. It's been well over a year and have not heard anything from them.
October 5, 2015 by Deb from United States
I've been a member for yrs.
I've gone thro it all from them closing my accts when I demanded my payment to actually getting good points = B&N g/c's & Amazon.
I am having trouble again tho.
Watch when offered points **example**
I was offered 100 points for 15 min survey. I completed the initial 15 mins, which than took me too a 25 min survey which was to pay me $15 for completing a/b cigs, e-cigs, etc.
I completed both surveys, but a common problem at end of surveys is stating survey was full/didn't finish! That happened to me again!
CONS
No 100 points
No $15
No answer to e-mails
Receiving sorry messages after completing surveys.

PROS
Good points
Good pay
WHEN paid
August 11, 2015 by Jennifer from United States
For the second time received a survey that required the download of an app before completing the survey. Still ended up disqualifying. I don't see the need to download an app before even qualifying for a 15 minute survey.