Digital Trends Panel Reviews and Features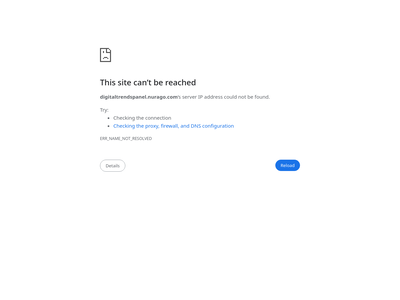 Digital Trends Panel
90419 Nürnberg, Nordwestring 101 Nuremberg, DE
Tel: +49 911 395-0 Contact: [email protected]
Operated by: GfK
Quick Overview:
Rewards Offered: Cash paid via PayPal Sweepstakes entries
Member Opportunities: Browser add-on Online surveys
Redeeming Rewards: Get paid monthly to your PayPal account.
Similar Panels: Smart App, MobileXpression
Get paid to surf the internet!
Digital Trends Panel, a market research company based in the UK, allows you to improve the internet and your browsing experience by simply downloading a web meter which records your web browsing behavior, such as what websites you visit and your engagement level. The add-on works silently in the back of your browser and does not impact speed or disrupt your browsing experience. It's a simple passive way to earn extra income!
Added ways to contribute
You may be asked to take questionnaires or surveys once you are registered - these are rewarded with extra cash. Digital Trends Panel attempts to answer such questions as:
What different technologies do people own and what do they use them for?
How does new technology affect media use?
Do people notice advertising, and how relevant do they find it?
How popular are different media activities among different types of people?
Incentives for Participating
Activate the browser add-on and cash out £15 after 30 days. Earn £5 every 90 days thereafter, paid directly to your PayPal account. You will also receive £3 just for installing the browser. Pricing varies based on time of year.
As an added benefit, you'll be entered into a monthly prize draw worth £1,000 and will receive regular invites to surveys that offer even more rewards.
Eligibility: UK residents only, must be over 18 years old. You can only become a member if you have a Windows PC and use one of the following web browsers: Mozilla Firefox, Microsoft Internet Explorer or Google Chrome.
---
Dishonest, to say the least
January 27, 2018 by Leo from United Kingdom
They just take advantage of your data without keeping their side of the agreement, supposedly £10 voucher per month per device, if you use it daily, and I do.

I Installed their app on my tablet & smartphone the 10th Sept17, after emailing for the whole second month about the rewards for Sept, I received the 2 vouchers.
HOWEVER, by then, I was due Oct rewards, AND by the way never had a reply to my several emails with an explanation or apology.

At the end of the third month (I was due 4 x 10 vouchers) I uninstalled their app from my 2 devices AND THEN I started to receive emails telling me that their app was not sending data to them. I emailed back telling them what I thought and received 2 x £5 voucher. So they still owe me 3 x £10 vouchers.

If they do this with other people (and many are not here to review them) they get useful data for free.

What a bunch of dishonest people.
November 24, 2017 by steve from United Kingdom
DO NOT SIGN UP, it slows everything down and you get £1 a month TOTAL
October 17, 2016 by Ashley from United Kingdom
So I installed the app on my computer and every thing was ok. Got my initial payment for having it installed for 30 days and then the first two £5 for having it installed for the next 6 months however it is now a month after I was due the next incentive and I haven't received anything I've emailed them to ask what is happening and have just get the "someone is looking into it" for the last 3 weeks

Not happy and once I've got the incentive I'm owned I'll be uninstalling it
July 31, 2016 by naria from United Kingdom
If it looks too good to be true then it most certainly is. I got a whole 2 vouchers then boom nothing. I contacted them and so far its taken 6 weeks to even respond to say they will look into it.
April 7, 2016 by vince from United Kingdom
Regarding the "GFK Digital Trends App". I installed the app on my phone and PCs. They promised a £10 voucher per month per device. In one year I only received vouchers once. I asked many time what was going on and each time I was said that the app has not been active long enough on my devices. I am starting to think its a scam. I thought GFK was a reputable company. Very disappointed.