Gfk MediaView Reviews and Features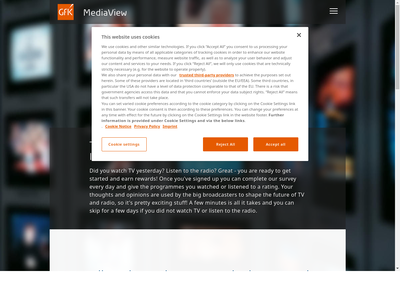 Gfk MediaView
90419 Nürnberg, Nordwestring 101 Nuremberg, DE
Tel: +49 911 395-0 Contact: [email protected]
Operated by: GfK

PAYMENTS OFFERED

Cash paid via check

Movie vouchers

Merchandise

Retail e-vouchers

Sweepstakes entries

HOW TO PARTICIPATE

Online surveys

Daily surveys

REDEEMING REWARDS
The more surveys you take weekly, the more likely you will be entered into the higher tiers for weekly draws and prizes. You can also earn points to be redeemed by major online retailers.
GfK is one of the world's largest market research companies, spanning over 57 countries and has been conducting surveys for over 70 years! GfK is committed to providing the highest quality of information and protection of its panelists. They are members of the UK Data Protection Act and follow the Market Research Society's Code of Conduct.
GfK MediaView Panel
The Gfk MediaView panel lets its members share their opinion on what they watch on the television and hear on the radio. You could have an influence on what shows are available in your country and change the future of broadcasting!
Take Daily Surveys
Every day there are surveys available about TV and Radio related subjects asking you about your viewing and listening habits. There are no survey screen outs. Each time you complete a survey, you will receive "tickets". Once you have accumulated 10 tickets, you will receive an entry into a prize draw for cash, vouchers, experiences and gadgets. Each days' surveys are available between the hours of 6AM and 12AM only.
How Does it Work?
Every day, you can rate the television programs you watched the day before, giving a simple rating score (1-10) to the programs you watched for at least 5 minutes.
Get Rewards
For your participation, you have the chance to win prizes including cash, exclusive experiences, and e-vouchers from retailers such as Amazon, Tesco, Cineworld and more. There are weekly draws to participate in as well.
The number of surveys you complete each week determines which of the weekly prize draw tiers you will be entered into at the end of the week:>
1-2 surveys = Bronze
3-4 surveys = Silver
5-7 surveys = Gold
Each survey you complete also earns you points, which can be spent towards a catalogue of great prizes in the points prize draw:
Each TV survey = 200 points
Each Radio survey = 100 points
Per "5 minutes" of a survey = 500 points
Eligibility: Residents of the UK, Ireland and Isle of Man.
---
Gfk MediaView Reviews (29)
Not really worth the time
September 28, 2015 by Lee from United Kingdom
I've been a member of the Gfk MediaView for a number of years now but since they changed the site to the new format which includes the chance to either save your points or to spend them on the prize of your choice, it's gone downhill markedly. Though many may view the breadth of choice as a good thing, you actually have less chance of winning in that it seems that you can now go for months on end without receiving anything meaningful (remember this is for surveys that are completed EVERY SINGLE DAY).

They sometimes have the odd point bonus and the odd £5 for completing the Media Usage Survey, but it's blatantly obvious that they throw these at you at a time when you've just about had enough (meaning when they notice when you begin to stop completing the daily television and radio surveys). It's pathetic really. Having completed their daily usage surveys for years on end and having nothing meaningful to my name to show for it, I really can't recommend this site. Just beware of the psychology behind their methods, because they'll reel you back in for more experiences that benefit only them!

An example is when during one of their Media Usage Surveys they had a trick question in which they stated that if you click this option then you are not interested in receiving the £5 incentive at the end of it, yet they nevertheless would continue on with the survey and indeed would continue to ask you to complete the surveys for the rest of the week. I once accidentally pressed this option (bearing in mind it's impossible to return to the previous questions), and though they'd continue to send out the surveys to me, I was never credited because of that one error.
Easy TV and radio surveys, but good luck is needed to get any rewards!
August 17, 2015 by Steve from United Kingdom
I've been doing GfK's daily TV and radio surveys for several years and they don't take long to complete.

There's no guarantee that you'll get any rewards at all as it's just down to luck whether you win anything in the weekly draws - but I was lucky enough to win £100 last year, so the prizes do seem to be genuine.

You also accumulate points for completed surveys and you can use these to enter draws for specific prizes, although I've not been lucky with any of these yet.
Disappointing approach to customer service and loyalty.
August 7, 2015 by Allan from United Kingdom
Having been a member for many years and having completed surveys nearly everyday, I expected a little more loyalty from this site. The rewards aren't great and are a lot less than many other survey and opinion sites, but the sheer lack of concern for their members is what I find most surprising. Each day you complete surveys you gain points that can be used to enter prizedraws. It's not a great reward system and ensures that most of the time they are getting what they want and you get nothing solid in return. I was surprised when the reminder emails stopped appearing, after a couple of days I emailed to ask what had happened and was informed that my contributions were no longer needed. That's it, no warning or explanation. They just decide and drop members as they please. Now that in itself isn't too bad, but when you consider that when they do this, with no warning, all the points you've been saving up are lost. All the time and effort you spent has been completely wasted. When I emailed to ask about this, I was told that the points are gone, but if I'd used them to enter any prizedraws then they still count. I responded that when given no warning, it's very hard to know that you need to use up all your points and enter prizedraws. My opinion is that this site is a waste of time and doesn't offer any really worthwhile rewards or loyalty. Steer clear and try a few other sites instead.
June 23, 2015 by kev from United Kingdom
i found gfk to be very limited if im honest..only 1 survey was available and the points are hard to gain. i feel there are many more sites that offer much better value for rewards etc
May 20, 2015 by STEPHEN from United States
I just started with this site and did a survey that went on forever and then got hardly any points for it! I just read some reviews about GFK and I'm not going to do any more surveys through them. I'm going to unsubscribe to their site. What a waste of time! I'm glad I read the Survey Police reviews about them!
» Return to: TOP RATED SURVEY SITES
---
Popular Topics
Top Survey Sites of 2022
---
Highest User Rated Survey Sites
---
Survey Sites That Pay Instantly
---
Get $100 Free PayPal Payments
---
9 Product Testing Job Websites
---
12 Online Surveys That Pay Cash
---
How to Earn Free Uber Gift Cards
---
14 Ways to Get Free Amazon Gift Cards
---
Best Paid Focus Groups
---
How to Get a Free Visa Gift Card
---
Ways to Get Free Xbox Gift Cards
---
Featured Advertisers: