InstantCashSweepstakes Reviews and Features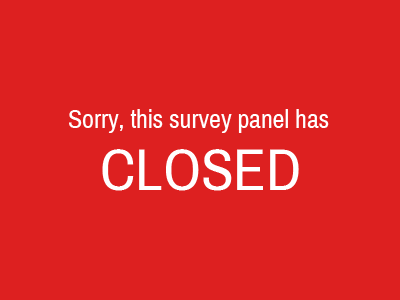 InstantCashSweepstakes
123 10th St., San Francisco, California 94103 US
Tel: (415) 364-8601 Contact: [email protected]
Operated by: AYTM

PAYMENTS OFFERED

Cash paid via PayPal

Sweepstakes entries

HOW TO PARTICIPATE

Online surveys

Mobile surveys

REDEEMING REWARDS

No points system
Request a PayPal payment when your account reaches a balance of $2.00.
Instant Cash Sweepstakes permanently closed on January 31, 2017. Its sister site, PaidviewPoint, remains fully operational.
Instant Cash Sweepstakes
Instant Cash Sweepstakes or ICS is a simple and fun panel with a casino-like feel! Take short surveys and automatically get entered into winning cash prizes in real time. Watch others win across the country too on their homepage!
Unfortunately, InstantCashSweepstakes is no longer operational. Click the button to discover survey panels that are running and are actively looking for new members!
Don't Wait for Survey Invites
Each time you log into ICS there will be surveys for you to complete, you don't have to wait until you qualify for a study. Members fill out the quick and fun surveys and after each one is completed they accumulate lottery tickets, coins or instant cash winnings. The lottery tickets are for entering the sweepstakes and coins can be used to purchase more lottery tickets!
Numerous Daily Sweepstakes
Each day there are numerous sweepstakes to be won. One member wins a $50 cash prize and many members win $2 prizes every four hours. Gain more lottery tickets to use towards prizes by writing your own survey for everyone in the community to answer, the best one each month is awarded with a cool $100!
Quick and Easy Payment Method
You can request payment once you have accumulated only $2 in your account, no need to wait until you have a large lump sum! Once you cash out your account, the amount is payed via PayPal within 72 hours. Note that once your account reaches $100 you are required to cash out within 30 days.
Great Referral Program
Instant Cash Sweepstakes offers a great referral program that is very unique. A link is provided for you to post on your social media channels to attract your friends to take part in this panel. The best part is, once you have referred someone that is actively taking surveys, their winnings are matched in your account. Meaning if they have accumulated $50 then you will also be awarded $50!
Comments Page
ICS has a page where members can share their experiences about the website, good or bad, they want to hear your thoughts and opinions. Many times you will also receive a reply to your comment in a timely manner. Also visit the feedback forum to share any ideas you may have.
Answer Honestly and Get Rewarded!
ICS takes an average measurement of your survey answers and compares them to your demographic, overtime if you answer the surveys honestly you will build up a "TrustScore" which can have rewards associated with it.
Become a Pro User
Members with a large amount of community involvement and participation may be invited to become a "pro user" at ICS. Pro Users must own a webcam and will be asked to record their responses to special surveys! These users will be offered unique rewards as an added bonus.
Eligibility: United States residents only, also make sure your IP address is from the US, or you will not receive the winnings. Please be aware that ICS does not work on Internet Explorer version 6.
InstantCashSweepstakes Reviews (36)
May 24, 2016 by michelle from United States
This site is a farce. It really doesn't pay out anything, it's more about getting you to sign up for other stuff. Not worth the effort to sign up
August 30, 2015 by James from United States
Not sure why this is so rated so well. The concept of being able to win small sums of money for taking surveys is okay, but at the end of the day, I just want to get paid for every survey I complete! No sweepstakes, no nothing! I know some people have won cash with this site, but I haven't, hence my low rating. The regular surveys they do have available for cash don't pay enough.
August 11, 2013 by Ella from United States
What the heck is this? Ridiculous. They have drawings for $50 every 24 hours. You get tickets for every survey, and you are automatically entered into the drawing. Apparently, people actually win, but not me.
They also have a $2 drawing.
Once or twice a day you win $.01 or $.03, it takes $2 to cash out, so....
The surveys are user generated for the most part, and are a joke. Half the time you can't even understand the survey, and it seems like people are just coming up with nonsense to get the 100 tickets you get for making one. Doesn't seem like the site proof reads them at all.
Doesn't Pay Enough AT ALL
November 1, 2015 by Janelle from United States
If you just want to fill out surveys basically for free every 3 hours, sure, this is the site for you. But if you're looking to actually make some pocket change, you most likely won't even make THAT on this website. You get 75 cents when you sign up and take their initial survey, but it will take you forever to reach the $2 payout minimum. Yes, members CAN win $2 dollars every few hours or win the daily $50 drawing/lottery. But the likelihood of that happening is pretty slim, so keep that in mind if you sign up for this survey site. As soon as I get my $2, I'm canceling my account, as this is a waste of time for me. Not to mention, they don't take kindly when you simply question them about the minuscule amount of money being offered or suggest to them that perhaps they should offer more than just pennies every few days and drawings/lotteries that most people will NEVER win. Bad customer service.
Good to pay BUT Be warned.
January 8, 2014 by Kevin from United States
Interesting surveys, though some are fairly dumb but you can click to skip those. Have won $2.00 a few times and have cashed out once. They are very fast to pay unlike some survey sites that make you wait weeks.
UPDATE: I have given up on Instant Cash Sweepstakes. It seemed to me that after you cash out you receive lower payments per "survey"at that rate it would take forever to cash out again. Stay away unless you have nothing better to do with your time for a mere pittance.. It's a waste of time.
» Return to: TOP RATED SURVEY SITES
---
Popular Topics
Top Survey Sites of 2021
---
Highest User Rated Survey Sites
---
Survey Sites That Pay Instantly
---
Survey Sites with Low Cash Outs
---
9 Product Testing Job Websites
---
12 Online Surveys That Pay Cash
---
How to Earn Free Uber Gift Cards
---
14 Ways to Get Free Amazon Gift Cards
---
Best Paid Focus Groups
---
How to Get a Free Visa Gift Card
---
Ways to Get Free Xbox Gift Cards
---
Featured Advertisers: