OneOpinion Reviews and Features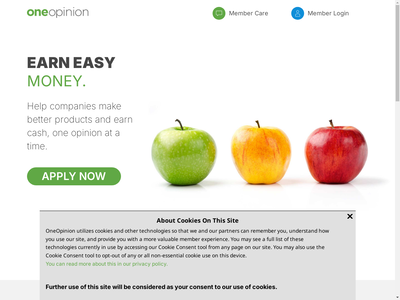 OneOpinion
6 Research Drive, Shelton, Connecticut 06484 US
Tel: (800) 651-8794 Contact: [email protected]
Operated by: Dynata
Quick Overview:
Rewards Offered: Cash paid via PayPal Amazon gift cards Prepaid debit or credit cards
Member Opportunities: Online surveys Mobile surveys Product testing Diary surveys Teen surveys
Redeeming Rewards: 25,000 points ($25/£25) minimum account balance required to request rewards in the form of pre-paid credit cards or PayPal.
Similar Panels: Branded Surveys, Univox Community, Opinion Outpost
Note: OneOpinion closed the .ca (Canadian) .fr (French), Australian, German and Italian versions of their survey panel on June 30, 2019. The USA, UK, etc. version of their websites continue to be operational.

OneOpinion was founded in 2011 and is owned by Dynata. OneOpinion conducts surveys on behalf of the world's leading market research companies. Learn about new products and services and influence their development by sharing your opinion! By joining, you'll be a part of a worldwide panel that actively participates in research studies from top companies, all while earning great rewards.
Simple Sign Up
Signing up for OneOpinion is quick and easy – simply fill out the registration form (or chat with 'Emily' the bot to sign up), and follow the instructions once you receive your confirmation email. Once your registration is confirmed you can start taking surveys and earning rewards!
Earn Gift Cards or Cash
Once you have reached 25,000 Points (1,000 points = $/£1.00) you are able to redeem towards items in the OneOpinion Rewards Program. You could redeem your points for a $25 virtual Visa Debit Card instantly! These cards will be sent via UPS to your home. If you do not want to wait until the physical card is delivered (keep in mind that it can take up to 10 days to arrive), you can also opt for a virtual gift card that will instantly be sent to you and ready for use, or you can elect to receive your funds as cash via your PayPal account. Amazon gift cards are also available.
OneOpinion also has a "One Rewards Program", which lets you trade your well-earned points for diverse rewards that you can choose from, if you prefer rewards beyond cash or pre-paid debit cards.
Visit OneOpinion's website

›
Collect Your Points
Most surveys pay the points equivalent of $1 to $5 ($1 = 1,000 points), so you'll hit the 25,000 point threshold needed to start redeeming your rewards quickly if you are an active member of the panel. Even if you screen out of a survey, OneOpinion will still reward you with 50 points!
Get your Points Immediately!
After you take an online survey, your reward points will instantly be loaded into your account. These points can be traded in towards great rewards from the OneOpinion Rewards Program.
Take Part in LOTS of Surveys
If you qualify, and your profile matches the studies criteria, there may be a new survey for you to take every day!
Visit OneOpinion's website

›
Product Testing and Online Surveys
Members of OneOpinion get the opportunity to see and test new products that are not even on the market yet. Try new products right in your home and tell OneOpinion about your experience!
24/7 Member Care
OneOpinion promises its members great customer service. If at any point you have a question about anything regarding OneOpinion, fill out the contact form or call the customer service line, and you will be connected with a customer representative that can answer your question(s).
Eligibility: Residents of the USA, UK, Spain, Germany, Italy, France, The Netherlands, Australia and Canada may join. Must be 13+ (members 18 and under must get parental consent before joining). Multiple members from the same household may join.
---
January 28, 2020 by John from United States
One of the better survey sites till they were acquired by Dynata . Dynata's better business bureau rating is an 'F' , with over 700 complaints .
I had been a member for almost three years , and noticed I was getting fewer surveys lately as I got close to the amount needed (25000) to cash out . Right after cashing out I was suspended . I didn't do anything wrong at all . I got two emails after an inquiry , one that it was ' browser issues' and they just needed information on how I was logging in and what software , etc . ( that's happened to me once before , and to hundreds of others also by reading complaints) ...Simultaneous to that email ( same day and time ) I got one stating I was banned and they couldn't offer me any more surveys . Someone isn't telling the truth . Their customer service is wired to do this sort of stuff now.
If you want to know more about this company , go to the Better Business Bureau site , type in 'Dynata ' and read the complaints and reviews .

OneOpinion responded to this review on January 31, 2020
Hi John,
Thank you for your feedback.
On occasion some accounts are flagged, and following a thorough review a few of those accounts will regrettably need to remain closed as they have breached the user agreement or engaged in activity not permitted on the specific panel.
We apologize for any inconvenience caused.
Kind regards,
The OneOpinion team
Never rewarded me for completed study.
December 4, 2019 by Stephanie from United States
I made an account on here just so I could leave a review on OneOpinion so hope that tells you how much I dislike them.

Long story short I found one of their studies on Prizerebel, the study was for diapers. They sent me a pack of 35 diapers and I was supposed to use them for a week on my son, keep a weekly diaper journal then complete a final survey. Not even gonna lie I did everything but I completely spaced it because I was really busy on top of taking care of my son and working i've also been taking care of my mother who recently had back surgery and is immobile until she heals. At first I was promised $30.00 through Paypal for completing everything but since I spaced it and took so long it dropped down to $15.00 Thankfully I checked my email a week ago because I received a final email from them that day. I completed the final survey no more then an hour after they sent me that email. In the email they said that the survey would close at the end of November and that's when i'd be given $15.00 through Paypal...

I'm sure it goes without saying that I NEVER received the money they promised me. This was a week ago. They said the survey would close at the end of November and i'd get my reward then it's now December 3rd and not only have I not received my reward but haven't even heard from them. I emailed them but surprise surprise never got a response.

The only reason I agreed to do their study was because they promised to pay. Had they not offered I wouldn't of even bothered because doing everything was a pain in the butt and took a long time. If it was easy probably wouldn't of been as mad but since I wasted SO MUCH time doing everything just to not be rewarded i'm very ticked.

Bottom line, either don't use them or if you do make sure it's not something that takes up a lot of time to complete just in case they do the same thing to you.

OneOpinion responded to this review on January 23, 2020
Hi Stephanie, thanks for leaving us a review.
We are sorry to hear that you are experiencing issues with our panel. Sometimes payments can take a bit longer to be sent to our members. In case you still didn't receive the payment for the stated product test, we would kindly ask you to reach out to our member support team once more. Due to the Christmas period there might have been delays in replying to members. However, the support team will investigate further and reach out to you as soon as possible.
Thank you very much and please accept our apologies for any inconvenience.
Kind regards,
The OneOpinion team
November 13, 2019 by Rosemary from United States
Ive been with this site for almost a year and its been a great site, the last time I got a survey from them was Nov.7 now when I go to this site it says I have no surveys, I asked there robo thing why Im not getting surveys? the first time I asked was last weekend no answer, so I wrote them back yesterday the robo thing said there was nothing wrong with my account that they would fix it, today still nothing I wrote them this morning and I tried to call their toll free number its not a working phone. So I told them I was going to survey police to find replacement survey sites for them. They then sent me a message saying my account has been suspended because their emails have been flagged, I didnt flag their emails, I tried to make sure their old emails werent flagged still nothing. I have 22.00 in my account on their site which I guess I lost. Something is going wrong with these sites a few are shady and I have unsubscribed to the bad ones. Now Im going to find trustworthy sites to make for the loss of this one. I have to make up for this site and try to earn before Christmas
Stopped surveys / certification licensing problems
November 6, 2019 by Hedwig from United States
A week ago I completed a survey, but no points were given. Their Emily - computer response - couldn't figure things out, but wrote that a staff member will be contacted. I also wrote an email to them, but didn't get a reply.
Next 2 days no surveys were available to me. I asked Emily who responded that my account was temporarily suspended. There is no reason that they could have suspended me. So I wrote them an email asking for the reason.
Today I received a response that they system flagged me because of browser issues. I used the same browser as always and even tried their site using another browser, Chrome, but I am still blocked.
I tried Emily again who wrote that they are having "having an issue with the certification licensing on our site".
Looks like they aren't going to operate anymore and that people like me who have points won't be able to redeem the points.
Follow-up: They unblocked me after a week, but again I have problems with them. They didn't give me points for a long survey, and right after I asked about it, they blocked me from taking more surveys and they canceled my request for the $25 Paypal payment I was eligible for and had requested.
So now they don't give the promised points and they don't pay out as promised.
Beware of this site!!!
October 22, 2019 by Joni from United States
I have been a satisfied customer for a few years. Now, I finished testing toothpaste over two weeks ago, and have still not received the follow-up email. I have left two messages on the contact phone number that is always having busy agents. I also sent an email. Crickets. I also redeemed for a Paypal payment of $25.00 hoping I will at least get my money and it said, "oops, an error occurred, try again later".
What is going on with them?