OneOpinion Reviews and Features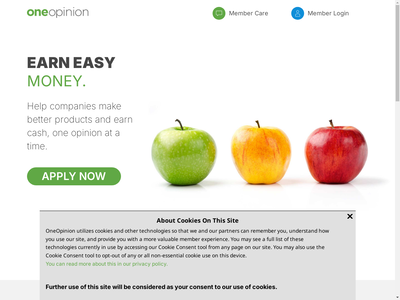 OneOpinion
6 Research Drive, Shelton, Connecticut 06484 US
Tel: (866) 360-9574 Contact: https://www.oneopinion.com/contact-us
Operated by: Dynata

PAYMENTS OFFERED

Cash paid via PayPal

Amazon gift cards

Prepaid debit or credit cards

HOW TO PARTICIPATE

Online surveys

Mobile surveys

Product testing

Diary surveys

Teen surveys

REDEEMING REWARDS
25,000 points ($25/£25) minimum account balance required to request rewards in the form of pre-paid credit cards, Amazon gift cards, or PayPal payments.

OneOpinion was founded in 2011 and is currently owned by Dynata. OneOpinion conducts surveys on behalf of the world's leading market research companies. You can learn about new products and services and influence their development by sharing your opinions with the site. By joining, you'll be a part of a worldwide panel that actively participates in research studies from top companies, all while earning great rewards.
Simple Sign Up
Signing up for the OneOpinion survey site is quick and easy – simply fill out the registration form (or chat with 'Emily' the bot to sign up), and follow the instructions once you receive your confirmation email. Once your registration is confirmed, you can start taking paid surveys and earning rewards..
Earn Gift Cards or Cash
Once you have 25,000 Points (1,000 points = $/£1.00) in your account, you can redeem your balance towards items in the OneOpinion Rewards Program. Many different gift cards options are available, including Amazon gift cards, and are sent via UPS to your mailing address.
If you do not want to wait until a physical card is delivered (keep in mind that it can take up to 10 days to arrive), you can opt for a virtual gift card that will instantly be sent to you and ready for use. You can redeem your points for a $25 virtual Visa Debit Card, Amazon e-voucher, or you can elect to receive your funds as cash via your PayPal account for extra cash for you to spend any way you'd like. Extra verification is required for these rewards options, but you only need to do it once and it assures that only you will receive your rewards (and not a fraudster).
OneOpinion also has a "One Rewards Program", which lets you trade your well-earned points for diverse rewards that you can choose from, if you prefer rewards beyond cash or pre-paid debit cards.
Visit OneOpinion's website

›
Collect Your Points
Most OneOpinion surveys pay the points equivalent of $1 to $5 ($1 = 1,000 points), so you'll hit the 25,000 point threshold needed to start redeeming your rewards quickly if you are an active member of the panel.
When new surveys become available, you'll be e-mailed a survey invitation which will state the topic of the survey, the amount of points offered for completing it, as well as the approximate time it'll take to complete. Even if you end up getting screened out of a survey, One Opinion will still reward you with points! This will help you reach your rewards goals faster.
Earn Points for Disqualifications
If you get screened out or are disqualified from surveys, OneOpinion will still compensate you. Earn up to 250 points per day (50 points x 5 disqualifications) for screen outs.
Get Your Points Immediately!
After you complete an online survey, your reward points will instantly be loaded into your account. These points can be traded in towards great rewards from the OneOpinion Rewards Program.
Take Part in LOTS of Surveys
If you qualify, and your profile matches the studies criteria, there may be a new survey for you to take every day. Partner surveys are also available, which will help match you to additional studies.
Visit OneOpinion's website

›
Product Testing and Online Surveys
Members of OneOpinion periodically get the opportunity to see and test new products that are not even on the market yet. Try new products right in your home and tell OneOpinion about your experience! You will typically get to keep the product and will also receive points for testing it.
Extra Security to Protect Your Account
OneOpinion offers 2-Step Verification to help protect your account from hackers and scammers; this optional feature allows you product your account with your phone number so that if someone were to gain access to your email account, they would not be able to cash out your rewards from your One Opinion account.
24/7 Member Care
OneOpinion promises its members great customer service. If at any point you have a question about anything regarding OneOpinion, chat with Emily the 'bot' who is surprisingly savvy and can help with most inquiries, or call the customer service line and you will be connected with a customer representative that can answer your questions over the phone.
Is One Opinion Legitimate?
OneOpinion is not a scam and is a legit paid surveys site. Although members of the program may have different experiences, OneOpinion is legitimate and is run by Dynata (one of the largest data sampling companies in the world).
Eligibility: Residents of the USA and UK may join. Must be 13+ (members 18 and under must get parental consent before joining). Multiple members from the same household may join.
Note: OneOpinion closed the .ca (Canadian) .fr (French), Australian, German, Spain and Italian versions of their survey panel on June 30, 2019. The USA and UK versions of their panel continue to be operational.
---
1 Star Reviews (103)
35.3
Suspended with no warning
November 3, 2020 by Kelly from United States
Have been a member of OneOpinion for years with no problem...until recently. Starting in September, they stopped sending me emails and locked me out of my account. I contacted customer service; they asked the usual questions about browsers, VPNs, and devices, then said they would look into it. A few days later I received an email from Roy saying "It appears our system is flagging your account due to browser-related issues" (copied from his actual email), and they were working on it. The next day I started receiving emails again, but the points I had already earned were labeled as forfeited. I contacted Roy again and he quickly activated my earned points again.

After a week or so, the emails stopped coming again. I contacted them once again. Ten days later Dave sends me an email telling me my account has been indefinitely suspended because "you may only have one account, provide accurate profile information and survey responses. You must also be thoughtful and attentive in responding to our surveys."

I only have one account, my profile is accurate, except my age changes every year (duh!), and I always answer surveys to the best of my ability. I read fast so I may not spend an hour on every question, but I can guarantee I answer every question truthfully and accurately. So, they got their surveys answered for free because they suspended me and kept what I earned.

So, I'm either a cheat working the system or my browser is causing problems depending on if you ask Roy or Dave. Then I start searching for reviews and find they're culling the herd. I don't think the problem is me or my browser. I think the problem lies with the unethical actions of OneOpinion. They don't seem to like a certain type of person or something.

Don't waste your time unless you like to be cheated and then be accused of being a cheat and liar yourself just because you had the audacity to ask why you weren't getting emails and couldn't get into your account. Granted, they used to be awesome, then they sold out. Now they're not half the company they used to be.
Same Issue as Many Others!
October 26, 2020 by Katherine from United States
200 points short of being able to redeem for my second $25, I suddenly have no surveys day after day! First query to Customer service got no response, second one said I was suspended; something possible about my browser. I sent the requested information. Over a week later, I suddenly had surveys available (no communication about why I was re-instated), so I did my 200 points, redeemed, and of course when I checked my rewards history, they have cancelled my reward. No communication; no reason. Rather unfair, to say the least. Perhaps there is something wrong with their system if they are finding so many browser issues. I know I did nothing wrong. I will just resign from their panel, as they are no longer trustworthy, and have very poor Customer Service!
October 13, 2020 by Paul from United Kingdom
Having done surveys for this site for several years with absolutely no problems, all of a sudden I stopped receiving invites. I asked why this was and was then told there was a problem with my browser and could I send details of which one I used, did I access from home et. All these details were provided and a couple of days later I received the same response as several others - poor responses, multiple accounts etc so my account was suspended. This is the first I had heard of this and it contravenes their T&C saying they would give 30 days notice of suspension. It seems as if they are making up excuses as they go along - either there is a problem with my browser or I am rubbish at doing surveys, it can't be both. The timing seems very suspicious because I was almost at the payout threshold. Clearly they want people to work for nothing which is completely dishonest. My advice to anyone is if you want to be paid for doing surveys avoid this outfit at all costs.
October 10, 2020 by nancy from United States
The point offerings for the amount of time requested is ridiculous - a half hour for 1.25?
Cannot contact a person unless you want to pick up the phone. The automated bot has no answers beyond four that do not address any pertinent issues.
It is still annoying trying to get somebody to respond, and there is no access to phones anymore.

Update: I earned quite a bit of money in just over a month, so I will stick with for a while.

Second update: I heard last week that they not only are not allowing me to continue to earn points, but they canceled my account. (I logged in after reading the response, though.)

Filed a complaint with BBB. If that doesn't work, I will hit up the State of Connecticut.

Suggest you avoid this company.
They contacted me to tell me after two reviews, they are reinstating my account.
I still CANNOT get two-factor authorization to send me a code via phone cal.

Will keep you posted.
Dynata members cull September 2020
September 24, 2020 by Nick from United Kingdom
Looks like they've been doing a cleanup of undesirable members, I've been refusing to complete any of their low paying dross for years now so they probably got fed up paying me partial credit for all the deliberate screen outs until a semi decent (as in more that 40 pence) offer comes alone.

I'm actually surprised that they haven't done this sooner to be honest.

Anyway, as you've probably guessed by the above, they are among the legion of lower tier data scrapers that largely underpay for surveys that better outfits would pay £1-£3 for, where here you would get 10-50 pence for the same demands of your time.

Have sent a message to support. Hopefully I can get back in long enough to reach the threshold and grab Amazon voucher with my points before kicking them back into the junk pile.

A £25 minimum payout really works in their favour, imagine any other sector keeping your earnings when they don't want you anymore without getting sued - no, I can't either.

With the current Pandemic and WFH becoming more commonplace, I'd like to think legislation could finally knock underpaying cowboy outfits like Dyndata out of existence, but for now, I can only hope that more people like myself rinse them until they simply can't profit anymore.
» Return to: TOP RATED SURVEY SITES
---
Popular Topics
Top Survey Sites of 2021
---
Highest User Rated Survey Sites
---
Survey Sites That Pay Instantly
---
Survey Sites with Low Cash Outs
---
9 Product Testing Job Websites
---
12 Online Surveys That Pay Cash
---
14 Ways to Get Free Amazon Gift Cards
---
Best Paid Focus Groups
---
How to Get a Free Visa Gift Card
---
Get Paid by PayPal Without Fees
---
Ways to Get Free Xbox Gift Cards
---
Featured Advertisers: