Opinion Outpost Reviews and Features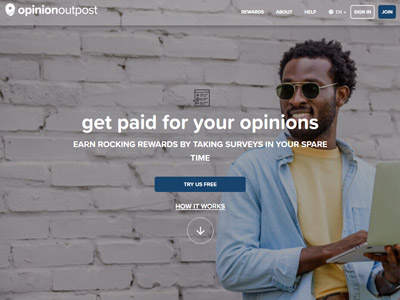 Opinion Outpost
6 Research Drive, Shelton, Connecticut 06484 US
Tel: 877-254-1234 Contact: [email protected]
Operated by: Dynata
Quick Overview:
Rewards Offered: Cash paid via PayPal Amazon gift cards iTunes gift cards Donations to charity Sweepstakes entries
Member Opportunities: Online surveys Product testing Diary surveys Mobile surveys Refer-a-friend program
Redeeming Rewards: Minimum account balance required to request rewards: 100 points ($10 / £5) for PayPal payments, 50 points ($5) for Amazon gift cards
Similar Panels: QuickThoughts, Branded Surveys, OpinionWorld

Opinion Outpost is a free online tool that helps connect corporations and businesses to customers. By taking surveys, you can make quick cash from home while helping your favorite brands adapt and grow. The website is owned by Dynata which is a global sampling and survey company. A pioneer in the world of online market research, Opinion Outpost has been around for more than a decade!
Earn Great Rewards
You don't have to wait long to get rewarded - if you take a survey worth 50 points, you'll already have enough to redeem a $5 Amazon gift card!
PayPal payments - with only 100 points (worth $10/£5), you can request a PayPal payment be made to your account. Only verified PayPal accounts will qualify for payment.
Amazon e-vouchers - only 50 points ($5.00) is required to request an Amazon e-gift code.
iTunes gift cards - with 50 points ($5.00) sitting in your account, you can request an iTunes gift card.
American Red Cross donations - Opinion Outpost has partnered with the American Red Cross to provide you with a charitable option to donate your points to.
Super-Fast Rewards Delivery
Opinion Outpost is very unique in that rewards are often delivered instantly after requesting them. It's uncommon to have to wait more than a few minutes/hours to receive a PayPal payment or e-gift card that you've requested.
Visit Opinion Outpost's website

›
Take Surveys Often
Surveys will be sent to you on a regular basis. You can also visit the website, log in and find a list of available surveys, giving you lots of chances to make cash. A typical survey takes 10-15 minutes to complete. The amount of points you can expect to receive per survey ranges between 5 to 50 points. 1 point = $0.10.
Modern, Interactive Surveys
Opinion Outpost offers fun, interactive online surveys that are attractive and simple to take. On top of offering sweepstakes entries, periodically, they offer games at the end of surveys which give you the opportunity to win points and/or additional sweepstakes entries. One such game is called the Opinion Outpost Door Game.
Visit Opinion Outpost's website

›
Quarterly Chances to Win $10,000
If you are in the USA and you get disqualified from a survey, participate in a survey, or exchange your valuable points for an entry, you will be entered into a chance to win $10,000 in a quarterly cash draw. That means that $40,000 in total is awarded to 4 lucky members every year! If you are in Canada, there are also sweepstakes available, in the form of 4 quarterly draws of $1,250 each ($5,000 yearly).
Refer Your Friends to Earn More
Opinion Outpost's referral program will award you $1.00 every time you refer a friend using your custom link and they complete at least one survey. Earn up to $5.00 in total. Find the "refer a friend" tab when you log into your account to grab your custom referral link to share with friends or extended family members.
Note: If you are having technical issues with Opinion Outpost, reach out to [email protected] for assistance.
*Amazon.com is not a sponsor of this program. For complete gift card terms and conditions, see www.amazon.com/gc-legal. ©,®,™ Amazon.com Inc. and/or its affiliates, 2017. No expiration date or service fees.
**iTunes® is a registered trademark of Apple Inc. All rights reserved. Apple is not a participant in or sponsor of this promotion
---
SurveyPolice Exclusive: 9 Question Q & A with Opinion Outpost
as soon as i went to redeem
February 12, 2020 by Isiah from United States
I went to redeem a 5 dollar Amazon Gift Card and my account froze as soon as I had enough and logged me out. The reviews on this site are very true. Do not use this site you have all been warned.

Opinion Outpost responded to this review on February 12, 2020
Hi Isiah,
Thank you for your feedback.
On occasion some accounts are flagged, and following a thorough review a few of those accounts will regrettably need to remain closed as they have breached the user agreement or engaged in activity not permitted on the specific panel.
We apologize for any inconvenience caused.
Kind regards,
The OpinionOutpost team
February 5, 2020 by Julia from United States
Opinion Outpost has been the one company I trusted fully to do the right thing for the last 5 years since I've been using them. The last few months they are HORRIBLE - no getting back to you regarding failed surveys, no answering calls, giving the run-around when they do answer and NOW I put in for rewards cash in, it failed and no one is getting back to me and I have no avenue to contact them since no one EVER answers the calls. Very disheartened by this change in customer service. If this isn't handled asap, I have no choice but to go elsewhere!

Opinion Outpost responded to this review on February 10, 2020
Hi Julia,
Thank you for taking the time to write us a review. We're very sorry to hear that you are not happy with your recent experience with us.
We understand it's very frustrating when you receive no response when reaching out. We're very sorry for the inconvenience caused by this.
Could we kindly ask you to write to our helpdesk once again via the contact form you will find at the bottom of this page: https://www.opinionoutpost.com/en/general/faqs You also have the option to send us a private message on Facebook with your account details so that our member support team is able to locate your account and assist you as soon as possible.
Kind regards,
The Opinion Outpost team
February 4, 2020 by Cheryl from United States
Has gotten better again. More surveys to do again and fun ones to do.

Opinion Outpost responded to this review on February 5, 2020
Hi Cheryl,
Thank you for leaving us a review.
We are pleased to hear that you are happy with our recent improvements and enjoy taking part in our surveys.
Thank you for being part of the community!
Best wishes,
The OpinionOutpost team
January 29, 2020 by daniel from United States
Very easy surveys and can cash out for 5.00 amazon gifts cards at 50 points.

Opinion Outpost responded to this review on January 31, 2020
Hi Daniel,
Thanks for leaving us a positive review. We're really pleased you like our reward options and hope you will continue to enjoy taking part in our surveys.
Best wishes,
The OpinionOutpost team
January 29, 2020 by Tim from United States
Worst site for reviews don't waste your time. They will freeze your account when saved enough dollars. When taking surveys, some will literally take you 5-10 minutes asking you "entry" questions, take your information, then kick you from the survey saying that you didn't qualify for it. It isn't worth it. Try other survey sites.

Opinion Outpost responded to this review on January 31, 2020
Hi Tim,
Thank you for your feedback. We're sorry to hear about this, unfortunately members may not always qualify for a survey.
This is because some surveys or clients require a specific demographic to complete the survey, there may be a number of qualifying questions to make sure that you fit in these demographics and are suitable for the survey.
We understand that this can be frustrating at times, if you ensure your profile is up to date this should maximise your opportunities to qualify for surveys that are most relevant to your lifestyle and interests, minimising the chances of you being screened out halfway through.
However, if you take part in a survey and get screened out after a long time, please contact our member support team who will have a closer look at you survey participation and will try to find the best solution for this.
Kind regards,
The OpinionOutpost Team