OpinionSite Reviews and Features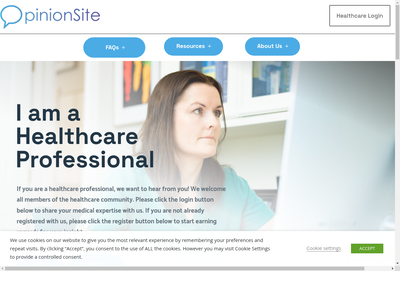 OpinionSite
888 West Alameda Road, Pocatello, Indiana US
Tel: Contact: https://surveys.opinionsite.com/survey/selfserve/20dc/180809#?
Operated by: SurveyHealthcare
Quick Overview:
Rewards Offered: Cash paid via check Amazon gift cards iTunes gift cards Walmart gift cards
Member Opportunities: Online surveys Medical surveys Business surveys Teen surveys
Redeeming Rewards: 14,000 points ($10 worth) minimum balance required in order to request rewards.
Similar Panels: Branded Surveys, Opinion Outpost, Univox Community

OpinionSite has been around since 1997 and deals with a variety of market research opportunities. They are owned by Universal Survey - an umbrella company that backs a variety of smaller research panels. Over the years, OpinionSite has collected millions of valuable opinions from a range of consumers, business and healthcare professionals, leading to the future of many important company decisions.
Two Communities to Join
OpinionSite offers new members the option to join two different communities depending on their demographic. The first is a "Consumer Community" which ranges from business decision makers to consumers of everyday products. The second is the more exclusive "Healthcare Professional Community" which is for anyone who identifies as a healthcare professional. Members are welcome to join both if they fit the bill!
Take Online Surveys for Cash And Gift Cards
OpinionSite offers online surveys for cash that is sent in the form of a check. Accumulate points that can then be redeemed for a check when your account balance reaches $10 (14,000 points). The check will arrive at your given address in approximately 6-8 weeks time. If you choose a gift card option, you can expect to receive it 1-2 weeks after redemption. Gift cards available include Amazon, Walmart, and iTunes gift cards.
Join and Get $1, Complete Profiling Survey, Get $2
Confirm your registration with OpinionSite and receive 1,400 ($1.00) credited to your account. Complete the short profiling survey available in your account and earn an additional 2,800 points ($2.00).
Earn Fair Compensation
OpinionSite claims to strive to offer competitive and appropriate compensation and has set an absolute minimum of 50 points per participation, including for survey disqualifications. Survey payouts usually range from $0.50 - $2.00 per survey, but are fun and quick in nature. Once you have reached 14,000 points, or $10, you can begin to redeem your points for rewards.
Excellent Customer Service
OpinionSite prides themselves on having quality customer service for its panel members. If you have an issue or question, responses are usually quite quick and helpful!
Eligibility: Residents of the United States, 13+
---
August 13, 2019 by Sara from United States
I just have a question. I'm part of the medical opinionsite group. I'm a MD and have been a part of opinionsite since 2012. Payments have always been on time and customer service is the best I have ever dealt with. My concern is I still have not received a payment for 200.00 and cashed out early July. Is there an issue with July payments like I was informed and when will we get our payments?

OpinionSite responded to this review on August 15, 2019
Hi Sara,
Would you contact me at my email below so this can be resolved.
Jason Freeman
[email protected]
Opinionsite COO
June 12, 2019 by Debra from United States
I still haven't been paid for a phone interview I did 2 months ago.

OpinionSite responded to this review on June 18, 2019
Hi Debra,
Would you contact me at my email below so this can be resolved.
Jason Freeman
[email protected]
Opinionsite COO
******* Update 6/18/2019 **********
Debra - Thanks for contacting us. After some investigation we found that your Opinionsite account was credited the $75 on 5/21/2019. You just needed to login and redeem (i.e. select E-Gift Card or Check).
No payment 3 months later
March 5, 2019 by Theresa from United States
Update: After becoming more aggressive about contacting OpinionSite, the issue was resolved within one working day. I am pleased at the outcome, though still somewhat frustrated that my prior two inquiries about the apparent delayed payment were not fruitful. Regardless, thank you to Jason for the (eventual) speedy resolution!

Original:
I completed a phone interview with a promised payment of $300 three months ago and still have not received payment. I have contacted OpinionSite multiple times with no resolution. This seems to be a commonly reported problem with OpinionSite.

OpinionSite responded to this review on March 5, 2019
Hi Theresa,
I see you just recently sent me an email on 3/3/2019. I am personally looking into this and will get it resolved.
Jason Freeman
[email protected]
Opinionsite COO
**** Update 3/4/2018 4PM ****
I see we were able to resolve your issue. The root cause was having a duplicate account on file. Honorarium was given for the survey completed but was under a different email account.
Didn't get paid, can't get a response
February 5, 2019 by Andrew from United States
I completed a survey over 3 months ago. I have now contacted them via phone (as there is not another easy way to contact anyone) 6 times in the last 2 weeks. Despite calling on different days and at different times, I have only spoken to the answering service. I have been told every time that an email will be sent and a response will be given within 48 hours. I have yet to get a response. I think this is the third survey I have done with opinion site, and I don't think I have ever been paid without following up by phone, though this has been the most difficult. This is not worth the time.

OpinionSite responded to this review on March 6, 2019
**** Update 3/4/2019 ****
Andrew - I have not seen an email from you to resolve your case. Would you kindly send me an email. Thanks
*** Original Post ***
Hi Andrew,
I would like to help you out with your issue. Send me an email with your details so we can get this resolved.
Jason Freeman
[email protected]
Opinionsite COO
Did not get paid paid and poor customer service
November 16, 2018 by Richard from United States
I completed a 50 minute survey on 09/29/18 and then registered on opinionsite.com. Now they are claiming they have no record of me taking the survey. I'm dealing with a person, Pat S., who seems polite but keeps asking me the same questions such as sending her the email invitation which I did multiple times. I will not use this site again. Also the original email invitation has a contact that no longer exists even from a month ago. What's even more strange is that this site seemed to be legit as they even wanted proof of my medical license.

OpinionSite responded to this review on November 16, 2018
**** Update 11/16/2018 ****
Hi Richard,
Thanks for contacting us. We were able to resolve. After reviewing the invite we found the email invite to complete the survey came from another company recruiting on our behalf and this is the reason we were unable to initially locate you in our system. We did find the honorarium was processed and set to you on this project but it was sent to a different email than what was used on the original email invitation which was the cause for an additional delay and multiple emails in getting things resolved. Thanks again for reaching out and sticking with us to resolve as we hit you with several clarification questions.
Jason Freeman
[email protected]
Opinionsite COO