OpinionSite Reviews and Features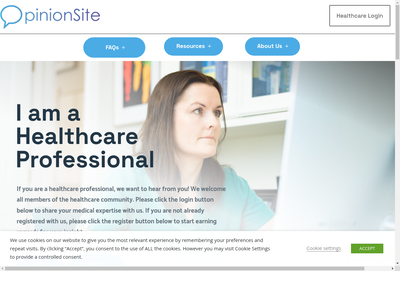 OpinionSite
480 Pleasant Street, Watertown, MA 02472 US
Tel: +1 844 953 0060 Contact: https://support.opinionsite.com/hc/en-us/requests/new
Operated by: Apollo Intelligence

PAYMENTS OFFERED

Cash paid via PayPal

Amazon gift cards

Apple gift cards

Walmart gift cards

Starbucks gift cards

Retail e-vouchers

Restaurant gift cards

HOW TO PARTICIPATE

Online surveys

Medical surveys

REDEEMING REWARDS
14,000 points ($10 worth) minimum balance required in order to request rewards.

OpinionSite was formed in 1997 and focuses on research opportunities related to healthcare trends and new products designed to improve patient outcomes. They are owned by Apollo Intelligence - an umbrella company that backs multiple healthcare research firms. Over the years, OpinionSite has collected millions of valuable opinions from physicians, nurses, pharmacists, NPPAs, and a wide range of other healthcare professionals. Their primary geographic markets are the US, Canada and Europe.
Take Online Surveys for Digital Rewards
OpinionSite offers research opportunities primarily in the form of online surveys, but will also conduct phone interviews and chart studies. Research incentives can be redeemed either through PayPal or online digital gift cards. Gift card options include Amazon, Starbucks, and dozens of retail and restaurant chains. You cannot redeem rewards in the form of a check.
Earn Fair Compensation
OpinionSite claims to strive to offer competitive and appropriate compensation in line with the hourly rates made by healthcare professionals. You can begin to redeem rewards once your account has $10 or more.
Excellent Customer Service
OpinionSite prides themselves on having quality customer service for its panel members. If you have an issue or question, responses are usually quite quick and helpful!
Eligibility: Residents of the United States, 18+
---
March 11, 2020 by Dana from United States
I can't log in because I get message Invalid username or password. Both are the correct and have been using. I have repeatedly contacted them with no response. I have spent over a year with this site and close to cashing out. As it stand now I have wasted my time.
needs better customer service
October 31, 2019 by rick from United States
I have been trying to contact these people for 10 days regarding an incentive check I requested in the middle of December....although I have never experienced a problem getting paid before the fact that they say they will get back to me in 48 hours is completely false...the excuse I got today was they were having 'technical difficulties' with their voice mail, however, from reading other reviews it is apparent that these 'difficulties' occur on a regular basis. There is no excuse for a company not answering a customer's inquiry.I have been trying for 11 days to contact someone from opinionsite with no success just silence on their end. they still owe me a balance on some surveys I completed (around $55.00) and I cannot access my account to claim this balance. I know I am using the correct user name and password but I am completely locked out and I just want to know why.i notice that on occasion mr. freeman from opinionsite reads these reviews and intervenes on customer's behalf. although I have emailed him twice with no reply I am hoping he might read this review and contact I am writing this to add to my comments I left last week....I have tried for 2 weeks to get someone from this company to reply to me (even though they claim a 48 turn around time)..as I was looking through the other people who have reviewed this site I noticed that an employee from opinionsite named Jason freeman sometimes answered the complaints...in a desperate final attempt to get a reply I emailed mr. freeman...and low and behold..he answered me..to make a long story short...the problem I was having accessing my account was resolved by him....there is no excuse for this company ignoring my many attempts to contact them...but mr. freeman is definitely the go-to guy over there...I would change my review and recommend this site..but only as long as Jason freeman is working there.

OpinionSite responded to this review on November 2, 2019
Hello Rick
I am happy we were able to resolve your issue. If you have any future needs I will always be around. I am the COO of Opinionsite and will continue to work toward faster and better resolutions to improve our help desk. If we are falling short please reach out again and I will fix it.
Jason Freeman
[email protected]
Opinionsite COO
**** UPDATE 6/21/2018 ****
Thanks for the updated review. Please continue to escalate to me. I am happy to see I am the "go-to guy" but will work to improve our services so that that is not the standard.
October 11, 2019 by Samantha from United States
I have been a member of opinion site for years but one thing that seems to never change is the fact that I ALWAYS have to reach out to them to ask where my payment is. I requested to transfer my credits to PayPal on 9/17 and still have not received it. The first email I sent was to Pat Stuart and was told they were "behind" sending out payments (big surprise 🙄) So after I didn't hear back from her for over a week I escalated it to Mr. Freeman (COO) and was told he would get me an ETA. After several days without response I emailed him again and was told "accounting staff have been out". I wouldn't advise using this company unless you don't mind waiting and constantly having to ask where your payment is. Also if you take a pre qualifying survey for a phone interview and qualify based on that please know that even though you choose a time for contact you never hear from anyone.

OpinionSite responded to this review on October 11, 2019
Hi Samantha,
I understand your frustration on this item. I did reply to you directly and also confirmed with you the ETA in my email. The transfer to PayPal is in process like I had stated. We have always honored payments but timelines do vary tremendously based on when projects end, when you request transfers, type of payment requested... etc. If you would like to be removed from our paid survey offerings due to the dislike of the payment timelines, please let me know and we will remove you from the community.
Jason Freeman
COO
August 13, 2019 by Sara from United States
I just have a question. I'm part of the medical opinionsite group. I'm a MD and have been a part of opinionsite since 2012. Payments have always been on time and customer service is the best I have ever dealt with. My concern is I still have not received a payment for 200.00 and cashed out early July. Is there an issue with July payments like I was informed and when will we get our payments?

OpinionSite responded to this review on August 15, 2019
Hi Sara,
Would you contact me at my email below so this can be resolved.
Jason Freeman
[email protected]
Opinionsite COO
June 12, 2019 by Debra from United States
I still haven't been paid for a phone interview I did 2 months ago.

OpinionSite responded to this review on June 18, 2019
Hi Debra,
Would you contact me at my email below so this can be resolved.
Jason Freeman
[email protected]
Opinionsite COO
******* Update 6/18/2019 **********
Debra - Thanks for contacting us. After some investigation we found that your Opinionsite account was credited the $75 on 5/21/2019. You just needed to login and redeem (i.e. select E-Gift Card or Check).
» Return to: TOP RATED SURVEY SITES
---
Popular Topics
Top Survey Sites of 2022
---
Highest User Rated Survey Sites
---
Survey Sites That Pay Instantly
---
Get $100 Free PayPal Payments
---
9 Product Testing Job Websites
---
12 Online Surveys That Pay Cash
---
How to Earn Free Uber Gift Cards
---
14 Ways to Get Free Amazon Gift Cards
---
Best Paid Focus Groups
---
How to Get a Free Visa Gift Card
---
Ways to Get Free Xbox Gift Cards
---
Featured Advertisers: