OpinionSite Reviews and Features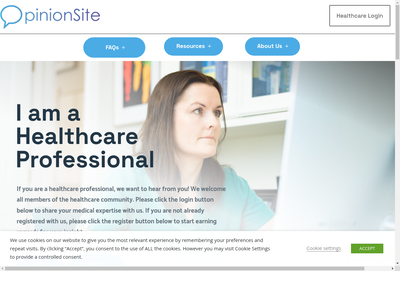 OpinionSite
888 West Alameda Road, Pocatello, Indiana US
Tel: Contact: https://surveys.opinionsite.com/survey/selfserve/20dc/180809#?
Operated by: SurveyHealthcare
Quick Overview:
Rewards Offered: Cash paid via check Amazon gift cards iTunes gift cards Walmart gift cards
Member Opportunities: Online surveys Medical surveys Business surveys Teen surveys
Redeeming Rewards: 14,000 points ($10 worth) minimum balance required in order to request rewards.
Similar Panels: Branded Surveys, Opinion Outpost, Univox Community

OpinionSite has been around since 1997 and deals with a variety of market research opportunities. They are owned by Universal Survey - an umbrella company that backs a variety of smaller research panels. Over the years, OpinionSite has collected millions of valuable opinions from a range of consumers, business and healthcare professionals, leading to the future of many important company decisions.
Two Communities to Join
OpinionSite offers new members the option to join two different communities depending on their demographic. The first is a "Consumer Community" which ranges from business decision makers to consumers of everyday products. The second is the more exclusive "Healthcare Professional Community" which is for anyone who identifies as a healthcare professional. Members are welcome to join both if they fit the bill!
Take Online Surveys for Cash And Gift Cards
OpinionSite offers online surveys for cash that is sent in the form of a check. Accumulate points that can then be redeemed for a check when your account balance reaches $10 (14,000 points). The check will arrive at your given address in approximately 6-8 weeks time. If you choose a gift card option, you can expect to receive it 1-2 weeks after redemption. Gift cards available include Amazon, Walmart, and iTunes gift cards.
Join and Get $1, Complete Profiling Survey, Get $2
Confirm your registration with OpinionSite and receive 1,400 ($1.00) credited to your account. Complete the short profiling survey available in your account and earn an additional 2,800 points ($2.00).
Earn Fair Compensation
OpinionSite claims to strive to offer competitive and appropriate compensation and has set an absolute minimum of 50 points per participation, including for survey disqualifications. Survey payouts usually range from $0.50 - $2.00 per survey, but are fun and quick in nature. Once you have reached 14,000 points, or $10, you can begin to redeem your points for rewards.
Excellent Customer Service
OpinionSite prides themselves on having quality customer service for its panel members. If you have an issue or question, responses are usually quite quick and helpful!
Eligibility: Residents of the United States, 13+
---
better ways to communicate
September 16, 2018 by Nischelle from United States
I was locked out my account and had to reset the password. Somehow my account was linked to someone else's.

While doing this, I was able to reset my password and gain access to my account again .

I had points built up and when I looked at my account, they was a payout request dating back to June. I don't remember requesting, this but what took the cake was the fact I never received the check which was requested, nor the Amazon codes.

It's September, why is it taking so long. And them I've sent Susan Bloom numerous emails and she ignores them and won't respond.

I've had problems with payouts before with this company, but they usually respond. This time, she wont.

I just want to know what happened and to get what's owed to me

OpinionSite responded to this review on November 3, 2018
Hi Nischelle,
I would like to help you out with your issue. Send me an email with your details so we can get this resolved.
Jason Freeman
[email protected]
Opinionsite COO
**** UPDATE 9/25/2018 ******
Nischelle - I have not heard from you. Will you kindly let me know if you still need assistance.
**** UPDATE 11/2/2018 *****
Nischelle thanks for emailing me. We found you were using two different emails and the rewards were sent to the other email address on file. We resent the gift card you had earned.
August 15, 2018 by Cort from United States
I redeemed a payment approximately 3.5 months for gift cards (which their website states are delivered within 2 weeks). After not receiving payment, I sent numerous e-mails with no response. I was scheduled to participate in a phone interview around this same time, but due to the failure to communicate and lack of payment, I opted to not participate in this study. I received an email the next day stating that I would no longer be invited to participate in their surveys and they removed my account completely. 3.5 months later I have still not been paid $200.00 in gift cards, and was removed from their site inappropriately after I had good reason for concern.

OpinionSite responded to this review on September 2, 2018
Hi Cort,
I would like to help you out with your issue. Send me an email with your details so we can get this resolved.
Jason Freeman
[email protected]
Opinionsite COO
****** UPDATE 8/20/2018 ******
Hi Cort, thanks for contacting us. As per our email conversation we were able to locate the mentioned lost gift cards and resolve the issue. Our gift processing center did process back in May/Early June but these were sent to your other email address we had on file and it is likely they were missed or caught in your spam folder.
June 17, 2018 by Rakesh from United States
Opinion Site sent my payment to the incorrect paypal address. The money was returned to Opinion Site's account and despite me contacting them multiple times by phone and email I have had no response in this regard, I have given them the correct paypal address multiple times. This was $400, a very large amount of money. I am very disappointed that they are not willing to correct this error.

OpinionSite responded to this review on June 21, 2018
Hi Rakesh,
I would like to help you out with your issue. Send me an email with your details so we can get this resolved.
Jason Freeman
[email protected]
Opinionsite COO
**** UPDATE 6/21/2018 ****
Thanks for contacting us. We were able to resolve the payment issue here and funds were transferred today via the correct PayPal address. Funding was delayed to to an incorrect email address. Thanks!
needs better customer service
June 13, 2018 by Rick from United States
I have been trying to contact these people for 10 days regarding an incentive check I requested in the middle of December....although I have never experienced a problem getting paid before the fact that they say they will get back to me in 48 hours is completely false...the excuse I got today was they were having 'technical difficulties' with their voice mail, however, from reading other reviews it is apparent that these 'difficulties' occur on a regular basis. There is no excuse for a company not answering a customer's inquiry.I have been trying for 11 days to contact someone from opinionsite with no success just silence on their end. they still owe me a balance on some surveys I completed (around $55.00) and I cannot access my account to claim this balance. I know I am using the correct user name and password but I am completely locked out and I just want to know why.i notice that on occasion mr. freeman from opinionsite reads these reviews and intervenes on customer's behalf. although I have emailed him twice with no reply I am hoping he might read this review and contact I am writing this to add to my comments I left last week....I have tried for 2 weeks to get someone from this company to reply to me (even though they claim a 48 turn around time)..as I was looking through the other people who have reviewed this site I noticed that an employee from opinionsite named Jason freeman sometimes answered the complaints...in a desperate final attempt to get a reply I emailed mr. freeman...and low and behold..he answered me..to make a long story short...the problem I was having accessing my account was resolved by him....there is no excuse for this company ignoring my many attempts to contact them...but mr. freeman is definitely the go-to guy over there...I would change my review and recommend this site..but only as long as Jason freeman is working there.

OpinionSite responded to this review on June 21, 2018
Hello Rick
I am happy we were able to resolve your issue. If you have any future needs I will always be around. I am the COO of Opinionsite and will continue to work toward faster and better resolutions to improve our help desk. If we are falling short please reach out again and I will fix it.
Jason Freeman
[email protected]
Opinionsite COO
**** UPDATE 6/21/2018 ****
Thanks for the updated review. Please continue to escalate to me. I am happy to see I am the "go-to guy" but will work to improve our services so that that is not the standard.
May 18, 2018 by Terese from United States
This survey site has been a HUGE waste of my valuable time. It took many months to finally qualify for a measly $10 check; 90% of the surveys they sent me were for 50 consolation points (out of 14,000 needed for $10!). I finally qualified for the $10 two months ago, still NO money, and they will NOT respond to any of my messages. They also have my first name wrong and will not update that or allow me to do it. Instead they just keep sending me surveys addressed to the wrong name. I am beyond disgusted. I would have cancelled but am trying to hold out a shred of hope that they will send my $10, but at this point, I doubt it. DON'T waste your time!!

P.S. I DID finally get my $10 a few days after I wrote this review. It took over 2 months. And I see that the manager Jason is now responding to issues. I still would definitely not recommend OpinionSite, since it took me several months to get enough points to earn $10; they disqualified me on the vast majority of the surveys.

OpinionSite responded to this review on June 15, 2018
Hi Terese,
I would like to help you out with your issue. Did you login to the portal to request the redemption? Once you accumulate points you have to log into the website and request the type of payment (i.e. check, giftcard, paypal... etc). Send me an email with what you are using and I can review your account.
Jason Freeman
[email protected]
Opinionsite COO