OpinionSite Reviews and Features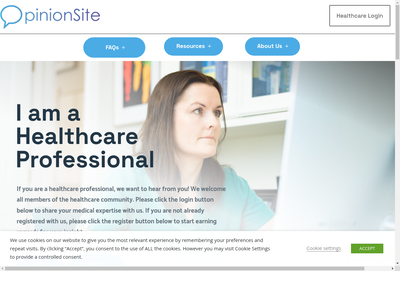 OpinionSite
888 West Alameda Road, Pocatello, Indiana 83201 US
Tel: (212) 391-5243 Contact: https://surveys.opinionsite.com/survey/selfserve/20dc/180809#?
Operated by: SurveyHealthcare
Quick Overview:
Rewards Offered: Cash paid via check Amazon gift cards iTunes gift cards Walmart gift cards
Member Opportunities: Online surveys Medical surveys Business surveys Teen surveys
Redeeming Rewards: 14,000 points ($10 worth) minimum balance required in order to request rewards.
Similar Panels: Branded Surveys, Opinion Outpost, Univox Community

OpinionSite has been around since 1997 and deals with a variety of market research opportunities. They are owned by Universal Survey - an umbrella company that backs a variety of smaller research panels. Over the years, OpinionSite has collected millions of valuable opinions from a range of consumers, business and healthcare professionals, leading to the future of many important company decisions.
Two Communities to Join
OpinionSite offers new members the option to join two different communities depending on their demographic. The first is a "Consumer Community" which ranges from business decision makers to consumers of everyday products. The second is the more exclusive "Healthcare Professional Community" which is for anyone who identifies as a healthcare professional. Members are welcome to join both if they fit the bill!
Take Online Surveys for Cash And Gift Cards
OpinionSite offers online surveys for cash that is sent in the form of a check. Accumulate points that can then be redeemed for a check when your account balance reaches $10 (14,000 points). The check will arrive at your given address in approximately 6-8 weeks time. If you choose a gift card option, you can expect to receive it 1-2 weeks after redemption. Gift cards available include Amazon, Walmart, and iTunes gift cards.
Join and Get $1, Complete Profiling Survey, Get $2
Confirm your registration with OpinionSite and receive 1,400 ($1.00) credited to your account. Complete the short profiling survey available in your account and earn an additional 2,800 points ($2.00).
Earn Fair Compensation
OpinionSite claims to strive to offer competitive and appropriate compensation and has set an absolute minimum of 50 points per participation, including for survey disqualifications. Survey payouts usually range from $0.50 - $2.00 per survey, but are fun and quick in nature. Once you have reached 14,000 points, or $10, you can begin to redeem your points for rewards.
Excellent Customer Service
OpinionSite prides themselves on having quality customer service for its panel members. If you have an issue or question, responses are usually quite quick and helpful!
Eligibility: Residents of the United States, 13+
---
January 21, 2018 by Albert from United States
almost always appropriately timed....payment immediately to paypal.....surveys usually interesting

OpinionSite responded to this review on May 22, 2018
Thanks for your comments!
October 11, 2017 by Jeff from United States
I received a card in the mail that said Black Hills Energy has partnered with Opinion Site to develop a survey about electricity use so that we can develop new energy efficiency programs that will help our residential customers reduce their electricity costs. As a thank you the first 1200 households to complete the online survey will receive an Amazon Gift Card for $20. I was told at the end of survey I was one of those people. After some time went by and no sign of it I sent a message through OpinionSite's website and asked about it. I was told that it was sent to my Email. I did not find it and have not still received it. I replied back and asked them to please resend it and didn't get a reply have sent another message and emails and its been a month now and still nothing.

**UPDATE**
09/26/2017
Today I received an email from Opinion Site saying they think they have sorted this error out and I should be receiving my gift card tomorrow. I will update again with the results. thank you

UPDATE:
10/10/2017
I finally received my gift card today and instead of $20 they gave me $50!!! Thanks to chief exec officers Keith Strassberg and Jason Freeman at Opinion Site and Doug Treichel of Tango Card. You guys rock! I am changing the rating.

OpinionSite responded to this review on May 18, 2018
Hi Jeff,
Thanks for updating the review. Hope to have your input in the future. Again, apologies for the error on this.
Jason Freeman
[email protected]
Opinionsite COO
August 26, 2017 by Chris from United States
It is a great survey site. I got many survey completed from then and they offer great rewards

OpinionSite responded to this review on May 18, 2018
Thanks Chris. Hope to get you over some additional paid surveys.
Jason Freeman
[email protected]
Opinionsite COO
August 30, 2015 by James from United States
Good site, especially since you can get $3 just for joining and doing the profile survey. Make $7 more and you have enough for your first payment (though they state these amounts in points, not dollars).

This is one of the few survey sites that will give you points when you get screened out of a survey. This is SO rare.

You get your gift cards super fast after requesting them. I haven't tried requesting a check - I prefer Amazon.

OpinionSite responded to this review on June 13, 2018
Hi James,
Thanks for your comments!
June 21, 2014 by Glen from United States
have been to many survey sites. Opinionsite just may turn out to be my favorite!