OpinionSite Reviews and Features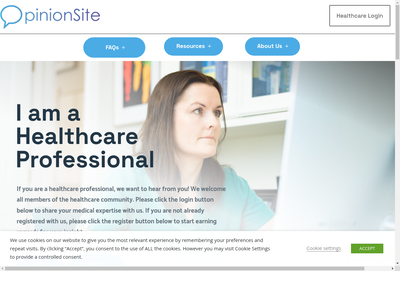 OpinionSite
888 West Alameda Road, Pocatello, Indiana 83201 US
Tel: (212) 391-5243 Contact: https://surveys.opinionsite.com/survey/selfserve/20dc/180809#?
Operated by: SurveyHealthcare
Quick Overview:
Rewards Offered: Cash paid via check Amazon gift cards iTunes gift cards Walmart gift cards
Member Opportunities: Online surveys Medical surveys Business surveys Teen surveys
Redeeming Rewards: 14,000 points ($10 worth) minimum balance required in order to request rewards.
Similar Panels: Branded Surveys, Opinion Outpost, Univox Community

OpinionSite has been around since 1997 and deals with a variety of market research opportunities. They are owned by Universal Survey - an umbrella company that backs a variety of smaller research panels. Over the years, OpinionSite has collected millions of valuable opinions from a range of consumers, business and healthcare professionals, leading to the future of many important company decisions.
Two Communities to Join
OpinionSite offers new members the option to join two different communities depending on their demographic. The first is a "Consumer Community" which ranges from business decision makers to consumers of everyday products. The second is the more exclusive "Healthcare Professional Community" which is for anyone who identifies as a healthcare professional. Members are welcome to join both if they fit the bill!
Take Online Surveys for Cash And Gift Cards
OpinionSite offers online surveys for cash that is sent in the form of a check. Accumulate points that can then be redeemed for a check when your account balance reaches $10 (14,000 points). The check will arrive at your given address in approximately 6-8 weeks time. If you choose a gift card option, you can expect to receive it 1-2 weeks after redemption. Gift cards available include Amazon, Walmart, and iTunes gift cards.
Join and Get $1, Complete Profiling Survey, Get $2
Confirm your registration with OpinionSite and receive 1,400 ($1.00) credited to your account. Complete the short profiling survey available in your account and earn an additional 2,800 points ($2.00).
Earn Fair Compensation
OpinionSite claims to strive to offer competitive and appropriate compensation and has set an absolute minimum of 50 points per participation, including for survey disqualifications. Survey payouts usually range from $0.50 - $2.00 per survey, but are fun and quick in nature. Once you have reached 14,000 points, or $10, you can begin to redeem your points for rewards.
Excellent Customer Service
OpinionSite prides themselves on having quality customer service for its panel members. If you have an issue or question, responses are usually quite quick and helpful!
Eligibility: Residents of the United States, 13+
---
October 11, 2019 by Samantha from United States
I have been a member of opinion site for years but one thing that seems to never change is the fact that I ALWAYS have to reach out to them to ask where my payment is. I requested to transfer my credits to PayPal on 9/17 and still have not received it. The first email I sent was to Pat Stuart and was told they were "behind" sending out payments (big surprise 🙄) So after I didn't hear back from her for over a week I escalated it to Mr. Freeman (COO) and was told he would get me an ETA. After several days without response I emailed him again and was told "accounting staff have been out". I wouldn't advise using this company unless you don't mind waiting and constantly having to ask where your payment is. Also if you take a pre qualifying survey for a phone interview and qualify based on that please know that even though you choose a time for contact you never hear from anyone.

OpinionSite responded to this review on October 11, 2019
Hi Samantha,
I understand your frustration on this item. I did reply to you directly and also confirmed with you the ETA in my email. The transfer to PayPal is in process like I had stated. We have always honored payments but timelines do vary tremendously based on when projects end, when you request transfers, type of payment requested... etc. If you would like to be removed from our paid survey offerings due to the dislike of the payment timelines, please let me know and we will remove you from the community.
Jason Freeman
COO
Did not get paid paid and poor customer service
November 16, 2018 by Richard from United States
I completed a 50 minute survey on 09/29/18 and then registered on opinionsite.com. Now they are claiming they have no record of me taking the survey. I'm dealing with a person, Pat S., who seems polite but keeps asking me the same questions such as sending her the email invitation which I did multiple times. I will not use this site again. Also the original email invitation has a contact that no longer exists even from a month ago. What's even more strange is that this site seemed to be legit as they even wanted proof of my medical license.

OpinionSite responded to this review on November 16, 2018
**** Update 11/16/2018 ****
Hi Richard,
Thanks for contacting us. We were able to resolve. After reviewing the invite we found the email invite to complete the survey came from another company recruiting on our behalf and this is the reason we were unable to initially locate you in our system. We did find the honorarium was processed and set to you on this project but it was sent to a different email than what was used on the original email invitation which was the cause for an additional delay and multiple emails in getting things resolved. Thanks again for reaching out and sticking with us to resolve as we hit you with several clarification questions.
Jason Freeman
[email protected]
Opinionsite COO
August 15, 2018 by Cort from United States
I redeemed a payment approximately 3.5 months for gift cards (which their website states are delivered within 2 weeks). After not receiving payment, I sent numerous e-mails with no response. I was scheduled to participate in a phone interview around this same time, but due to the failure to communicate and lack of payment, I opted to not participate in this study. I received an email the next day stating that I would no longer be invited to participate in their surveys and they removed my account completely. 3.5 months later I have still not been paid $200.00 in gift cards, and was removed from their site inappropriately after I had good reason for concern.

OpinionSite responded to this review on September 2, 2018
Hi Cort,
I would like to help you out with your issue. Send me an email with your details so we can get this resolved.
Jason Freeman
[email protected]
Opinionsite COO
****** UPDATE 8/20/2018 ******
Hi Cort, thanks for contacting us. As per our email conversation we were able to locate the mentioned lost gift cards and resolve the issue. Our gift processing center did process back in May/Early June but these were sent to your other email address we had on file and it is likely they were missed or caught in your spam folder.
May 18, 2018 by Terese from United States
This survey site has been a HUGE waste of my valuable time. It took many months to finally qualify for a measly $10 check; 90% of the surveys they sent me were for 50 consolation points (out of 14,000 needed for $10!). I finally qualified for the $10 two months ago, still NO money, and they will NOT respond to any of my messages. They also have my first name wrong and will not update that or allow me to do it. Instead they just keep sending me surveys addressed to the wrong name. I am beyond disgusted. I would have cancelled but am trying to hold out a shred of hope that they will send my $10, but at this point, I doubt it. DON'T waste your time!!

P.S. I DID finally get my $10 a few days after I wrote this review. It took over 2 months. And I see that the manager Jason is now responding to issues. I still would definitely not recommend OpinionSite, since it took me several months to get enough points to earn $10; they disqualified me on the vast majority of the surveys.

OpinionSite responded to this review on June 15, 2018
Hi Terese,
I would like to help you out with your issue. Did you login to the portal to request the redemption? Once you accumulate points you have to log into the website and request the type of payment (i.e. check, giftcard, paypal... etc). Send me an email with what you are using and I can review your account.
Jason Freeman
[email protected]
Opinionsite COO
June 19, 2015 by Stephanie from United States
There's something not right with this panel. I completed a beverage survey and when I was re-routed back to the OpinionSite, I was told I didn't qualify. I let it go and didn't take their surveys for awhile. Now today, I took a 20 minute survey about the Plan B One Step Pill. I successfully completed it (answered MANY questions and rating magazine ads, commercials, etc) and when being re-routed back to the Opinionsite they tell me AGAIN that I didn't qualify. I am very upset. This is either an ongoing technical issue or outright fraud. Either way, it needs to be fixed.
On another note - I've done surveys for YEARS. All the sudden sites are saying it may take 15-20 minutes to qualify. That's garbage. They are stealing data and we need to stick up for ourselves. There should be a limit on the amount of questions asked or time spent qualifying for a survey.
I've been a member for quite some time and this panel is a total waste of time. The last survey they sent me had a $40 honorarium to charity?!? The US charities that blow and waste money?? Do you know how many charities there are in this country and I don't know anybody who needs help that can get the help they need.
I just cashed out and closed this account. If they think their panel is competitive, then they have another think coming!!
I cannot stand greed and this panel is the epitome of greed!!