PaidViewpoint Reviews and Features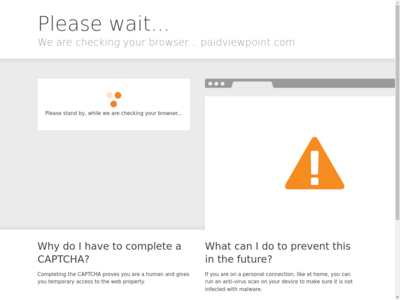 PaidViewpoint
123 10th St., San Francisco, California US
Tel: (415) 364-8601 Contact: [email protected]
Operated by: AYTM
Quick Overview:
Rewards Offered: Cash paid via PayPal Amazon gift cards Walmart gift cards
Member Opportunities: Online surveys Mobile surveys Refer-a-friend program
Redeeming Rewards: $15 USD minimum account balance required. Rewards processing done within 72 hours of request.
Similar Panels: Branded Surveys, Tellwut, Opinion Outpost, MySoapBox

PaidViewpoint is operated by aytm.com - Ask Your Target Market. With your help, AYTM is revolutionizing the market research industry by making quality market research easily accessible and affordable to businesses large and small everywhere.
PaidViewpoint is built upon 4 principles:
Pay cash for every completed market research survey.
Never screen you out once you've been invited into a survey.
Take "boring" out of the survey answering experience.
Respect privacy and do not sell personally identifiable information to anyone.
New Member Cash Bonus
Join and immediately get a sign up bonus deposited into your account. Amounts vary per country, but for USA and Canada, it is $1.00.
How PaidViewpoint Determines How Much You'll Earn Per Survey
Every survey gets a fixed portion of the sale price allocated to the respondents who answer the questions. That pot of money is divided up between the respondents, based on their TrustScore. Adjustments are made to level the playing field so that newer members of PaidViewpoint are treated equally well as compared to longstanding members. The respondent pool is divided into groups and the higher-level groups get paid more for each survey answer.
Payment Process
Take online surveys in exchange for cash and gift cards. All cash-out payments are made through Paypal or their partner, Virtual Incentives. Get paid when you have accumulated a $15.00 USD balance. Rewards are processed within 72 hours of request. If you are located outside the USA, you will still be paid to your PayPal account, or issued an e-gift card in US dollars.
Visit PaidViewpoint's website

›
Getting Notified for Surveys
Receive e-mail notifications when full surveys (biz surveys) become available. These will also be displayed in your account when they become available. Upon logging in, you will see a message in the top right corner that says, "1 survey available".
Survey Lengths
Survey lengths vary, but are typically between 5-6 minutes. All surveys have limits placed on the number of characters in a question (120-240) and in survey answers (90-120) to give a Twitter-like feel. The number of answer choices is limited. Long, classic, complex, matrix-type questions are forbidden and the number of open-ended questions (where you have to type in answers) is limited. The maximum number of questions in a survey is limited on average, to around just 10 questions long.
Daily Surveys
You can wait to be e-mailed about regular online surveys when they become available, but you can also take "Trait Surveys" and earn between $0.03 and $0.10, on most days. These Trait Surveys not only serve to increase your earnings slowly, but also helps increase your Trustscore. Note that receiving trait surveys regularly may depend on your region.
Visit PaidViewpoint's website

›
Up Your TrustScore, and Earn More
PaidViewpoint's patent-pending TrustScore system was invented to assess the candor and consistency of survey respondents and to incentivize these characteristics. The higher your TraitScore, the more you can earn per survey. A high TrustScore allows you to receive the maximum number of surveys per month. Achieve a Traitscore of 9000, and become part of the top 10% of members. This means you'll earn even more per answer.
VIP Community Builder
PaidViewpoint offers a generous referral program where you will earn 20% of what your referrals earn for taking "biz surveys". In other words, earn 20% from your referrals when they take surveys other than "Traits Surveys". You can have an unlimited amount of referrals and can earn up to $25 per referral. If you can refer friends from the USA, you will likely find you can earn more.
To get this privilege of being a part of the VIP Community Builder club, you need to have 100+ ACTIVE friends/referrals. Active means your referrals have to have been a member for more than 30 days and must be visiting the site and completing surveys on a regular basis.
Eligibility: Worldwide, 18+
---
Note: McAfee antivirus has been known to mistake PaidViewpoint as a "phishing" website. You can ignore this warning.
June 26, 2013 by Gary from United States
This a great survey site. Quick payouts, surveys are quick and to the point. Also, a lot of the surveys are worth taking for the entertainment value. Some are quite amusing!!
June 26, 2013 by Rose from United States
I really like PaidViewpoint. It's really one of the best that I've came across. They pay pretty quickly. Never had a problem with that. Everything is so simple and very easy to use. I LOVE that the surveys are not long. Less than 2-3 mins. And I love that there are NO ADS!!!
Fast, Fun, Consistent Payer
June 26, 2013 by Lee from United States
This survey site is very different than any other I've joined. They ask a handful of very targeted, easy to answer questions with a small but consistent cash reward. Surveys are 3 to 5 minutes, with payouts of a few cents to a few dollars.

And by consistently affirming demographic questions that serve to verify you're telling the truth / not speeding thru the questions, you build a Trust Score that leads to better payouts and more surveys.

I'd rather spend a few minutes for a small payout than go thru 5-10 minutes of qualification questions elsewhere, then not qualify or add another 15-45 minutes for a slightly larger payment. Or points, which often obscure the cash value of the activity.

I recommend this site to survey takers who are willing to regularly contribute a few minutes rather than trying to qualify for longer surveys where qualification can be difficult and time wasting.
June 25, 2013 by Robert from United States
I've been a member for about a year cashed out approximately $75. This is a great site for quick surveys and good potential earnings. I must warn you that dishonesty will not get you far on this site. What your trust score hits 10,000 you will see more surveys and more earnings.

Paid View Point And Instant Cash Sweepstakes are my two favorite sites. You won't get rich but for me it's somewhat therapeutic. Suffered a bad accident and have significant memory issues and the sites really help me out. I haven't been able to get referrals but if you do, I imagine the earning power is unlimited.

You should join now before it turns into a Pinecone situation and they are no longer accepted panelist.
June 25, 2013 by Harry from United States
Everything is simple and easy. No bull, no goofball ads.