PaidViewpoint Reviews and Features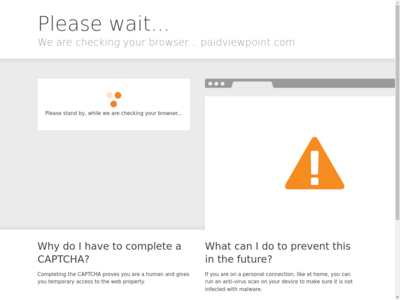 PaidViewpoint
123 10th St., San Francisco, California 94103 US
Tel: (415) 364-8601 Contact: [email protected]
Operated by: AYTM

PAYMENTS OFFERED

Cash paid via PayPal

Amazon gift cards

Walmart gift cards

HOW TO PARTICIPATE

Online surveys

Mobile surveys

Refer-a-friend program

REDEEMING REWARDS
$15 USD minimum account balance required. Rewards processing done within 72 hours of request.

Paidviewpoint is an online surveys website where you can earn PayPal cash and gift cards for answering online surveys. PaidViewpoint is operated by aytm.com (Ask Your Target Market) and with your help, AYTM is revolutionizing the market research industry by making quality market research easily accessible and affordable to businesses large and small everywhere.
Paidviewpoint gives survey takers around the world the opportunity to participate in paid studies on their surveys platform. Becoming a member is free and only takes a few minutes.
PaidViewpoint is built upon 4 principles:
Pay cash for every completed market research survey.
Never screen you out once you've been invited into a survey.
Take "boring" out of the survey answering experience.
Respect privacy and do not sell personally identifiable information to anyone.

New Member Cash Bonus
Join and immediately get a sign up bonus deposited into your account. Amounts vary per country, but for USA and Canada, it is $1.00. An activation code is not required in order to receive the $1.00 sign up bonus.
How PaidViewpoint Determines How Much You'll Earn Per Survey
Every survey gets a fixed portion of the sale price allocated to the respondents who answer the questions. That pot of money is divided up between the respondents, based on their TrustScore. Adjustments are made to level the playing field so that newer members of PaidViewpoint are treated equally well as compared to longstanding members. The respondent pool is divided into groups and the higher-level groups get paid more for each survey answer.
Payment Options
PaidViewpoint offers online surveys in exchange for cash and gift cards. All cash-out payments are made through Paypal or their partner, Virtual Incentives.
Get paid when you have accumulated a $15.00 USD balance.
Receive your reward within 72 hours of request
Reward options include PayPal payments (all countries), or e-gift cards to Amazon, Walmart, etc. (USA, etc.)
If you are located outside the USA, you be paid to your PayPal account, or issued an e-gift card in US dollars
Visit PaidViewpoint's website

›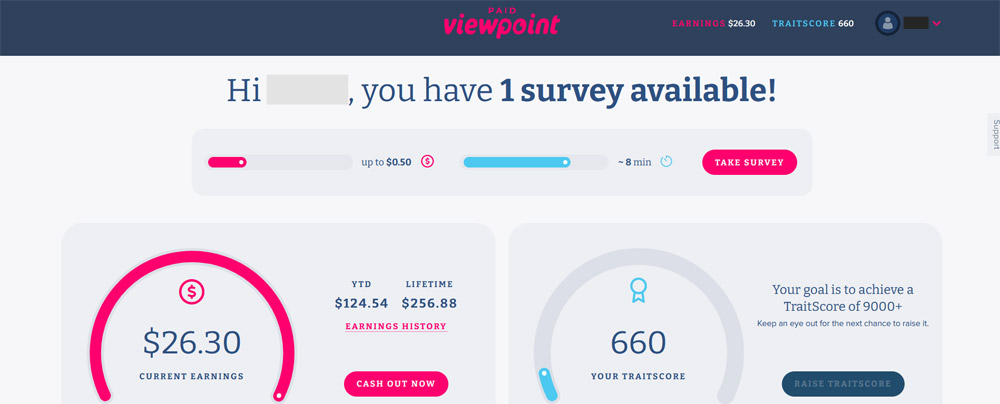 Getting Notified for New Surveys
Paidviewpoint does not typically send an e-mail notification to members when a new survey becomes available. Instead, surveys are posted to user dashboards. Upon logging in, you may see a message in the top right corner that says, "1 survey available". PaidViewpoint recommends logging into your account regularly to be able to take these higher paying surveys, versus waiting for an e-mail invitation.
One way to easily check for new surveys is to keep a tab open on your web browser that has the Paidviewpoint website loaded. When you see a red dot on the tab icon that looks like this:

a new survey is available in your account! If a study is ultimately difficult to fill, Paidviewpoint may then opt to notify members when these full surveys (biz surveys) are available and require more responses.
Member's Tip! Don't wait for PaidViewpoint to e-mail you surveys. Log in to your account regularly to see full surveys (non-trait surveys) posted there first.
Survey Lengths
Survey lengths vary, but are typically between 5-6 minutes. All surveys have limits placed on the number of characters in a question (120-240) and in survey answers (90-120) to give a Twitter-like feel. The number of answer choices is limited. Long, classic, complex, matrix-type questions are forbidden and the number of open-ended questions (where you have to type in answers) is limited. The maximum number of questions in a survey is limited on average, to around just 10 questions long.
Daily Surveys
You can wait until new surveys are posted to your dashboard, but you can also take "Trait Surveys" and earn between $0.03 and $0.10, on most days. These Trait Surveys not only serve to increase your earnings slowly, but also helps increase your Trustscore. Note that receiving trait surveys regularly may depend on your region.
Visit PaidViewpoint's website

›
Is PaidViewpoint Legit or Scam?
It's barely appropriate to even question whether Paidviewpoint is legit or a scam. PaidViewpoint is operated by AYTM (Ask Your Target Market) - a legitimate and well-regarded market research company with millions of members worldwide. They offer legitimate surveys to their respondents and pay them on time. Although some users may have varying levels of success with the program (international users may find it difficult to find full paying surveys; surveys that are not the $0.03 'trait surveys'), it doesn't mean that the panel itself is illegitimate, never mind a 'scam'.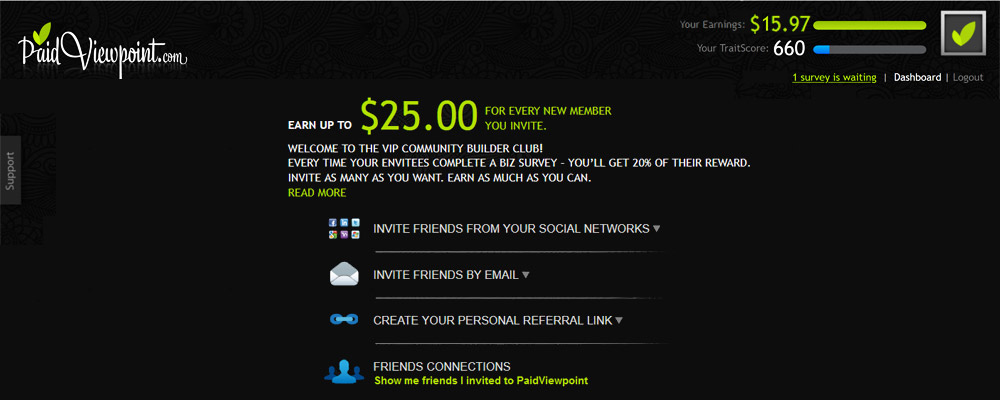 Increase Your TrustScore and Earn More
PaidViewpoint's patent-pending TrustScore system was invented to assess the candor and consistency of survey respondents and to incentivize these characteristics. The higher your TraitScore, the more you can earn per survey. A high TrustScore allows you to receive the maximum number of surveys per month. Achieve a Traitscore of 9000, and become part of the top 10% of members. This means you'll earn even more per answer!
Referral Program
PaidViewpoint offers a generous referral program where you will earn 20% of what your referrals earn for taking "biz surveys". In other words, earn 20% from your referrals when they take surveys other than "Traits Surveys". You can have an unlimited amount of referrals and can earn up to $25 per referral. If you can refer friends from the USA in particular, you will likely find you can earn more.
For members who can generate large numbers of referrals, PaidViewpoint offers a VIP Community Builder Club. The benefit of the Club is that you'll be credited with 20% of a referred user's earnings immediately after they complete a survey, without having to wait to be credited until a referral actually cashes out their earnings. To get this privilege, you must have 100+ ACTIVE friends/referrals. Active means your referrals have to have been a member for more than 30 days and must be visiting the site and completing surveys on a regular basis.
Eligibility: Worldwide, 18+
---
Note: McAfee antivirus has been known to mistake PaidViewpoint as a "phishing" website. You can ignore this warning.
PaidViewpoint Reviews (1894)
5 Star Reviews (1331)
70.3
4 Star Reviews (327)
17.3
February 16, 2014 by Rose from United States
I just cashed out for the first time today. It takes a while to cash out but the surveys are easy to do and towards the end of the cash out I was getting higher paid surveys. Hoping this time to cash out sooner. You get rewarded for being honest and consistent.
Just Cashed Out My First Payment
February 15, 2014 by Laura from United States
I just want to say that even though it takes a some time to get to $15, it's worth it!!! This is the easiest survey company I have ever had pleasure in being a member. I will continue with PaidViewpoint for as long as I am able.
February 13, 2014 by karen from United States
This survey company is just plain fun and easy. Surveys are fast and can be taken quickly from my I-Pad. Payout is fast too.
February 13, 2014 by Lori from United States
I was going to come here and give paid viewpoint a 5 star review. But then I ran into something strange with them that reduced my review. I have to say that I really like this site. The questions are fast and easy and I get at least one $0.10 survey everyday. It takes awhile to get enough to cash out at the $15 if you don't get the bigger surveys, but you will get there eventually even with just the $0.10 surveys. Right now I'm at $12.55 in my account. Now the strange. When you register, you have to give them a phone number that they use to put your earnings in your paypal account. But don't try to change your phone number with them. My phone number had to be changed because my cell phone company activated a new phone for me. I tried to change my phone number and found that I either have to forfeit all my earnings (not going to give up $12.55 that I worked so hard for) or if I changed my number they would lock my account for 180 days (I wouldn't be able to cash out for 6-7 months). I'm not sure why a company would penalize you for trying to maintain the correct information on your account but there it is. I'm doing neither one of those things so my account will just have to sit with incorrect information (seems funny that a survey panel would fight fraud but asking panelists to keep fraudulent info on their accounts). Maybe I'll fix it after my next cash out since it takes me longer than 6 months to get to a cash out anyway, but it's still strange to me. Other than the strange phone number deal, I've never had any other issues with paid viewpoints.
February 13, 2014 by Nadine from United States
Great survey panel to try. Interesting and fun - a few minutes and you are done
» Return to: TOP RATED SURVEY SITES
---
Popular Topics
Top Survey Sites of 2020
---
Highest User Rated Survey Sites
---
Survey Sites That Pay Instantly
---
Survey Sites with Low Cash Outs
---
9 Product Testing Job Websites
---
12 Online Surveys that Pay Cash
---
14 Ways to Get Free Amazon Gift Cards
---
Get Paid for Browsing the Internet
---
How to Get a Free Visa Gift Card
---
Get Paid by PayPal Without Fees
---
Featured Advertisers: