ProOpinion Reviews and Features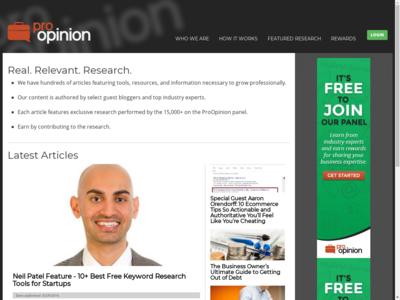 ProOpinion
6 Research Drive, Shelton, Connecticut 06484 US
Tel: 1-866-360-9577 Contact:
Operated by: Dynata
Quick Overview:
Rewards Offered: Cash paid via PayPal Amazon gift cards iTunes gift cards Retail e-vouchers Donations to charity
Member Opportunities: Business surveys Online surveys
Redeeming Rewards: 1000 points ($10) minimum account balance required to request rewards.
Similar Panels: Opinion Outpost, YouGov, Branded Surveys
ProOpinion, run by Dynata, is a free online community driven by research and fueled by thousands of business professionals. Earn rewards by participating in business surveys and research.
Earn Points for Each Survey
Every time you participate in a survey, ProOpinion will reward you with points in exchange for your time. 100 Opinion Points = $1.00, and with many surveys to choose from, racking up points does not take long.
Get Paid By PayPal or Gift Cards
Once your account reaches 1,000 points ($10), you may request a payment to your verified PayPal account. You may also choose to collect your earnings in the form of an Amazon or iTunes voucher.
Donate Your Earnings
Choose the option that keeps on giving. Once your account reaches 1,000 points you may choose to donate your earnings to the American Red Cross.
Stay in The Know With Business News
ProOpinion offers a business newsfeed that will help put you at the forefront of any conversation. Fun mini-polls taken by fellow business professionals also offer a pulse on the business world.
Survey Lengths
A typical business survey takes between 10-15 minutes to complete.
Eligibility: Business professionals 18+ who live in the USA.
May 8, 2016 by JOE from United States
I read some bad reviews for this site and I can't figure out why. I started with them in October 2015 and without saying how much I made with them in 3 months I will just say I made enough by December that I had to fill out a 1099 or not withdraw any more until Jan 2016, Never had to wait for money once my balance was over $10. in 2016 I have not been doing as many surveys, been busy, but still make enough every month to fill my gas tank up, go to dinner and take in a movie for 2.
February 23, 2016 by Gene from United States
I thought also this was the best sight I had ever tried. I qualified for about 15 ten dollar pay pals in the first month. Suddenly they never have surveys or I am not qualified. In the last 20 surveys, I qualified for one and its been now over 2 weeks. The reviewers were right they are like a wilted flower after a few weeks.. Don't bother
I should have listened to a previous reviewer
January 15, 2016 by Tammy from United States
It was very good while it lasted. Pro Opinion pays well and the surveys were generally well-constructed. Like other reviewers, I was able to make a good bit of money in the first three weeks. Then, I was given a long survey--maybe 35 minutes to complete. And I sat with it, all the way through to the classification questions at the very end. In other surveys, these questions about your income or size of your family are front loaded, so it you are going to be disqualified from a survey, you are disqualified before you begin responding to questions. Not so with this survey. It bumped me out after I had answered every classification question that it could and I had wasted over 40 minutes of my time. Needless to say, I was not happy. That is not ethical: you now have a terrific amount of data from me, I have used my time in good faith, and I am not fairly compensated for my time and attention. I wrote to Pro Opinion to tell them this--and heard nothing. Later that afternoon, the same thing happens again. I write again, because I need to know that this is not standard practice. And what happens? They terminated me on the site and kept all of the earnings that I had acquired (which represented a significant amount of time). Because I brought something to their attention that I would *think* that a responsible survey organization would acknowledge is not a typical or acceptable practice. Wow. If you want professionals and well-educated people to take your surveys (and you claim that you do), you would think that you would want to build a relationship of trust rather than resort to this infantile 'termination' and erasure of compensation that I earned. Learn from this, my friends. I should have known that this was too good to be true for too long.
December 14, 2015 by Bran from United States
At first you'll be like plenty proopinion recent signups bragging about the amount of surveys and pay...next you will have strong complaints. They will do all the below
..reduce the amount of surveys you get from about 10 daily to just two or three
..you'll start to disqualify for surveys you do qualify for
..they'll reduce the amount you earn from surveys, when first starting they give bonus points
..they'll reduce the amount you can cashout
..they'll have you complete a form if you ever reach a certain amount in earnings
..you'll complete surveys but at the end you will not be rewarded
..if you ever complain, they will delete your account even if you have funds still in it.

This survey site reels you in for good reviews, they then slowly build upon cheating you out of time and money. Take it from someone who knows! They can do anything to you, but you have no way of complaint. You'll be happy the first few weeks to a month, but then you'll be angry like many current proopinion members. They do not issue surveys according to qualifications, they issue them personally according to what proopinion wants you to earn and not outside parties.
December 13, 2015 by Jill from United States
I joined the site only 8 days ago and I've already earned $108.00. You only need 1000 points to redeem for a Paypal deposit, Amazon gift card etc. 1000 points is equal to $10! The rewards for each survey are from 75-450 points. Most of the time I will start a survey and agree to a certain number of points for completion, only to find out at the end that they are giving me more points than they promised. Several times I've completed a 300 point survey and actually earned 450 points. On a few occasions they actually gave me 630 points! Every day I redeem enough points for at least 2 $10 Amazon gift cards r $20 to my Paypal account. Once you redeem your points it only takes 48 hours to receive your payment. The customer service is very prompt also. On a few occasions I've had a question, and they always get back to me quickly.