ProOpinion Reviews and Features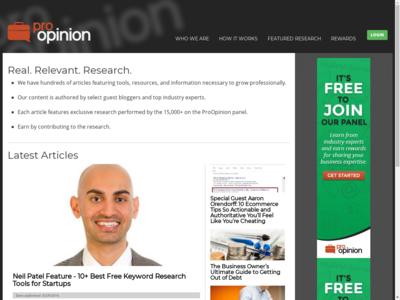 ProOpinion
6 Research Drive, Shelton, Connecticut 06484 US
Tel: 1-866-360-9577 Contact:
Operated by: Dynata
Quick Overview:
Rewards Offered: Cash paid via PayPal Amazon gift cards iTunes gift cards Retail e-vouchers Donations to charity
Member Opportunities: Business surveys Online surveys
Redeeming Rewards: 1000 points ($10) minimum account balance required to request rewards.
Similar Panels: Opinion Outpost, YouGov, Branded Surveys
ProOpinion, run by Dynata, is a free online community driven by research and fueled by thousands of business professionals. Earn rewards by participating in business surveys and research.
Earn Points for Each Survey
Every time you participate in a survey, ProOpinion will reward you with points in exchange for your time. 100 Opinion Points = $1.00, and with many surveys to choose from, racking up points does not take long.
Get Paid By PayPal or Gift Cards
Once your account reaches 1,000 points ($10), you may request a payment to your verified PayPal account. You may also choose to collect your earnings in the form of an Amazon or iTunes voucher.
Donate Your Earnings
Choose the option that keeps on giving. Once your account reaches 1,000 points you may choose to donate your earnings to the American Red Cross.
Stay in The Know With Business News
ProOpinion offers a business newsfeed that will help put you at the forefront of any conversation. Fun mini-polls taken by fellow business professionals also offer a pulse on the business world.
Survey Lengths
A typical business survey takes between 10-15 minutes to complete.
Eligibility: Business professionals 18+ who live in the USA.
Get it while the gettin's good - with caveats
June 28, 2017 by Sheila from United States
This site was ok at 1st, but I was often bounced-out of surveys halfway or all the way thru or encountered broken survey links. I could spend upwards of 30-45 mins on 1 survey, only to get "This is not the right survey for you" or "Answers Not Saved", meaning denial of reward pts. For every 10 surveys completed, I averaged 2-3 done for free due to survey malfunctions. Occasionally I'd reach someone at ProOpinion for resolution, but seldom got thru. It took 3-6 emails for a response to just 1 survey problem. Phone calls were rarely answered by live personnel, so I left voice mails, which usually went unreturned.

Early June 2017, I attempted a redemption. Instead of direction to PayPal, I got a termination notice due to violation of membership terms/conditions. Clueless as to my error, I emailed them, asking and questioning whereabouts of redemption. I wait days, no response, sent follow-up emails, still nothing. Finally, days later, a response acknowledging receipt of my emails and promising an account review. Days go by, no response. I sent another email, but no response again for days. Then, an email asking for details of the events prior to termination. I sent requested info immediately, but no response for another week.
Days go by, then another email from ProOpinion repeating request for account termination details. I complied - again. Monday, an email saying they've reviewed my account and won't reinstate because their "investigation" confirmed the violations, & that any points accrued are theirs. Still no mention of WHAT the violation was. My husband and I were both members, so perhaps he'd taken his own surveys on my home computer (no rule against this), and they thought it was me. It's no great loss, but they've already kept plenty I'd earned in the past.

After reading other reviews, it's clear this poorly-run company's m.o. is deny points when they can & shut down member accounts without cause. There are other survey sites, so I'll go elsewhere, but beware; their business model is extremely poor customer-service, denial of points (and therefore $$) when possible, & sudden termination without explanation. For those baffled by complaints, just sit tight; your day will come. Their unethical business practices won't stop 'til enough members decide this treatment is unacceptable or someone designs a survey site that treats its members with respect & integrity.
May 22, 2016 by Dell from United States
I have been with them for three months, paid $545 had to send in a W-9, then all of a sudden they froze my account, saying I was rushing through surveys, I am a highly valued member and get paid extra, now they froze my account not once but twice, it all happened when I reached $495.55 and then they started their little tap dance of freezing my account, who do these people think they are, I will report them to the BBB ASAP!!!!!!!!!!!!
June 27, 2016 by Tracy from United States
This site was awesome at first. I qualified for almost every survey and made an easy $10 - $15 on days I would sit down for an house and do the surveys. So I started doing this almost every day. Suddenly I try to cash out and I keep getting a message that they can't process my claim and to contact the help desk....which I did and have heard nothing. I'm not sure why I am suddenly "locked out" but am very disappointed.
February 23, 2016 by Gene from United States
I thought also this was the best sight I had ever tried. I qualified for about 15 ten dollar pay pals in the first month. Suddenly they never have surveys or I am not qualified. In the last 20 surveys, I qualified for one and its been now over 2 weeks. The reviewers were right they are like a wilted flower after a few weeks.. Don't bother
November 6, 2019 by John from United States
They have plenty of surveys and are the highest paying. Don't understand these other reviews. It is one of my favorite sites.