QuickThoughts Reviews and Features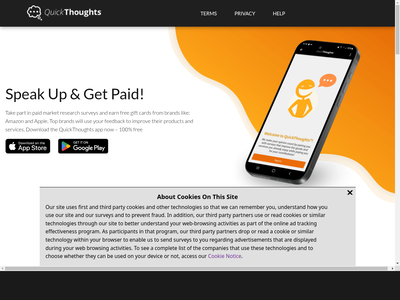 QuickThoughts
6 Research Drive, Shelton, Connecticut 06484 US
Tel: 877-254-1234 Contact: [email protected]
Operated by: Dynata
Quick Overview:
Rewards Offered: Amazon gift cards iTunes gift cards
Member Opportunities: Mobile app Mystery shopping Diary surveys
Redeeming Rewards: Request an Amazon gift code or an iTunes gift code once your account reaches $10 (or £10 in the UK).
Similar Panels: Opinion Outpost, OpinionWorld

First launched in 2013, QuickThoughts is an app that gives you rewards for your opinion. QuickThoughts is owned by Dynata.
Get the App!
The QuickThoughts app is available on both Android and iOS. It is available for use on both mobile phones and tablet devices such as iPads. The app has been downloaded more than 1,000,000 times on Google Play, and has paid out millions of dollars to its members.
Rewards Offered
Earn Amazon gift codes and iTunes gift codes in exchange for completing surveys. Once your account reaches $10 (£10 in the UK), you may request a code. Reward redemptions are instant; after you request your Amazon e-voucher, you will receive it immediately.
Rewards
The app offers rewards of gift cards from Amazon or iTunes. Note that if you are on an iOS device, you will only have the option of redeeming your rewards via iTunes.
Types of Assignments
Although QuickThoughts primarily offers mobile surveys, sometimes other opportunities are offered, such as shopping assignments where you could be asked to take pictures of products on store shelves. Other shopping assignments such as taking in-store polls near you, or providing feedback on your shopping experience at a local store, are also available.
High Survey Availability
QuickThoughts is unique in that it connects you with 1000's of online survey sources, making a constant number of surveys available to take.
Survey Lengths and Compensation
Mobile survey lengths vary, but typically take anywhere from 5 to 30 minutes. Surveys award between $0.50 - $3 each. You will even receive $0.10 if you are screened out!
Participate in Sweepstakes
Occasionally, some surveys may offer sweepstakes entries in lieu of points. You will be alerted to this before you begin your survey.
Donate to Charity!
If you elect to donate your points or dollars to one of the charities approved by Dynata, Dynata will donate said points or dollars to the selected charity. The donation is not made by or on behalf of Dynata and Dynata does not and will not match any donation.
Eligibility: Users worldwide can download the app.
SurveyPolice Exclusive: 9 Question Q & A with QuickThoughts
---
Alternatives to QuickThoughts
Survey takers who have joined QuickThoughts are also interested in these survey programs:
December 24, 2019 by Christopher from United States
I have had no problems with this app or customer service so far, been using it for well over 2 years the only thing is if you claim over $500 a year they will make you fill out a W-9 form and block you from claiming until they have one on file for the current year. So it's best to send them a W-9 form at the beginning of the year so you don't have any problems claiming your rewards.

QuickThoughts responded to this review on January 22, 2020
Hi Christopher,
Thank you for taking the time to write your review and recommendations.
We are pleased to hear that you are happy with your experience with us.
Kind regards,
The QuickThoughts Team
October 8, 2019 by Andrea from United States
I just downloaded the app 2 weeks ago and so far I've already made $30 in Amazon gift cards. The surveys pay $1 and I just got a $4 survey that didn't take me long at all to complete. I plan on using it for Christmas money so I'm happy so far.
July 23, 2019 by Katherine from United States
I guess I'm one of the lucky few. I have had nothing but a good experience with this app. I get paid 2.00 per survey that I qualify for and always make sure I give accurate information. I joined on June 20 and have made 200 dollars worth of Amazon cards since. I'm using the money to buy my son clothes for school! Love this app!
November 29, 2018 by natasa from United States
I have no issues at all. I cash in every $10. It is pretty much on a daily basis. Highly recommended.
June 30, 2018 by Allison from United States
I have had this app for a little over a month and have already redeemed 120$ in Amazon Gift Cards, I bought myself an apartment sized wash machine with my earnings. This app is the best one I have used so far! I check it every day on my phone and if I don't have any on my phone I head to the computer to check the actual website. If I ever have a problem with it not letting me redeem my earnings I exit out of the app and wait about 10 minutes and open back up and its fine. Gift card codes are sent immediately! I rave about this app to anyone who will listen! Definitely worth the download!