QuickThoughts Reviews and Features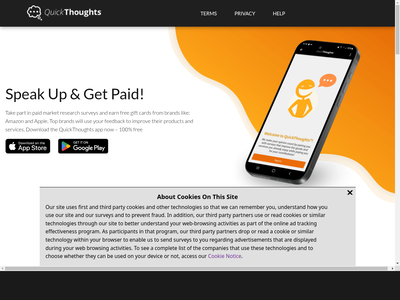 QuickThoughts
6 Research Drive, Shelton, Connecticut 06484 US
Tel: 877-254-1234 Contact: [email protected]
Operated by: Dynata

PAYMENTS OFFERED

Amazon gift cards

iTunes gift cards

HOW TO PARTICIPATE

Mobile app

Mystery shopping

Diary surveys

REDEEMING REWARDS

No points system
Request an Amazon gift code or an iTunes gift code once your account reaches $10 (or £10 in the UK).

First launched in 2013, QuickThoughts is an app that gives you rewards for your opinion. QuickThoughts is owned by Dynata.
Get the App!
The QuickThoughts app is available on both Android and iOS. It is available for use on both mobile phones and tablet devices such as iPads. The app has been downloaded more than 1,000,000 times on Google Play, and has paid out millions of dollars to its members.
Rewards Offered
Earn Amazon gift codes and iTunes gift codes in exchange for completing surveys. Once your account reaches $10 (£10 in the UK), you may request a code. Reward redemptions are instant; after you request your Amazon e-voucher, you will receive it immediately.
Rewards
The app offers rewards of gift cards from Amazon or iTunes. Note that if you are on an iOS device, you will only have the option of redeeming your rewards via iTunes.
Download QuickThoughts

›
Types of Assignments
Although QuickThoughts primarily offers mobile surveys, sometimes other opportunities are offered, such as shopping assignments where you could be asked to take pictures of products on store shelves. Other shopping assignments such as taking in-store polls near you, or providing feedback on your shopping experience at a local store, are also available.
High Survey Availability
QuickThoughts is unique in that it connects you with 1000's of online survey sources, making a constant number of surveys available to take.
Survey Lengths and Compensation
Mobile survey lengths vary, but typically take anywhere from 5 to 30 minutes. Surveys award between $0.50 - $3 each. You will even receive $0.10 if you are screened out!
Download QuickThoughts

›
Participate in Sweepstakes
Occasionally, some surveys may offer sweepstakes entries in lieu of points. You will be alerted to this before you begin your survey.
Donate to Charity!
If you elect to donate your points or dollars to one of the charities approved by Dynata, Dynata will donate said points or dollars to the selected charity. The donation is not made by or on behalf of Dynata and Dynata does not and will not match any donation.
Eligibility: Users worldwide can download the app.
SurveyPolice Exclusive: 9 Question Q & A with QuickThoughts
---
Alternatives to QuickThougths
Survey takers who have joined QuickThoughts are also interested in these survey programs:
QuickThoughts Reviews (122)
April 6, 2021 by Amy from United States
This site used to be great! It was a quick and convenient way to earn $20 every few days. About 3 weeks ago, I stopped receiving survey invites. After several emails to Quickthoughts, and being told my account is active, they are still not sending me invites. It has just stopped for an unexplainable reason. They have just stopped sending my surveys.
Suspend account when cashing out
November 6, 2020 by Mike from United States
Do not use QuickThoughts. I filled out surveys and earned up to $102 in my balance. When I tried to cash out for Amazon gift cards, my account was frozen. When I emailed the help desk, they said I was found to be inaccurate and unattentive. I asked what I had done, because it wasn't intent to be dishonest and was attentive in my responses. They responded that they couldn't get me specific because it would compromise their internal security. So I not only can't do any surveys but lose out on all my balance.
Banned after 2 good years
September 17, 2020 by Tessa from United States
I had used this app for nearly 2 years with no issues, loved it and took every survey very seriously. My account suddenly had a log in issue, I emailed them and they told me my account was in good standing and would be reactivated in 2 business days. I nicely waited over a week and still couldn't log in. Another email to them and they told me my account was banned, couldn't give me a reason why, and refused to take a second look at my account. I filed a BBB complaint that took them over a month to respond to, and someone said they would look into my account again. Next day I got a email stating my account had a second audit and I was permanently banned.

Please keep in mind, I had my account for almost 2 years. I knew all the rules and followed them closely and accurately. They tell everyone they are banned for the same handful of reasons and it's up to you to decide which one they think you're guilty of. It's usually having more than one account or lying about your answers and being inconsistent, all of which I know I am innocent of. The Amazon credit really helped me, so I was very serious about my membership. I stuck up for Quickthoughts and believed they banned people for good reasons, but this is absolutely not the case. It will happen to you too sooner or later, so make sure to always cash out every $10 and don't let money gather in your account. It's sad to see this app go as it was a daily ritual for me to do my 5 surveys a day, but I have since found other survey sites that pay just as well (or better) and will not look back to Quickthoughts or any SSI/Dynata ran site again.
August 12, 2020 by Sam from Canada
I would have given them a fantastic review a year ago, but after months of being unable to redeem, they banned me for requesting assistance. It's a story that's common right now for Quickthoughts. Their stakeholders need to disassociate with this company. Everyone gets banned eventually.
They have let me down in a big way
August 1, 2020 by Tiffiny from United States
If you had asked me a week ago I would have given them a five-star rating. I got lots of surveys. I was a big proponent of their app. About 4 days ago while trying to redeem $10 for my Amazon code I was told to try back later. I also was not receiving new surveys.
Their reasoning was vague. I have asked them for specifics which I very much doubt that I would get. I told them I was going to report them to the Better Business Bureau and that it was also illegal for them to withhold things that I've already earned. Unfortunately, this is not unusual for them as I have discovered on a Facebook group specifically about them. It's happening to a lot of people. My advice is do not sign up with them. Business has happened to you Don't take it lying down report them on here, to the better business bureau to your state attorney general's office if they owe you money or a gift card I guess. contact their corporate as well as their parent company.
» Return to: TOP RATED SURVEY SITES
---
Popular Topics
Top Survey Sites of 2021
---
Highest User Rated Survey Sites
---
Survey Sites That Pay Instantly
---
Survey Sites with Low Cash Outs
---
9 Product Testing Job Websites
---
12 Online Surveys That Pay Cash
---
14 Ways to Get Free Amazon Gift Cards
---
Best Paid Focus Groups
---
How to Get a Free Visa Gift Card
---
Get Paid by PayPal Without Fees
---
Ways to Get Free Xbox Gift Cards
---
Featured Advertisers: