QuickThoughts Reviews and Features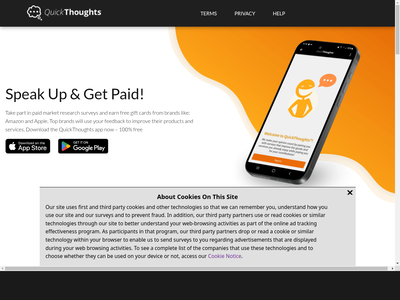 QuickThoughts
6 Research Drive, Shelton, Connecticut 06484 US
Tel: 877-254-1234 Contact: [email protected]
Operated by: Dynata
Quick Overview:
Rewards Offered: Amazon gift cards iTunes gift cards
Member Opportunities: Mobile app Mystery shopping Diary surveys
Redeeming Rewards: Request an Amazon gift code or an iTunes gift code once your account reaches $10 (or £10 in the UK).
Similar Panels: Opinion Outpost, OpinionWorld

First launched in 2013, QuickThoughts is an app that gives you rewards for your opinion. QuickThoughts is owned by Dynata.
Get the App!
The QuickThoughts app is available on both Android and iOS. It is available for use on both mobile phones and tablet devices such as iPads. The app has been downloaded more than 1,000,000 times on Google Play, and has paid out millions of dollars to its members.
Rewards Offered
Earn Amazon gift codes and iTunes gift codes in exchange for completing surveys. Once your account reaches $10 (£10 in the UK), you may request a code. Reward redemptions are instant; after you request your Amazon e-voucher, you will receive it immediately.
Rewards
The app offers rewards of gift cards from Amazon or iTunes. Note that if you are on an iOS device, you will only have the option of redeeming your rewards via iTunes.
Visit QuickThoughts' website

›
Types of Assignments
Although QuickThoughts primarily offers mobile surveys, sometimes other opportunities are offered, such as shopping assignments where you could be asked to take pictures of products on store shelves. Other shopping assignments such as taking in-store polls near you, or providing feedback on your shopping experience at a local store, are also available.
High Survey Availability
QuickThoughts is unique in that it connects you with 1000's of online survey sources, making a constant number of surveys available to take.
Survey Lengths and Compensation
Mobile survey lengths vary, but typically take anywhere from 5 to 30 minutes. Surveys award between $0.50 - $3 each. You will even receive $0.10 if you are screened out!
Visit QuickThoughts' website

›
Participate in Sweepstakes
Occasionally, some surveys may offer sweepstakes entries in lieu of points. You will be alerted to this before you begin your survey.
Donate to Charity!
If you elect to donate your points or dollars to one of the charities approved by Dynata, Dynata will donate said points or dollars to the selected charity. The donation is not made by or on behalf of Dynata and Dynata does not and will not match any donation.
---
SurveyPolice Exclusive: 9 Question Q & A with QuickThoughts
July 17, 2016 by Leanna from United States
I've had this app for two days and I've already gotten two iTunes gift cards. It gave me the code instantly once I redeemed it! Sometimes I would run out of surveys to do, but in half an hour there would be more surveys. I earned about $3 each survey. Great app! Fast and simple.
July 5, 2016 by Petra from Australia
I'm so pissed off. finally reached $10.00 after weeks of doing these so called quick thoughts some surveys go for 25 mins to 30 mins can't redeem been in touch got two emails oh were looking into it this was last Friday lucky to get 1 survey a day deleting this app Absolutely Hopeless
Almost started to like it
June 7, 2016 by Kenneth from United States
I started to like them but here is a updateI love the app when I am not locked out? They are very sensitive to other people signing up on a device used by another person! Also there are a lot of surveys that are not mobile compatible, I report these and they respond with a sorry we try to filter these out, when. I get these I sometimes am stuck because it wants to keep giving the same survey out! Now I am locked out again I think because my daughter took a Survey that was aimed at 13-17 year olds? I am not sure but she told me that the last one had a lot of questions about adult access with here mobile devices,! She can't remember the specifics but the questions should have been for a adult not between 13-17! She was mad because if I let my younger son take the survey he would have been asking what it was since I have shielded him from this so far. I Wish I saw the questions but I trust my daughter maybe it's for the best that I don't take surveys with them anymore. Be careful if you do they don't seem to be screening these surveys very well! I have been a member of another site since early 2009 and never had these kind of issues.
May 20, 2016 by Desire from United States
Quick, download app, complete maybe 3 screening questions, denied or approved immediately. Take survey and every ten dollars you're given either an Amazon or iTunes code. This site keeps everything simple from the layout to the delivery of rewards. Makes you wonder what them other fellas are trying to pull with all of the unnecessary drama.
May 17, 2016 by Carolyn from United States
I love this survey site :) Its for mobile apps so I have it on my ipad. I have qualified for more surveys here than most other sites. The $10 payout is great...no need to wait for $30 or more like many sites which takes forever. They often pay you when you dont qualify too. I've received a couple product testing surveys too which were fun and I got to keep the product AND get a bonus for participating. You can take on either android or aapl, and depending on what you'd rather have cash out on android for amazon card, or aapl for an itunes card. After 3 months of use i have a $70 credit at itunes and about $30 at amazon. Heck it took me over 6 months to earn $30 at another site :) Would most definitely recommend....Oh and no referrals either so you dont have to pester your freinds to get that last $5 to cash out already :D