SavvyConnect Reviews and Features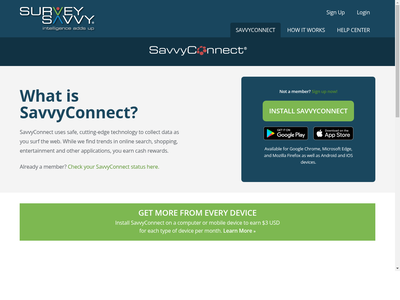 SavvyConnect
1365 4th Ave, San Diego, California 92101 US
Tel: 800-588-4258 Contact: https://www.surveysavvy.com/help/#contact
Operated by: Luth Research

PAYMENTS OFFERED

Cash paid via check

Sweepstakes entries

HOW TO PARTICIPATE

Browser add-on

Mobile app

Online surveys

Teen surveys

Refer-a-friend program

REDEEMING REWARDS

No points system
Minimum amount required in account in order to request payment check is $1.00.
Also known as "Survey Savvy Connect". This is a special web browser add-on offered by the online survey panel, SurveySavvy.
---

SavvyConnect is part of Luth Research. For the past 35 years, Luth Research has introduced innovative, leading-edge platforms to the market research industry. As a leader in building communities and delivering insights, they jumped to the forefront of the digital revolution in 1999 with the launch of SurveySavvy, their patented online research panel.
SavvyConnect by SurveySavvy delivers surveys at your fingertips. In addition, their VIP program uses safe, cutting-edge technology to collect data as you surf the web. While they find trends in online search, shopping, entertainment and other applications, you earn cash rewards. Since 1999, SurveySavvy has been directly connecting you with those companies and pays cash for sharing your opinions.
How it Works
Install the free SavvyConnect app on your devices and earn cash for keeping it installed. When you install the software, you help SavvyConnect and their clients better understand online behavior and may receive supplementary paid surveys for remaining active. You'll receive regular incentives for participating in SavvyConnect program. As an added benefit, SavvyConnect provides easy and instant access to all of your online survey invitations right on your desktop. Installation of the software is not required to participate in online surveys. The software recognizes the "Private Browsing" and "Incognito Mode" of the major Internet browsers and stops transmitting when these modes are activated.
More Devices = More Rewards
The SavvyConnect application is available for web and mobile (iOS and Android)! If you install the application to all three of these devices you will earn the maximum number of rewards!
When You'll Earn Rewards
When you complete surveys
When your direct referrals complete surveys
When your indirect referrals (referrals your direct referrals made) complete surveys
When you participate in the SavvyConnect app and download it onto your devices
If you win a sweepstakes!
Visit SavvyConnect's website

›
Earnings Potential
For every survey you complete, you stand to earn $1-$3, and you'll be able to request a payment by check when you account holds as little as $1. If you are screened out of a survey, you'll qualify for a monthly draw of 50 $10 prizes! If you decide to be part of the SavvyConnect program, you will be earning an additional $5 for each device that has the app installed, with a maximum of three devices per household. This means that you will be making $15 extra dollars for every month in which you use the web extension.
Priority Payment
By being a SavvyConnect participant, your payment requests are fast-tracked to one week so you get your money cash payment (paid by check), faster.
Visit SavvyConnect's website

›
Surveys and Contests
From time to time, SavvyConnect will run contests or draws. Some examples of draws include:
SurveySavvy Jingle contest
$500 SurveySavvy SuperStar contest
Refer Friends!
Visit the Referral Page on your account to refer friends and family in order to get even more rewards. You will earn $2 for each referral's survey and $1 for each of your referral's referrals studies. Your account will be credited within 4-12 weeks of your referral finishing their first survey.
Is SavvyConnect Safe?
At SavvyConnect, privacy is taken very seriously. It is guaranteed that all data collected from your devices will only be reviewed in aggregate form (i.e. combined with other user's). No personally identifiable data will ever be examined or provided to third parties. As a result of this commitment to privacy, SavvyConnect is safe and is not a scam.
Eligibility: Worldwide, Aged 13+ If you do not see your country listed on the form, you can reach out to SavvyConnect for further instructions.
---
SavvyConnect Reviews (32)
Memory leak and eats data on mobile
September 19, 2016 by Allen from United States
After installing SavvyConnect on mobile I noticed my data usage almost doubled. The only change was installing SavvyConnect on the mobile device and all other browsing habits and app usage was the same. In addition, many apps do not work with their VPN turned on. Banks block it so you have to turn it off to get to your banking app for certain banks. Any Yahoo app just never updates at all with it turned on.

The Windows Desktop version used to be ok to until their latest updates that completely changed the UI for the installer. Since the update, their extension for firefox regularly crashes Firefox and I suspect the actual program is leaking memory as windows start to randomly close if the computer is left on for a few hours. Uninstalling fixes all these issues.

It's unfortunate since it was an easy way to earn extra cash but now there's just so many issues with their tracking app.
June 15, 2016 by Debra from United States
This Savvy Connect program has made me really mad, and I have had it for less than 24 hours. I saw the Savvy Connect banner on another survey site I am signed up with, so I read up on it and decided to try it. What I should have done was read the reviews on it FIRST. I have noticed since I downloaded the program to my phone, my phone refreshes a lot, it runs slower, my battery life got shorter and it takes over 4 hours for my battery to charge. This program also deleted all my emails and blocked companies from sending me emails. I had important emails saved in my email account. I went to forward a email to my job this morning, and they were all gone, deleted, no where to be found. Besides that, I am signed up with several survey companies. When I wake up in the morning, I have between 10 and 15 surveys to do throughout the day that I do on my breaks or lunch at work, or when I get home. I woke u this morning and I dd not have a single email. I turned my phone off, and turned it back on....still nothing. I got on my laptop and logged into my email and there were all my important emails, but still no new surveys. My first thought was delete Savvy Connect off my phone. I did that, restarted my phone again, and 5 minutes later, my notifications went off like crazy.....all my survey emails came through, but I still did not have my important emails on my phone. Thank goodness they were still there via my laptop. That $60.00 that everybody is saying they never received, is not worth the headache. I say NO to Savvy Connect.
March 29, 2016 by Donna from United States
I have a similar situation to another person who posted. I have been collecting my junk mail and sending it to SurveySavvy (via SavvyConnect).

All of a sudden, I did not receive payment for January or February. After emailing, I was told the company no longer has access to my email. I don't remember ever giving access, and that is not a requirement for the program in which I have been participating (I have the instruction sheet.).

I have written to the company and the one running this program multiple times. I just sent off another email, indicating that I am still seeking payment, proof of participation that I signed for my email and my past mail if I am not being paid for it.

I have not had this issue with the company previously, and I have been doing surveys for SurveySavvy for quite some time. I am hoping this can be resolved; otherwise, I will have to stop participating in the direct mail program. I don't do work for free that is supposed to be paid!
March 13, 2016 by Darlene from United States
I used to think Survey Savvy was a great site but over the last year they don't respond to emails timely, if at all. The reps that do, give you a generic response. I have a screen print that I completed 95% of a survey and was told I was not qualified. I was also selected to be part of a screening so I downloaded survey connect to my phone. When I didn't receive any questions to complete, I emailed one of the Luth reps. After 2 weeks with no response, I removed survey connect and sent another email to the same rep thanking her for getting back to me in a timely manner. The next day, I finally received a message from her telling me to call her- which I have 3 times but I have not been able to reach her and she doesn't call back. Great customer service.
October 24, 2015 by Kenneth from United States
I have been a member of Survey Savvy for just over a year now and in the past we have had a good relationship. Lately, however, this has unfortunately changed. They have a plugin to install on your PC AND in your browser as well as an app for your tablet and/or phone. These collect anonymous usage data while you use your devices as normal. They contribute towards an incentive in what is called Project Gold. The terms of this are you must have the app and/or plugin installed and working for 90 days continuously. The problems, at least in my case, are that they claim I was not active for the 90 days. Okay but I am very knowledgeable about my electronics and I am 100% aware of what is and isn't running on my devices. They say Project Gold is a "rolling" 90 day project however they do not give you any info as to when you start, when you have met the 90 days, etc. I decided to make known when I started and when my 90 days was up but they refuse to give me the incentive, simply stating i "was not active for 90 days". It is my opinion that they wish to collect your usage data for the lowest possible incentive, which is far less than what the Project is supposed to pay. Sadly I believe I am out the money after they got plenty of my usage data for nothing.
» Return to: TOP RATED SURVEY SITES
---
Popular Topics
Top Survey Sites of 2023
---
Highest User Rated Survey Sites
---
Survey Sites That Pay Instantly
---
Get $100 Free PayPal Payments
---
9 Product Testing Job Websites
---
12 Online Surveys That Pay Cash
---
How to Earn Free Uber Gift Cards
---
14 Ways to Get Free Amazon Gift Cards
---
Best Paid Focus Groups
---
How to Get a Free Visa Gift Card
---
Ways to Get Free Xbox Gift Cards
---
Featured Advertisers: