Shopper Thoughts Reviews and Features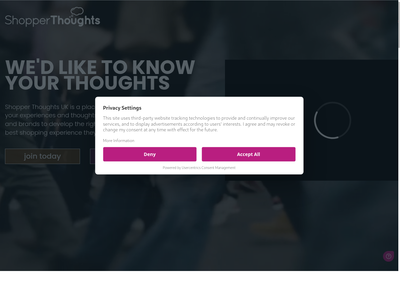 Shopper Thoughts
184 Shepards Bush Road, Brook Green London, W67NL GB
Tel: +44 (0) 0800 505555 Contact: [email protected]
Operated by: dunnhumby

PAYMENTS OFFERED

Amazon gift cards

Retail e-vouchers

HOW TO PARTICIPATE

Online surveys

REDEEMING REWARDS
Accrue 1,000 points to convert to Clubcard points or earn an Amazon voucher.
Shopper Thoughts is a panel that gives consumers the power to change the future of the products they buy. Complete surveys and share your opinions on what your likes and dislikes are on a variety of consumer goods. Surveys are administered by eDigitalResearch, but the panel is owned by Tesco (a subsidiary of dunnhumby).
Tesco Clubcard Members
Shopper Thoughts offers Tesco Clubcard members the option of earning points directly to their account for answering surveys! It usually works out to be 100 points for participation in a 15-minute survey, and it takes a minimum of 1,000 points to convert your total to your Clubcard.
Non-Tesco Clubcard Members
If you do not have a Tesco Clubcard, you can still join! Instead of earning Tesco rewards, earn points towards an Amazon e-voucher.
Survey Details
Each survey generally takes about 5 to 20 minutes to finish. You will usually receive 100 points for every 15 minutes you spend, but this may vary with the complexity of the survey being completed. The survey invitation will outline approximately how long it will take and how much you will receive, so you know what you are in for before accepting. You need to earn 1,000 points in order for the points to convert to Clubcard points. You can also choose to redeem your points for Amazon e-vouchers.
Monthly Draws!
Sometimes instead of being rewarded with points, the survey reward comes in the form of a prize draw entry. Shopper Thoughts holds a monthly draw with prizes ranging from 1,000 to 5,000 points (which converts to £10 - £50)! If you are a lucky winner your first name and region will also be published on the company website.
Collect Badges
Increase your member status level through participation. The more you participate, the more your status increases, offering you badges for recognition of your generous sharing of opinions.
Download the Shopper Thoughts Mobile App
The mobile application is available through both Google Play and the App Store. The app provides the convenience of being able to participate in surveys from anywhere at anytime. You will also get access to quick facts, polls, account information and may be prompted to complete in-store surveys which are geo-located directly towards your phone!
Eligibility: United Kingdom, Ireland 18+. Note that each country has its own dedicated website.
---
Shopper Thoughts Reviews (8)
February 14, 2020 by richard from United Kingdom
Very few surveys and not very interesting ones when you do get them.
Much potential, once upon a time...
February 11, 2020 by William from Ireland
I have been a member of Shopper Thoughts since its inception. Originally, it was very good at garnering information from shoppers about a particular store, brand, experience, etc. Surveys were interesting and rewarding, and were sent out frequently enough. That was then, before the new website design and before shifting the onus to a more social networking type of site that just happens to include an odd poll now and then, and if one is lucky, a survey once every month or more. For me, it's an opportunity wasted by the creators, it could have been a real way for a specific retailer to get information, thoughts, ideas and suggestions from it's customers about everything and anything to do with the store, it's products, what to do, what not to do, etc., etc. Instead it's been left as an afterthought... I would guess it's members have mostly disbanded and left for greener pastures. Surveys are so infrequent, they're really pointless (in more ways than one) and the other goings on on the website are for the few who have nothing better to do. It's a shame, but I expect this panel to fade to oblivion over the coming year or two. It's really not worth joining now unless there are major changes which I doubt will come. Soon enough, I too will bid this site adieu and thank them for the good times, plus the measly final reward I'll claim in 2020 (I hope).
November 13, 2016 by Karen from United Kingdom
Very few surveys and when anything goes wrong, no one answers emails. I have had to register with 2 email addresses now and the second one is no longer recognised. I have tried to contact them for the last 4 weeks and no one will respond to my emails. A waste of time. I had the same problem last year and had to contact Tesco to try to get someone to respond. They then reset my password with a totally offensive password.
February 29, 2016 by Neil from United Kingdom
I thought this would be a good site to join as I use Tesco but despite being a member for a few years now I have to say that the amount of surveys I receive are quite infrequent & I get screened out of half of these as well. What is annoying is I have received several 'how are we doing' surveys from them in which I have stated that I am unhappy with the amount of surveys I get. Shows that they don't bother to read these if they don't say anything positive I suppose.
Not even worth the time to join!
May 10, 2015 by Leo from United Kingdom
When I joined Feb_2013 I was looking forward for good surveys and points.
Unsure why but had none, despite having fully joined, logged and checked my account every day for months on.
The couple of activities I had until today have zero record in my account, let alone in my clubcard, maybe just 'prize draws (?)'. Their app is also so very useless, just taking up space. Not even worth the time to join!
» Return to: TOP RATED SURVEY SITES
---
Popular Topics
Top Survey Sites of 2022
---
Highest User Rated Survey Sites
---
Survey Sites That Pay Instantly
---
Get $100 Free PayPal Payments
---
9 Product Testing Job Websites
---
12 Online Surveys That Pay Cash
---
How to Earn Free Uber Gift Cards
---
14 Ways to Get Free Amazon Gift Cards
---
Best Paid Focus Groups
---
How to Get a Free Visa Gift Card
---
Ways to Get Free Xbox Gift Cards
---
Featured Advertisers: