ShopTracker Reviews and Features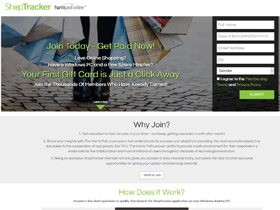 ShopTracker
85 Broad Street, New York, New York 10004 US
Tel: 800.864.1224 Contact: https://www.harrispollonline.com/#contactus
Operated by: The Nielsen Company, LLC

PAYMENTS OFFERED

Amazon gift cards

Amazon gift cards

Retail e-vouchers

Retail e-vouchers

Prepaid debit or credit cards

Prepaid debit or credit cards

Donations to charity

Donations to charity

HOW TO PARTICIPATE

Browser add-on

Browser add-on

Online surveys

Online surveys

REDEEMING REWARDS
Collect points, redeem them for items in a catalog.
The Harris Poll, one of the oldest and most prestigious polls in the world, facilitates ShopTracker. ShopTracker has a goal of obtaining a rich understanding of the Internet marketplace so it can provide exceptional data and insight into how people are using their computers and the Internet throughout the United States.
Similar to the impact of the Nielsen Television family on program production, distribution and advertising, the input from ShopTracker participants helps online businesses make critical decisions regarding their Internet strategies.
Join and Receive A $3 Visa Gift Card Within 48 Hours
Download the ShopTracker app, sync it with your Amazon account, and you'll receive a $3 Visa Gift card as your official welcome bonus.
How to Install the App
You can install the app on your smartphone or Windows computer (at this time, the program is not compatible with Mac computers). To quality to join, you must sync at least one Amazon account with at least 1 month of purchase history. You may sync up to 3 Amazon accounts per household, and you may sync your accounts as often as you wish.
How the App Works
Once you download the app, you will be asked to share certain information about your purchase history on Amazon. Only non-personal information regarding your purchases will be collected - your name, shipping address, and credit card information will not be collected.
Participants in the ShopTracker program may also be asked to participate in the occasional online survey.
Earn Rewards for Participating
The longer you participate, the more rewards you will earn. After your initial signup bonus, every month you will continue earnings points (HI Points - which are the same as through Harris Poll Online), as long as you keep the app installed on your devices.
Once you have enough points, you can redeem your points balance for a variety of different rewards from a catalog of items including gift certificates, donations to charity, and more.
Eligibility: USA, 18+
---
March 14, 2019 by Shane from United States
Once you give them access to your Amazon account, they delete your account, barring you from removing them from it. The money never comes.
October 30, 2018 by Jennifer from United States
This is the email I just got from Shoptracker (my initial email is below):

"Hello,

For data quality reasons, your account is not eligible to be synced. We apologize for the inconvenience.

Thank you for your interest in our Shoptracker Program!

Warm Regards,
Harris Panel"

On Sat, 27 Oct at 10:12 AM , xxx wrote:
I haven't been earning the $3 each month for my Amazon Data lately as I had before. And I can't seem to get into my account to figure out why
garbage app and customer service
June 21, 2018 by Andrew from United States
I received my signup $3 in one day. In the following six months, nothing. My shoptracker is synced with my Amazon account, and I have done several manual syncs. I messaged Harrispollonline numerous times and have only ever gotten one unhelpful response. More often than not, I get "invalid data input" error when attempting to login. Uninstalled, no point to have tracking software if I don't get compensated.
December 10, 2017 by Gregg from United States
This app wants your shopping history yet despite the abysmal customer service you can never get the app to function even after signing up & logging in to the app with your Amazon account details
July 26, 2017 by Robin from United States
I signed up for this. Basically you share your monthly Amazon shopping history for the reward of a Visa electronic code worth 3 bucks. I tried to use the electronic code but couldn't. AND THEN my Amazon account was hacked! After sharing my Amazon shopping history with Shop Tracker, I was notified by Amazon via text that an order was shipped. Hmm, I didn't place an order, and I certainly don't recognize this address in my shopping history. I contacted Amazon immediately and they cancelled the order. Because this fraudulent order was based upon an item I had previously purchased, I strongly suspect it was related to the Shop Tracker app I had enrolled in. This morning, I was notified of another fraudulent order using my Amazon account (this order Amazon caught right away and cancelled). But I had to change my password and re-enter my credit card info. I think that the information I shared with Shop Tracker has been compromised and is being used to steal merchandise from Amazon through customer accounts.
» Return to: TOP RATED SURVEY SITES
---
Popular Topics
Top Survey Sites of 2023
---
Highest User Rated Survey Sites
---
Survey Sites That Pay Instantly
---
Get $100 Free PayPal Payments
---
9 Product Testing Job Websites
---
12 Online Surveys That Pay Cash
---
How to Earn Free Uber Gift Cards
---
14 Ways to Get Free Amazon Gift Cards
---
Best Paid Focus Groups
---
How to Get a Free Visa Gift Card
---
Ways to Get Free Xbox Gift Cards
---
Featured Advertisers: