Toluna Influencers Reviews and Features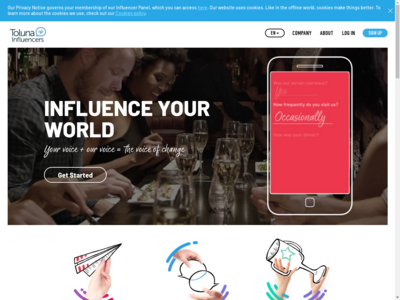 Toluna Influencers
21 River Road, Wilton, Connecticut 06897 US
Tel: 1 (972) 732 7323 Contact: https://us.toluna.com/contactus
Operated by: Toluna Group

PAYMENTS OFFERED

Cash paid via PayPal

Amazon gift cards

Best Buy gift cards

iTunes gift cards

Starbucks gift cards

Target gift cards

Walmart gift cards

Movie vouchers

Reward Link

Restaurant gift cards

Retail e-vouchers

Sweepstakes entries

HOW TO PARTICIPATE

Online surveys

Mobile surveys

Mobile app

Daily surveys

Video surveys

Diary surveys

Teen surveys

Refer-a-friend program

REDEEMING REWARDS
Minimum of 30,000 ($10) worth of points required in account in order to request rewards.
Having launched in 2000, Toluna Influencers has grown to become one of the most established and popular online survey websites around.
Toluna Influencers is owned and operated by market research powerhouse, Toluna Group and has millions of survey members around the world who participate in a variety of market research opportunities and influence some of the biggest brands worldwide.
It's well-known for being a survey site that places a strong emphasis on community, making it a popular choice.
How Toluna Influencers Works

Create a free account
With Toluna Influencers account takes only minutes. To create an account, you'll answer a nine-question survey about yourself; Your name, date of birth, gender, country of residence, zip code, desired password and mobile number (this is optional). From there, you're ready to start earning points.
Start taking surveys
The main dashboard of the website will show you a list of surveys for you to fill out. You can choose by survey length or your desired topic. Underneath each survey, you'll see an estimated length and how many points you'll earn for completing each survey. Some surveys may offer a unique experience such as being a video survey or a diary style survey.
Convert your points into rewards
Once you've earned enough points, you'll be able to convert these into a wide range of rewards. Choose from options including cash paid by PayPal, gift cards, e-vouchers and more.
New Member Bonus
New members to the Toluna Influencers community will automatically have 500 points deposited into their accounts. If you invite new members and they join Toluna, you'll also be awarded 500 points per recruit.
In addition to the 500 point bonus for new members, new members will also receive an additional 1,000 points after completing their first survey. This means if you're new to Toluna, cashing out your first reward has never been easier.
Rewards for Surveys
Toluna Influencers offers an extensive rewards catalog.
Gift certificates and PayPal payments - Toluna Influencers offers a substantial selection of gift certificates to retailers including Amazon, Starbucks, Walmart, iTunes, Tango, Best Buy, Target, and even Bitcoin! Gift certificate values start at 30,000 points, or $10. PayPal payments start at 95,000 points ($30). These amounts are stated for Toluna USA, and may vary slightly by region.
Sweepstakes - Toluna Influencers offers monthly draws for thousands of dollars in cash and items such as electronics whose entries can be redeemed for a relatively small number of points. The Toluna Millionaire Sweepstakes offers a daily draw for 1,000,000 to active Toluna Influencers members. You can earn entry by participating in surveys or by purchasing entry via the reward center for 500 points. Note that sweepstakes draws are not available in all regions.
Visit Toluna's website

›
Additional Ways to Earn Points
Besides participating in online surveys, members of Toluna Influencers can earn additional points by participating in sponsored mini-polls (typically a yes/no question for 15 points), filling out profile surveys (worth 100 points each) and by referring friends (500 points per referral). You can refer friends by sharing a unique URL for them to sign up with.
Number of Points Per Survey
The number of points will vary per survey and is based on things like the length and complexity of the survey. That said, successful survey completions can award anywhere from 15 - 50,000 points each, and special surveys could offer even more!
Rewards Process
Toluna Influencers states on their website that it can take up to 8 weeks for delivery of rewards after they've been requested. However, many members receive virtual gift cards and PayPal payments within a couple weeks of request. All rewards are redeemed through Toluna Influencers' "Rewards Center" from the community menu on your profile. As stated above, rewards include gift cards to Best Buy, Groupon, overstock.com, Redbox, PayPal, The Cheesecake Factory and more. When points are awarded, they are valid for 12 months.
Visit the Toluna Influencer's website

›
Getting Involved with Toluna Influencers
There are a variety of options to browse if you would like to become a part of the Toluna Influencers community.
Topics: Answer a variety of exciting questions on interesting and sometimes even humorous topics!
Battles: Give your opinions on a battle of products or subjects, i.e. Which do you prefer, a treadmill or elliptical?
Thumb It: Provide a "like" or a "thumbs up" on products or subjects that you enjoy, i.e. Would you give a thumbs up to the act of napping?
Download the Toluna Influencers App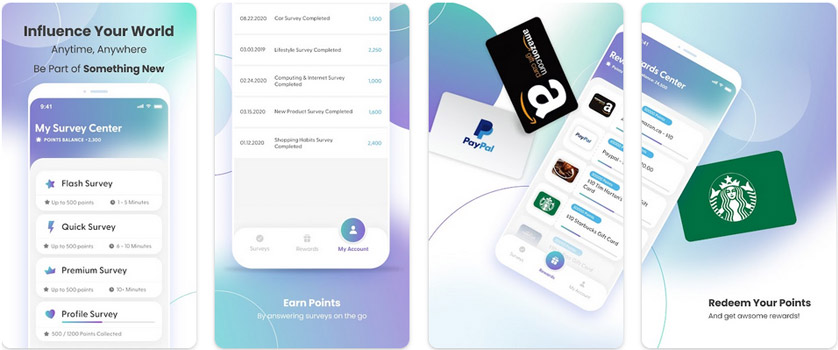 Access your profile from anywhere and stay up to date on the hottest research opportunities. The Toluna Influencers app offers features like snapping photos while on the go, accessing your account information and redeeming rewards straight from your phone. Download it from Google Play or the App Store.
Is Toluna Legit?
Toluna Influencers is a safe, legitimate website. It is not a scam, and has had millions of survey takers around the world take their surveys for over 10 years. Although your experience with the site may differ from other survey takers', Toluna Influencers is not a scam website.
Eligibility: Residents worldwide 13+
Joining Bonus! Toluna is currently offering a 500 point sign up bonus to new members, plus an additional bonus of 1000 points after completing your first survey.
» Click here to claim your bonus!
---
Toluna Influencers Reviews (529)
1 Star Reviews (262)
49.5
October 4, 2021 by Tom from United States
I was a member for six years with no issues. When I recently redeemed for points for a gift card I was kicked out of my account. They insulted me when they questioned my integrity. I am disappointed in Toluna.

Toluna Influencers responded to this review on October 5, 2021
Hello Tom,
I am terribly sorry for this disheartening occurrence. Would you mind opening a support case at https://us.toluna.com/contactus using 'SurveyPolice review - follow-up' as subject so that I can personally look into this?
Kind regards,
Katy
August 25, 2021 by Dr Pamela from United States
I was a member of the survey company long before it became Toluna. After a full year of taking surveys for 20 minutes (no joke - multiple, countless surveys for this length of time) only to be disqualified, after having to track carefully and follow up with nearly every survey taken, and from getting customer service feedback well over 30 days after each inquiry, I finally bowed out. In fact, I still received 3 responses to inquiries about surveys from Toluna's customer service well over a full year after I discontinued my membership! Definitely, absolutely a heart-breaking company that desperately needs to work on disqualifying recipients far earlier in the survey process to avoid unbelievable frustration.

Toluna Influencers responded to this review on August 26, 2021
Hello Pamela,
Thank you for taking the time to submit your feedback. We are constantly striving to improve our practices and your review is very concerning to us.
We do have a screening process set in place in the first half of the questionnaire to determine whether respondents are part of a research study's targeted demographic groups; however, there are also multiple quality checks implemented throughout our surveys, as we are committed to providing high quality data to our clients. When a respondent is screened out late in the survey, it should be due to failing a quality check. The reasons someone might not qualify include, but are not limited to: the profile not corresponding to our client's target audience, discrepancy in logical suite of responses, going too quickly through the questions to properly consider the answers, lapse in attention, answering multiple questions the same way, etc..
We are sorry to hear that you were not happy with our customer service in the past - we are regularly updating our policies and we'd love the opportunity to offer you a service to the level you expect! We'd be delighted to discuss your personal experience further if you could kindly submit a ticket at https://us.toluna.com/contactus with 'Survey Police review - follow-up' as subject. Our support team remains available whenever you have any inquiries or feedback to share and they do their best to reply within maximum 2 business days.
Thanks again for your feedback!
Best wishes,
Toluna Team
Leave before they decide to just get rid of you
August 3, 2021 by Michele from United States
Ok... I am here to tell you what I think is really going on. Now I have been a member of certain survey sites for several years. Now for several years I have had no problems. My only complaint is that it takes too long to get the points up in order to cash out. So for several years I was good enough to sit there for hours on end to take their surveys. Then after several years... suddenly they say about not providing accurate information and you can no longer login their sites. Now, I just want to point out that I have been reading around and I took notice to the same song and dance happening to a whole bunch of people. This is apparently what these survey sites do. They keep you on for a few years and keep sending you survey invites and pretty much pesting for you to take their surveys. Then when they maybe have too many survey takers - or if you do not answer their surveys to bend to their liking - then your no longer wanted. I think maybe age plays a role in it as well. Well I just want you to know that I was doing YOU a favor. Not the other way around. Do not bother responding. I see EXACTLY what is going on here. I am tired of taking BIASED surveys for circus peanuts. If you do not choose certain answers, you do not qualify. If you do not give brands and companies a 100% perfect rating, then they will get rid of you. How are you supposed to say whether a company's product or service is good if you never tried them? Some of the studies are not the truth. I would like to hear from others who this crap company did this to. If these companies do this to you - don't help them. They are garbage.

Toluna Influencers responded to this review on August 4, 2021
Hello Michele,
I am terribly sorry to read about your distressing experience.
The sole reason behind the accounts' suspension is noncompliance / breaching of the site terms of use and membership.
Our customers demand a high quality of data we gather on their behalf, and, for this reason, we have multiple quality checks set in place not only at panel level, but throughout the surveys we offer as well (e.g. repeating questions to test the respondents' attention, algorithms that detect speedings or other data inconsistencies, etc.), to help us identify and eliminate invalid answers.
When the number of quality flags in an account reaches a certain point, the account will be suspended by our Data Quality team as we cannot continue to send our clients information that does not help with their researches.
If you have any further concerns you'd like to discuss I kindly invite you to submit a support case using 'Survey Police review - follow-up' as subject and I will be more than happy to personally assist you.
Thank you,
Katy
July 25, 2021 by Chad from Philippines
The community platform unique to this site is a good breeding ground for harassers and bullies. Philippine Community Managers do not take reported complaints seriously and only take actions such as deletion of inappropriate posts and comments and still continue to allow specific member to stay despite the inappropriate behaviors and continued breached of the Terms & Conditions. No protection for other members from miscreant members on the site.

Toluna Influencers responded to this review on July 27, 2021
Hi Chad,
Thank you for taking the time to share your thoughts. Our influencers' experience and satisfaction is a top priority for us and your review is very concerning to us.
We would like to start by pointing out that the community is the heart of our business. We take any issues that arise regarding the community very seriously to ensure that everybody enjoys their time at Toluna. We perform regular checks on a daily basis to make sure that the quality of the content posted on the platform corresponds to our standards and do not breach our Terms and Conditions.
If you have any specific examples of inappropriate or offensive content / comments created by other members, please do not hesitate to get in touch with our support team; just submit a ticket at https://ph.toluna.com/contactus and we will closely review any situation brought to our attention.
Best wishes,
Toluna Team
Account terminated after a decade
July 21, 2021 by Kevin from Australia
I don't normally write these types of reviews but as seems to be the case with others on here my account has been terminated with no reason nor explanation and I have had said account for over a decade. If the implication is that I "went too fast" then considering you screen out of 80% of surveys or get the nice error message "it's not you it's us" on at least half of them that you do qualify for then that's actually hilarious. Maybe I screened out too quickly? They kept the 10000 points that were remaining in my account and of course you have no way of challenging their assertions. They can keep the 10000 points as it's simply not worth the hassle of dealing with them any more.

Toluna Influencers responded to this review on July 22, 2021
Hello Kevin,
Thank you for sharing your concern, I am truly sorry to hear about your disheartening experience.
I'd be delighted to investigate your case in detail and discuss your specific experience further. Would you mind submitting a support case at https://au.toluna.com/contactus with 'Survey Police review - follow-up' as subject so that I may personally assist you?
Best regards,
Katy
» Return to: TOP RATED SURVEY SITES
---
Popular Topics
Top Survey Sites of 2021
---
Highest User Rated Survey Sites
---
Survey Sites That Pay Instantly
---
Survey Sites with Low Cash Outs
---
9 Product Testing Job Websites
---
12 Online Surveys That Pay Cash
---
How to Earn Free Uber Gift Cards
---
14 Ways to Get Free Amazon Gift Cards
---
Best Paid Focus Groups
---
How to Get a Free Visa Gift Card
---
Ways to Get Free Xbox Gift Cards
---
Featured Advertisers: