Toluna Influencers Reviews and Features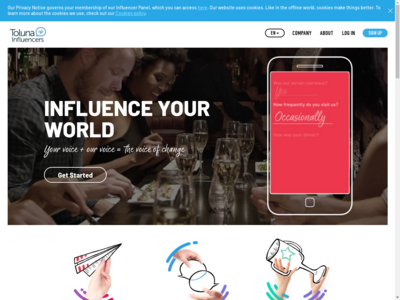 Toluna Influencers
21 River Road, Wilton, Connecticut 06897 US
Tel: 1 (972) 732 7323 Contact: https://us.toluna.com/contactus
Operated by: Toluna Group
Quick Overview:
Rewards Offered: Cash paid via PayPal Amazon gift cards Best Buy gift cards iTunes gift cards Starbucks gift cards Target gift cards Walmart gift cards Movie vouchers Reward Link Restaurant gift cards Retail e-vouchers Sweepstakes entries
Member Opportunities: Online surveys Mobile surveys Mobile app Daily surveys Video surveys Diary surveys Teen surveys Refer-a-friend program
Redeeming Rewards: Minimum of 30,000 ($10) worth of points required in account in order to request rewards.
Similar Panels: Opinion Outpost, Branded Surveys, Opini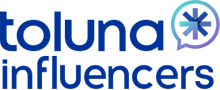 Toluna Influencers is a worldwide survey community which is owned and operated by market research powerhouse, Toluna Group. Toluna Influencers has millions of survey members who participate in a variety of market research opportunities and influence the future of the biggest brands worldwide!
New Member Bonus
New members to the Toluna Influencers community will automatically have 500 points deposited into their accounts. If you invite new members and they join Toluna, you'll also be awarded 500 points per person!
Rewards for Surveys
Toluna Influencers offers an extensive rewards catalog.
Gift certificates and PayPal payments - Toluna Influencers offers a substantial selection of gift certificates to retailers including Amazon, Starbucks, Walmart, iTunes, Tango, Best Buy, Target, and even Bitcoin! Gift certificate values start at 30,000 points, or $10. PayPal payments start at 95,000 points ($30). These amounts are stated for Toluna USA, and may vary slightly by region.
Sweepstakes - Toluna Influencers offers monthly draws for thousands of dollars in cash and items such as electronics whose entries can be redeemed for a relatively small number of points. The Toluna Millionaire Sweepstakes offers a daily draw for 1,000,000 to active Toluna Influencers members. You can earn entry by participating in surveys or by purchasing entry via the reward center for 500 points. Note that sweepstakes draws are not available in all regions.
Visit Toluna's website

›
Additional Ways to Earn Points
Besides participating in online surveys, members of Toluna Influencers can earn additional points by participating in sponsored mini-polls (typically a yes/no question for 15 points), filling out profile surveys (worth 100 points each) and by referring friends (500 points per referral).
Number of Points Per Survey
The number of points will vary per survey and is based on things like the length and complexity of the survey. That said, successful survey completions can award anywhere from 15 - 50,000 points each, and special surveys could offer even more!
Rewards Process
Toluna Influencers states on their website that it can take up to 8 weeks for delivery of rewards after they've been requested. However, many members receive virtual gift cards and PayPal payments within a couple weeks of request. All rewards are redeemed through Toluna Influencers' "Rewards Center" from the community menu on your profile. As stated above, rewards include gift cards to Best Buy, Groupon, overstock.com, Redbox, PayPal, The Cheesecake Factory and more. When points are awarded, they are valid for 12 months.
Visit Toluna's website

›
Getting Involved with Toluna Influencers
There are a variety of options to browse if you would like to become a part of the Toluna Influencers community.
Topics: Answer a variety of exciting questions on interesting and sometimes even humorous topics!
Battles: Give your opinions on a battle of products or subjects, i.e. Which do you prefer, a treadmill or elliptical?
Thumb It: Provide a "like" or a "thumbs up" on products or subjects that you enjoy, i.e. Would you give a thumbs up to the act of napping?
Download the Toluna Influencers App
Access your profile from anywhere and stay up to date on the hottest research opportunities. The Toluna Influencers app offers features like snapping photos while on the go and easily creating quick polls. Download from Google Play or the App Store.
Eligibility: Residents worldwide 13+
---
Points expired - Not a good panel for Greek people
November 6, 2019 by Anna from Greece
I wanted to reach 65000 points to get a paypal reward and I realized that my points expired because I didn't redeem them (I had reached 30000 points and as you understand, if the points are expired every x months, and there are not many surveys for greek users, I will never reach 65000 points). I will delete my account as it's waste of time.

Toluna Influencers responded to this review on November 7, 2019
Dear Anna,
Thank you for taking the time to share your feedback with us and the community. We are extremely sorry to hear that your experience is not as satisfactory as we would have liked.
We want to let you know that the number of available surveys may vary from day to day, depending on our clients' needs. Hence, there may be days with many opportunities to provide your feedback, but also days with fewer available surveys. To increase your chances of receiving better targeted surveys with the highest chances to qualify, we recommend you always keep your profile surveys up to date. Your Profile Surveys can be accessed directly from the "Survey Center" or via the Surveys menu in the header: Surveys > Profile Surveys. For each completed personal profile survey, you are awarded 100 points. Remember to update your profiles every 6 months to earn more points and get better targeted surveys.
The points you earn don't expire in a short amount of time, but after 16 months from the date they are added to your account. We know how hard our Toluna Influencers work to earn points, but please note that you are notified in your account with a pop up bar on the top of the page with 28 days before they expire so that you may get the chance to use them.
At the moment, we have many reward options available at different thresholds, so that both very active members as well as the ones who are active less frequently can easily request a reward.
Our support team remains at your disposal if you have any questions or concerns. Simply submit a ticket at https://gr.toluna.com/contactus and provide as many relevant details as possible so that our colleagues may assist you accordingly.
Best wishes,
Toluna Team
November 5, 2019 by matthew from United States
Various problems. Customer service refuses to get back to clients within reasonable amounts of time. Errors/problems with website/reward compensations/etc.

I have never in my years of taking surveys with several different companies encounter so many errors and problems that company just drags its feet to attempt on correcting or making right again.

As an alternative I would highly recommend the following websites instead: Swagbucks, Vindale Research, and OneOpinion.

Toluna Influencers responded to this review on November 6, 2019
Hello Matthew,
We are so sorry to hear that the experience you had so far did not meet your expectations. Our influencers' experience and satisfaction is a top priority for us and your review is very concerning to us.
We are sorry to hear that you are not happy with our customer service and we would love to have the opportunity to offer you a service to the level you expect.
When contacting our customer service, please make sure to send as many details as possible about the issue you're experiencing, for example the survey number or a screenshot of the issue. By supplying this relevant data our customer support team can better assess the situation and find a solution quicker for you to have a better experience on Toluna.com!
We are also sorry to hear that you had difficulties accessing our website and claiming your rewards and we apologize for this. These type of errors may happen from time to time on any digital platform, but refreshing the page or clearing cookies and cache can sometimes resolve the issue; as it allows your browser to reflect any recent updates or fixes. If it doesn't get resolved after doing this, we are always happy to help and further look into any issues or concerns you might have.
If you have any inquiries that you feel were not properly addressed, I would like to follow up on those personally and find a solution as soon as possible. Would you mind sharing your username with me or send me an email at https://us.toluna.com/contactus with the following as subject: SurveyPolice Review - follow-up
Best wishes,
Katy
May 29, 2019 by Elizabeth from United States
Have been doing surveys on Toluna for years and earning rewards but in the last year I can't seem to qualify for one survey and the ones that I do don't pay anything. Takes forever to get rewards.

Toluna Influencers responded to this review on June 3, 2019
Hello Elizabeth,
Thank you for taking the time to submit your review.
We are extremely sorry to hear that your experience is not as satisfactory as we would have liked to.
It is possible that, if you have not updated your profile surveys in a while, we might be sending you surveys that no longer match your profile and you consequently don't qualify.
To increase your chances of receiving the best targeted surveys we strongly recommend you to update your profile surveys every 6 months; besides, you'll also earn 100 points for each profile updated.
When you are screened out of a survey, the points will not be rewarded as your responses are not used in the final research findings and we don't get paid for them either by our clients.
We have been making quite a few changes starting this year and considerably speeded up our delivery time - most of the rewards are now processed within just a few days.
I would like to have a closer look at your survey activity and investigate any particular cases where you would like more details about your participation. Could you send me an email at https://us.toluna.com/contactus with the following as subject: Survey Police review - follow-up and I will personally look into it.
Best wishes,
Katy
April 6, 2019 by Dan from Canada
Like everyone else commenting here, I joined Toluna to try to make some extra money on the side taking surveys. At first it was fine, then as I got over 10,000 points, I started getting screened out of more surveys. As time went on my screen-outs would take longer to reject me. Near the end I would be typically screened out after wasting 20 minutes of my time and going through more than 20 pages of questions.

Now the most frustrating and apparently fraudulent part. I currently have 29,710 points. I am 290 points away from the reward I want. In the last three days the surveys have been MUCH more scarce. The ones that do show up are longer and pay less points. I have now taken more than a DOZEN surveys at the point l level I am at and not a single one has paid. I have been screened out of 5 of them, 1 of which screened me out after I was 90% complete and 30 minutes in to the survey. 7 of them have produced an error on final submission and acted as if I had never taken it in the first place.

I am a computer tech. The consistency of the errors and the timing of when and how they show up are too specific to be random. It appears Toluna is actively trying to prevent me from earning the tiny amount of final points I need for my reward. This appears to be a deliberate effort to stifle paying me.

At best, this company is so incompetent that it fails to live up to it's own promises and rips people off often. At worst, this company is actively trying to defraud people and refusing to pay them the points they earned based on the terms of service.

AVOID THIS COMPANY AT ALL COST, DO NOT WASTE YOUR TIME!!!!

UPDATE: I see Toluna has responded stating my experience is not typical and that they don't engage in such tactics, however after reading several other user reviews and comparing the volume of them to the positive reviews, my dissatisfaction with Toluna stands. Responding to SurveyPolice reviews is fine and dandy, but not if you're not going to fix the problems that anger people about the service. I STILL feel like my time was wasted and I don't feel Toluna really cares about it as long as they are getting paid by the survey vendors.

CONTINUE TO AVOID THIS COMPANY AT ALL COST

Toluna Influencers responded to this review on April 19, 2019
Hi Dan,
Thank you for posting a review and we're sorry to hear that your experience was not at the level we would have liked.
Firstly, we would like to make it clear that we do not engage in such disparaging activities and hope that going forward, the quality and quantity of our available surveys will be a testament to that.
In fact, just by playing a few games or by creating content, you would have easily made more than 290 points, so there is absolutely no reason for us to ever engage in such lowly tactics and ruin your survey experience. We do however wish to apologize that the experience we provided made you feel like this could've been the case.
Please also note, that some surveys are looking for a very specific group of people who meet a very narrow set of demographic or other criteria. Sometimes, determining whether someone qualifies for a survey takes just a few questions other times, it may take more questions. It can also happen that you access a survey for which our system detects that the quota for your group profile has been reached. In such cases you are automatically redirected to a new survey opportunity.
This usually happens in the first half of the survey, however if and when this happens at the end of a questionnaire, we invite you to contact us with the details and we will investigate the situation.
We would love the opportunity to discuss your specific personal experience further so that we can make things right for you.
Best wishes,
Toluna Team
UPDATE:
Hi Dan,
We're so sorry you still feel this way. We would love to hear more about your experience, so that we can use your valuable feedback to deliver a better experience next time. Please reach out to https://ca.toluna.com/contactus with the subject - Survey Police Review Follow-up, so we may discuss further your specific personal experience . Again, thank you for taking the time to submit your review.
Best wishes,
Toluna Team
March 19, 2019 by Richard from United Kingdom
For months the Toluna .co.uk has been keeping quiet about their silent departure and leaving its hard working surveys taking people with empty pockets!!! They had left the stage as the cowards with even one word to public!!!! I was working hard to earn 56081.4799999999 Points! So where are they just now?

Toluna Influencers responded to this review on April 4, 2019
Hi Richard,
Thank you for submitting your review.
Please rest assured that Toluna.com is still active and can be accessed easily if you go to https://uk.toluna.com.
While engagement initiatives organised by our Community Managers such as contests, content and games allow you to earn bonus points, surveys remain the most rewarding.
The points you earn by taking part in our surveys can easily be redeemed in exchange for vouchers and PayPayl payments directly from the Rewards Centre.
Our support team also remains at your disposal if you have any inquiries. Simply submit a ticket at https://uk.toluna.com/contactus and provide as many relevant details as possible so that our colleagues may assist you accordingly.
Best wishes,
Toluna Team