Valued Opinions Reviews and Features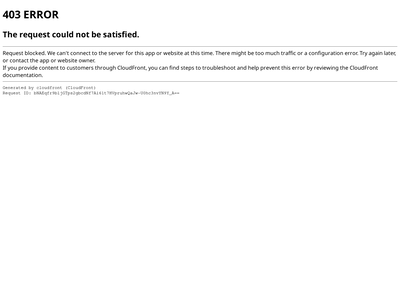 Valued Opinions
6 Research Drive, Shelton, Connecticut 06484 US
Tel: 1-888-257-7030 Contact: https://www.valuedopinions.com/contact
Operated by: Dynata

PAYMENTS OFFERED

Amazon gift cards

Airline Miles

Apple gift cards

Prepaid debit or credit cards

Target gift cards

Home Depot gift cards

Retail e-vouchers

Restaurant gift cards

Merchandise

Sweepstakes entries

Donations to charity

HOW TO PARTICIPATE

Online surveys

Product testing

Diary surveys

Mobile surveys

Teen surveys

REDEEMING REWARDS
$10 minimum account balance required for rewards redemption.
Valued Opinions is an online survey panel operated where members can earn cash and gift cards in exchange for participating in online surveys and product tests.
Most surveys offer rewards of between $1 and $7 per completion. A minimum account balance of just $10 in needed in order to request a reward.
How Valued Opinions Works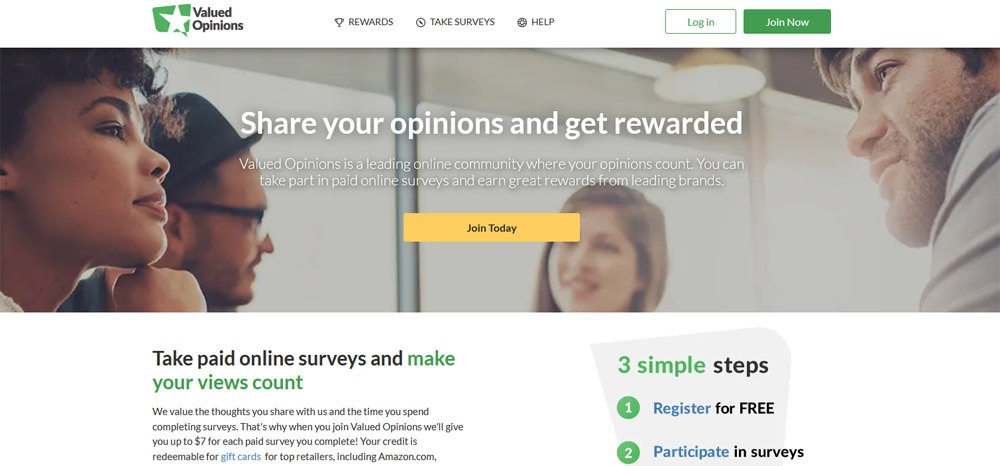 Joining is Easy
You can register a free Valued Opinions account within minutes - simply enter your name, address, email address and desired password on the registration page. If you prefer, you can link your Facebook account and register using the details stored there.
You'll be prompted to fill more information in your profile after you've registered - and doing so will improve your chances of being eligible for a wide range of surveys.
Complete the Basic Profile, Receive $1.00
After registering with the site, you will be e-mailed an offer to complete your account profile (which takes 6 minutes) in exchange for $1.00. This will help kick-start the number of surveys you will be eligible to complete. After completing the basic profile, you can also complete additional profile information regarding your household, shopping habits, etc. which will help you qualify for even more surveys.
Visit Valued Opinion's website

›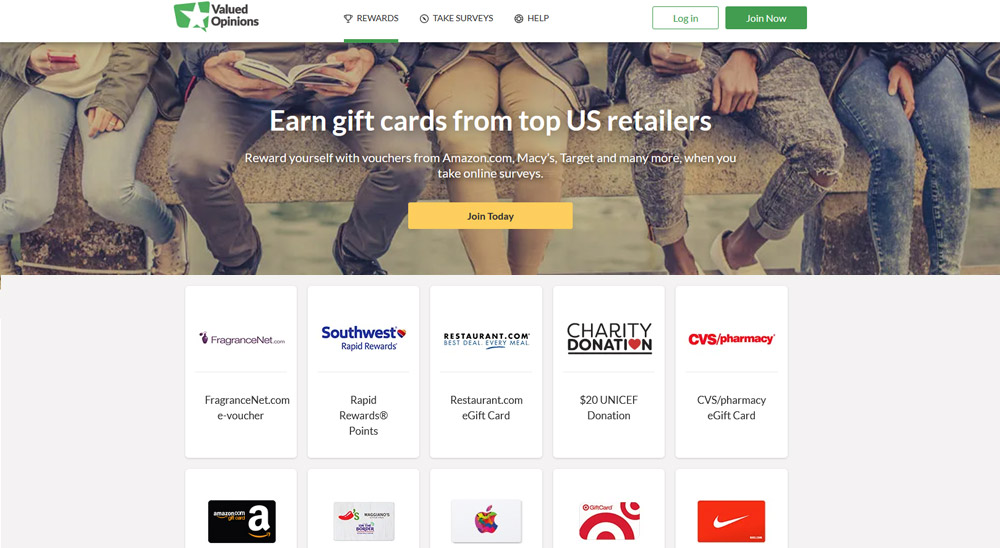 Reward Amounts
Valued Opinions surveys typically reward between $1 and $7, although at times you may be sent unpaid surveys to help with identifying your unique interests. The typical survey takes 15-20 minutes to complete, however the estimated time is always outlined beforehand.
For every survey completion, you will receive "cash" deposited into your account immediately after completing a survey. This can be converted into a wide range of rewards
Survey Rewards
Your Valued Opinions earnings can be redeemed for the following rewards once a minimum of $10 is collected:
Magazine subscriptions - 1-year magazine subscriptions to Cosmopolitan, ELLE Decor, Food Network, Magazine Midwest Living, and Women's Health for $15 in rewards.
Restaurant gift cards - Dominos pizza, Chili's, and Restaurant.com available in $15 or $20 denominations.
Airline miles - Get 600 Rapid Rewards Points for $15 in rewards, or 825 points for $20.
Retail gift cards - Options include: Amazon.com, Apple, CVS Pharmacy, Fragrance.net, Macy's, Target, and the Home Depot, each in $20 denominations.
Pack & Go gift card - this one $25 gift card can be redeemed with Chevron, Texaco, Airbnb or Southwest.
These rewards apply to USA members, though are very similar in other countries.
Rewards Redemption
Electronic gift vouchers are typically delivered within 24 hours of request. It can take a few weeks for rewards such as magazine subscriptions to take effect and be mailed to your physical address.
Visit Valued Opinion's website

›

More Than Just Surveys!
Valued Opinions offers various types of ways to participate on their panel. Although online surveys are what they primarily offer, you may also be given opportunities to participate in diary studies (which are surveys that span multiple days and involve logging information), and you may be selected to test products from home.
Join the Debate on Social Media
Valued Opinions surveys consistently poses questions for its community members on social media. To share your opinion and interact with other members, follow Valued Opinions on Facebook, Twitter or Instagram.
Member Badges
Valued Opinions offers a unique program which involves its more active members collecting "badges" for their level of participation. There are 5 levels that can be achieved with mini tasks that must be completed: Bronze, Silver, Gold, Platinum, and Diamond.
As your badge levels increase, additional achievement points are awarded, which can be found in the Survey History section. These will display as a 'community achievement'. Bear in mind that you can be downgraded to a lower tier badge if you don't remain active on the website.
Valued Opinions Monthly Red Cross Donations
Every month, Valued Opinions donates $10,000 of its profits to the American Red Cross. By participating in Valued Opinion surveys regularly, you are helping make the lives of those affected by disaster and emergency all over the world, a little bit easier.
Is Valued Opinions Legit or Scam?

Is Valued Opinions Legit or a Scam?
Valued Opinions is a legitimate online survey site that has over 3 million members worldwide and was established in 2004. The panel is available in over 15 languages across more than 20 different countries and abides by the strict rules laid out by the Market Research Association and the Market Research Society, making them a safe website and not a scam. Valued Opinions guarantees that the information you provide to them remains secure and every piece of data is kept anonymous and confidential.
Although the Valued Opinions website is safe to use, your personal experience with the program may vary. As with any survey site, it's helpful to consult other people's opinions via the Valued Opinions reviews below, before joining.
Eligibility: USA residents must be 13+, UK residents must be 16+, Australia residents must be 14+. Other countries that Valued Opinions accepts membership from include: India, Singapore, Malaysia, Germany, Indonesia, Hong Kong, Venezuela, France, and Ireland.
Sign Up Bonus! Valued Opinions is currently offering $1.00 to new members who complete the short 6-minute profile survey. » Click here to claim your sign up bonus!
---
Valued Opinions Reviews (367)
1 Star Reviews (153)
41.7
November 16, 2021 by Julia from United States
I had been with Valued Options for a few years. Then less then a year ago, I investigated their website and found out I could do more then the one survey they present with their invitations. I've been doing surveys for about a dozen places for a few years now. I was going to give Valued Opinions a great review at their Trust Pilot. I was actually making some decent money. Recently, I had been collecting it a few times in a few days. Then suddenly, I couldn't. I thought they were having problems with their website again. I finally contacted them when the issue didn't go away. I received three emails in response. The generic one to let me know my email was received. The second to say they were investigating why I was not able to collect my rewards. Then the third that shocked, angered, and saddened me. I was accused of various things and told my account had been indefinitely suspended. I was being denied my $199.75 Lost money and wasted time. I wondered Joy was really her name, or if I was being mocked? Then to say, "Have a nice day!" was insulting. I let Valued Opinions know I was retracting my recommendation of them to family and friends and reporting them to the Survey Police. And here, I find out there have been 141 similar reports.
November 11, 2021 by Kayla from United States
I joined Valued Opinions a while back and never had any issues taking the surveys. Had enough saved up that I decided to cash in for a couple of gift cards. Every time it kept saying I couldn't cash out because my account wasn't verified. It was verified enough to take the surveys tho, how convenient. Sent email to support staff and received a reply that my account had been closed for 1 of a list of half a dozen possible reasons. Bull !! Sent them another email because I wanted a specific reason. Got same reply, could be for one of the following reasons with the same list they sent before. After doing some research I see that this happens to a lot of people. Must be a common practice for them so they don't have to pay out.
September 2, 2021 by Mitchell from Australia
Earning rewards here is easy enough but after redeeming two vouchers to the value of $40 I did not receive them in the stated timeframe so I contacted support and was told to wait 10 business days. I did just that and contacted support again and was told they had been processed but to be patient!? Well the moral of the story is to not bother with them as they obviously can't deliver on what they promise hence I have given them the lowest rating possible.
Formerly good, not anymore.
August 18, 2021 by daniel from Australia
Was with them for around 10 or more years, and they were good for regular surveys and rewards. I quit a few months ago leaving $6in rewards as they just suddenly stopped sending any surveys. I think they just began to cut people out if they were making good income. I understand that it happened to quite a few others. I was a Diamond rated member at the time.
Suspended my account for no reason
June 5, 2021 by Anna from Australia
Suspended my account after over 10 years of membership for no reason. Won't discuss why except to give scripted answers. Now that they and MyOpinions are owned by the same company they are terrible.
» Return to: TOP RATED SURVEY SITES
---
Popular Topics
Top Survey Sites of 2022
---
Highest User Rated Survey Sites
---
Survey Sites That Pay Instantly
---
Get $100 Free PayPal Payments
---
9 Product Testing Job Websites
---
12 Online Surveys That Pay Cash
---
How to Earn Free Uber Gift Cards
---
14 Ways to Get Free Amazon Gift Cards
---
Best Paid Focus Groups
---
How to Get a Free Visa Gift Card
---
Ways to Get Free Xbox Gift Cards
---
Featured Advertisers: