Ipsos iSay Reviews and Features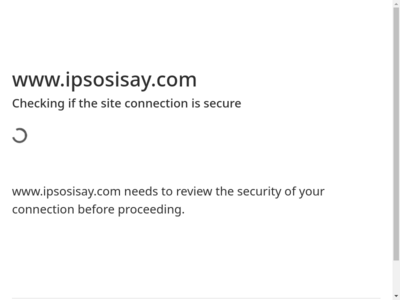 Ipsos iSay
Global Headquarter Services, 35, rue du Val de Marne Paris, 75013 FR
Tel: +33.1.41.98.90.00 Contact: https://www.ipsosisay.com/en-us/contact
Operated by: Ipsos

PAYMENTS OFFERED

Cash paid via PayPal

Amazon gift cards

Apple gift cards

Walmart gift cards

Target gift cards

Home Depot gift cards

Prepaid debit or credit cards

Retail e-vouchers

Restaurant gift cards

Donations to charity

HOW TO PARTICIPATE

Online surveys

Online focus groups

Product testing

Mobile surveys

Mobile app

Video surveys

Diary surveys

Surveys for Hispanics

Refer-a-friend program

REDEEMING REWARDS
Once you have at least 500 points, you can redeem your points for a wide variety of rewards, including Amazon gift cards, Visa pre-paid cards, PayPal payments, and more. Charity donations start at 200 points.
Ipsos iSay is a rewards community dedicated to ensuring your valued opinion makes a difference for societies, citizens and brands. Ipsos iSay is available across dozens of countries and is powered by Ipsos, a leading global market research company.
Founded in 1975, Ipsos is the third largest research company in the world and conducts more than 70 million interviews in 100+ countries.

Ipsos iSay is an online survey panel where you can participate in surveys and other types of market research to earn points. Points are then exchangeable for your choice of cash transfers, gift cards, and other rewards.
The sign-up process is reasonably quick. Click the 'Join Now' button, enter your email address, desired password, name, gender, and date of birth. You'll be asked to confirm your email address and your phone number to complete your registration. Membership is free and available to adults in most major countries.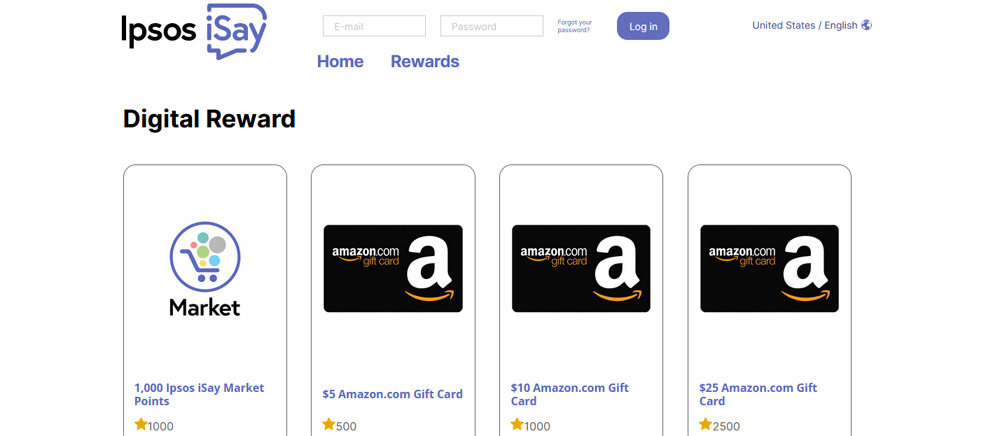 Voice + Choice + Rewards
With Ipsos i-Say, you can have the power to influence the future of major brands in advertising, entertainment and many other industries. Share your opinions in various types of market research and choose your rewards!
Reward Types and Amounts
Earn points by completing surveys. The number of points you will earn varies from survey to survey but is dependent on a number of factors, including survey length. Once you complete a survey, the points will be immediately credited to your account unless stated otherwise.
Points value: 1 point = $0.01 for most rewards. 100 iSay points therefore = $1.00.
Redeeming Your Points
Once you have just 500 i Say points (worth $5) in your account, you can redeem your points for rewards. Rewards options include (but may vary based on location and availability):
Paypal payments - available in denominations of $5, $15, $25 payments
Visa pre-paid cards - available in denominations of $10 or $25
Gift cards available to retailers including Amazon, Walmart, Target, Apple, and more
Merchandise - hundreds of merchandise options are available in the Ipsos iSay Market catalog
Donations - donate your points to the Ipsos Foundation which has raised over $2 million for providing financial support to charities, non-governmental organizations (NGOs) and social enterprises.
Fast Rewards Delivery
e-gift cards and prepaid cards are delivered instantly to the email address listed in your Ipsos i-Say account. PayPal funds will be deposited into your account within 3-4 weeks of request.
Visit Ipsos iSay's website

›

Ipsos iSay App
Ipsos i Say offers a mobile app, available on both Android and iOS, so you can complete surveys on the go. Get up-to-date notifications when new surveys are released so you are in the know wherever you are. You can even check your account balance and redeem rewards while on the go!
Take a Variety of Surveys Often
You can expect to receive at least one survey per month, though you may receive many more if your profile details match with new surveys as they become available. Take online surveys on a variety of different topics and earn between 30-100 points or more for each survey you successfully complete. convenience. Access the latest surveys on the Ipsos iSay website dashboard or mobile app. Daily emails are also sent to you if surveys are available.
Refer your Friends!
Ipsos iSay provides the option to refer your family, friends or anyone who you think would be interested in collecting rewards for filling out surveys, via their refer-a-friend program. For each individual you successfully refer, you will collect 100 bonus i-Say points. A successful referral is considered when a referred friend or family member signs up and completes their first survey. Periodically there are promotions offering even more points for referring new panel members, so check in often.
Points for Screenouts and More
You will also receive points if you are screened out (5 points for each survey you screen out of). These can really add up over time and can help you meet your reward goals sooner.
Visit Ipsos i-Say's website

›
Is Ipsos iSay Legit or Scam?

Is Ipsos i Say a Scam?
Ipsos iSay is a legitimate online surveys site and is not a scam. Ipsos is a leading market research company that was founded in 1975 and conducts more than 70 million interviews per year for more than 5,000 clients in more than 100 countries. The Ipsos iSay survey panel has millions of members and is legitimate. Although members may experience various levels of success taking surveys on the platform, the site is legit is not a scam by any means. It is safe to use and does not sell user data to third parties.
Note: The European version of this panel, Ipsos Access Panels, merged with Ipsos i-Say. They are now one.
---
5 Star Reviews (130)
23.8
1 Star Reviews (249)
45.6
April 16, 2023 by Cathleen from United States
I just received my $10 Amazon reward which only took 24 hours to receive. I've been waiting for at least TWO weeks for a $25 Amazon reward. I have sent FOUR emails, commented on SEVERAL facebook posts, and sent SEVERAL messages on messenger. NO ANSWER!! Where is my reward? Does ANYONE work there? I've been a panelist for YEARS, but this is by FAR the worst customer service I've received. Where is my reward????

EDIT: I received the below response from IPSOS, yet, they STILL haven't answered the very email they told me to send. I've sent FIVE emails since!!! Where is my reward! I think I will be contacting the Better Business Bureau.

Ipsos iSay responded to this review on April 22, 2023
Hi Cathleen,
We are sorry for the inconvenience.
Please know that electronic rewards are sent instantly to your email address.
In order to be sure that the email is not blocked or marked as spam, please check your spam folder for the reward email and also add
[email protected]
to your address book.
If you do not find the email in your spam folder, please don't hesitate to contact us at
[email protected]
Kind Regards,
Ipsos iSay Support Team
April 15, 2023 by Roxanne from United States
I average $50 a month pays my phone bill with the visa card.
I could do more if I had more time but it fills in a bit to help family budget.

Ipsos iSay responded to this review on April 22, 2023
Hi Roxanne,
Thank you for taking the time to write this review and for being a member of our panel!
Best Regards,
Ipsos iSay Support Team
Marked Deterioration in the Site Since Restructure.
April 14, 2023 by Andrea from United Kingdom
This used to be a very good survey panel. There was a steady stream of surveys which were usually interesting and the dreaded "late screen out" issue wasn't too frequent a problem. Rewards were reasonable and didn't take long to receive once claimed.

Surveys are now far less frequent and when a survey does come along the chances of being "screened out" - even at a late stage of the survey - seem to have increased greatly. They have also adopted the practice of flitting from one failed survey to the next without informing the respondent of the new study's anticipated completion time or the number of points it offers. IPSOS is certainly not the useful site it once was.

Those two stars have been awarded in recognition of the fact that the panel has had good features in the past and, perhaps, in the hope that it may return to its former standard. I'll give the panel a little longer to see whether things improve but I certainly won't go on carrying out time wasting exercises indefinitely.

Ipsos iSay responded to this review on April 22, 2023
Hi Andrea,
Thank you for taking the time to write this review.
We are sorry for the inconveniences you encountered. Please know that we are constantly trying to improve our survey experience and working on removing any bugs or inconsistencies that appear over time.
Many surveys are looking for specific characteristics that might or might not apply to you. Although it can be frustrating, ending a survey early ensures that we don't waste your time and you receive a small number of points for participating.
Thank you for your feedback and for being a valuable member of our panel, and for any specific issue, please contact us at
[email protected]
.
Kind Regards,
Ipsos iSay Support Team
April 11, 2023 by john from United States
redemption is really fast , have been having a really good year on i-say thank you
john

Ipsos iSay responded to this review on April 14, 2023
Hi John,
Thank you for your review and for being a member of our panel!
Best Regards,
Ipsos iSay Support Team
April 11, 2023 by Paul from United States
I have had some great survey companies, and I have had the absolute worst.
I do not like Ipsos... I love them!!
I filled out my profile, took my time and answered truthfully all surveys. They sent me ones that I was already qualified for, and if not, quickly ended it, and moved to the next.
What more could I ask for, I do my part and they do there's.
Earned my first $10 and grabbed 2 $5 target gift cards.
Paid me super fast.
Ipsosisay is on the short list of excellent survey companies!

Ipsos iSay responded to this review on April 11, 2023
Hi Paul,
Thank you for your review!
It's nice to hear that you enjoy our surveys and rewards and the survey experience as a whole. You can be sure that we will have a new survey waiting for you shortly.
Best Regards,
Ipsos iSay Support Team
» Return to: TOP RATED SURVEY SITES
---
Popular Topics
Top Survey Sites of 2023
---
Highest User Rated Survey Sites
---
Survey Sites That Pay Instantly
---
Get $100 Free PayPal Payments
---
9 Product Testing Job Websites
---
12 Online Surveys That Pay Cash
---
How to Earn Free Uber Gift Cards
---
14 Ways to Get Free Amazon Gift Cards
---
Best Paid Focus Groups
---
How to Get a Free Visa Gift Card
---
Ways to Get Free Xbox Gift Cards
---
Featured Advertisers: