IRI Shopper Panel Reviews and Features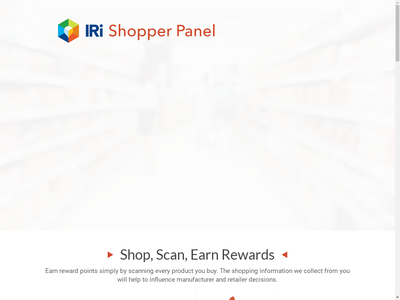 IRI Shopper Panel
Level 3, Building F, 1 Homebush Bay Drive Rhodes, NSW 2138 AU
Tel: 1 800 456 997 Contact: [email protected]
Operated by: IRI Australia
Quick Overview:
Rewards Offered: Retail e-vouchers iTunes gift cards Prepaid debit or credit cards Merchandise Sweepstakes entries
Member Opportunities: Barcode scanning Online surveys Mobile app
Redeeming Rewards: Members are able to make their first redemption within 2 months of scanning.
Similar Panels: Homescan Consumer Panel, National Consumer Panel
IRI Shopper Panel is a panel based in Australia that helps companies understand consumers buying habits. Scan your purchases and earn points for amazing rewards!
Earn Rewards by Sharing What You Buy
By scanning and transmitting your weekly household purchases, you'll be earning rewards. Your feedback could help influence the future of leading brands and improve your personal shopping experiences.
Scan all of your purchases with a free barcode scanner or the Scan N Go app on at least a weekly basis, and you'll earn points which can be redeemed for a wide selection of gifts from the gift catalogue.
Collect Points
For each week you are on the panel and submitting barcodes, you will be awarded reward points which can be redeemed for items in the IRI Shopper Panel gift catalogue. Panel participation will also earn you automatic entries into a variety of monthly prizes and sweepstakes.
Visit IRI Shopper Panel's website

›
How Scanning Works
IRI Shopper Panel will first ask about which stores you shop at. From there, simply scan the items you purchased and enter in how much you paid for each item. Hit the 'Transmit' button on the Scan N Go app, and you're finished!
If you choose to use the in-home scanner, the transmission is automated. The scanner sends your purchases at no cost to you.
Use the Scanner or the App
Members of IRI Shopper Panel can scan their grocery purchase barcodes using the free handheld scanner that is supplied after joining, or by using the SCAN n GO App, which is a mobile app designed to scan barcodes straight from your phone.
Scan for your first 6 weeks in a row and redeem a $20 Flexi eGift Card
You can redeem your points for gifts such as iTunes gift cards, Bunnings gift cards, Visa gift cards and other amazing rewards.
Visit IRI Shopper Panel's website

›
Opportunities for More Rewards
Earn additional points for occasionally answering short surveys, winning newsletter competitions, and receiving bonus points on your birthday.
Eligibility: Open to residents of Australia only. Must be over the age of 18.
---
April 27, 2018 by Sruthi from Australia
I am extremely happy with your customer support especially Mariana who was super sweet to deal with.
Though I am a bit disappointed of the fact that I need to wait a little bit long to get rewarded. Anyways there is not much effort to get rewarded, just a scan of the items you purchased; easy and simple; Appreciate it !
February 27, 2018 by RASHI from Australia
I like the idea of scanning your shopping and getting rewarded for it.
February 14, 2018 by Steven from Australia
i joined up maybe about a year ago, scan every week our shopping and get points, simple and actually fun! go through our shopping make sure prices are done properly! got a couple of rewards from it, would be good to see more surveys to earn bonuses
February 8, 2018 by Andrea from Australia
I have had a few issues with the Scan & Go and have had many emails with Wendy & Mariana. They have been extremely helpful, patient and supportive. They have been understanding of my frustrations and have walked me through solving those issues. It's a shame there are not more Wendy & Mariana's in this world as their type of customer service is exemplary and should be acknowledged. I am terribly grateful for their assistance.
February 5, 2018 by Patricia from Australia
I've only been with IRI Shopper Panel for just over 3 weeks now and I must say I'm really enjoying myself. Forget the fact that I'm being rewarded for just scanning barcodes of things i buy in my day to day life, the process of scanning barcodes has become something my 8yr old and i do together for a fun activity shared between us. My boy poses me the items then he actually packs them away, something he wasn't keen on doing before.
So, not only do my son and I now have something to do together that is enjoyable for us both (at 8 it's not always easy to find things to do together that we can both enjoy and connect over) but I also get to watch my boy help out around the house which is a rare occurrence here.. PLUS we are building up points (to share) to be able to also spend together.
It's a win win situation that I really wasn't expecting.
The team at IRI Shopping Panel are absolutely lovely to deal with (thanks Mariana!!) and both super friendly and helpful if you have any issues.
I can easily see this being a long term part of our household routine. I'm getting so much more out of this than just points for spending on rewards, nothing can compare to the quality time I get to spend with my boy.
Sure beats cleaning up after him or going mental trying to get him to clean his room!!